NETGEAR R7500
Firmware upgrade and additional utilities
Introduction
The devices of NETGEAR company are frequent visitors in our laboratory. Today we have one of the top models of the vendor – R7500, which operates simultaneously under two wireless frequency ranges: 2.4 and 5 GHz. In addition, NETGEAR R7500 supports the draft of IEEE 802.11ac standard. The maximum theoretical wireless transmission rate is 2,33 Gbps. In this review we will try to find out what real throughput rates will be available for users of the device.
External design and hardware
Seemingly massive case of the device, which dimensions are 285x184.5x50 mm, is made of black mat plastic. Best of all, the appearance of R7500 resembles a bonnet of a sports car. For operation the device requires an external power adapter (included in the box) with the following characteristics: 12V and 5A.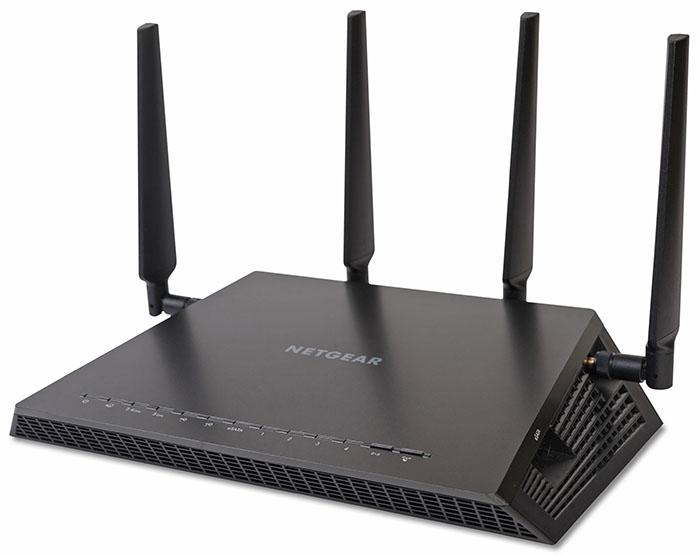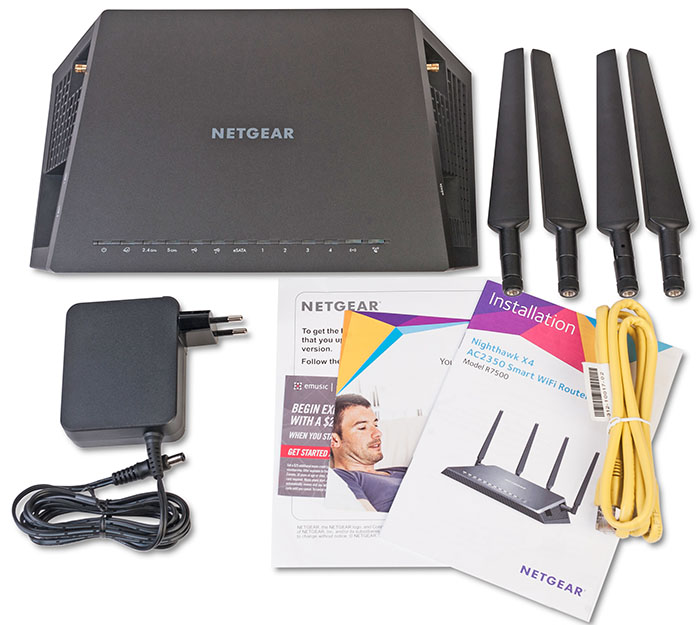 At the top surface of the router there are bright multifunctional light-emitting diodes, informing a user about a current state of the device. For the convenience of controlling the ON/OFF Wi-Fi and WPS buttons are also situated here. Apart from that, the name of the vendor is imposed on the upper side as well.
A considerable part of the bottom of the router appears to be a ventilation grating. Four rubber stands and a sticker with brief information about the device are also placed here.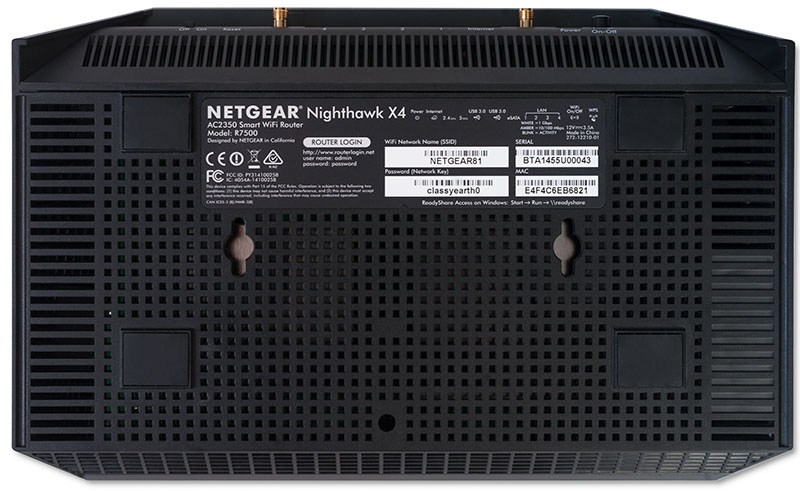 The rear panel of R7500 has an ON/OFF button, a connector for external power adapter (included in the box), four LAN-ports and one WAN port. Connectors for external antennas, recessed Reset button and a switch of LED light are also situated here.

The vendor placed eSATA port at the right side of the device, whereas two USB 3.0 ports – at the left. In addition, there are connectors for antennas at the both sides. It is worth mentioning that we didn't face any difficulties with connecting USB-drives – disposition of ports is very convenient.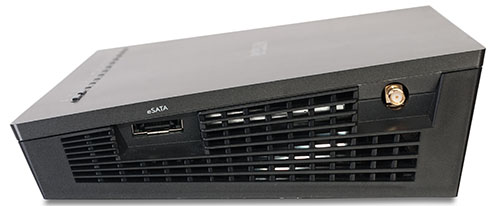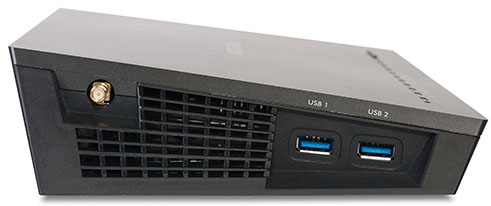 Unfortunately, there are no electronic components available for viewing – all of them are concealed under metal screens. Under the whole upper panel of R7500 there is a metal screen adjoined to screens and used for cooling down.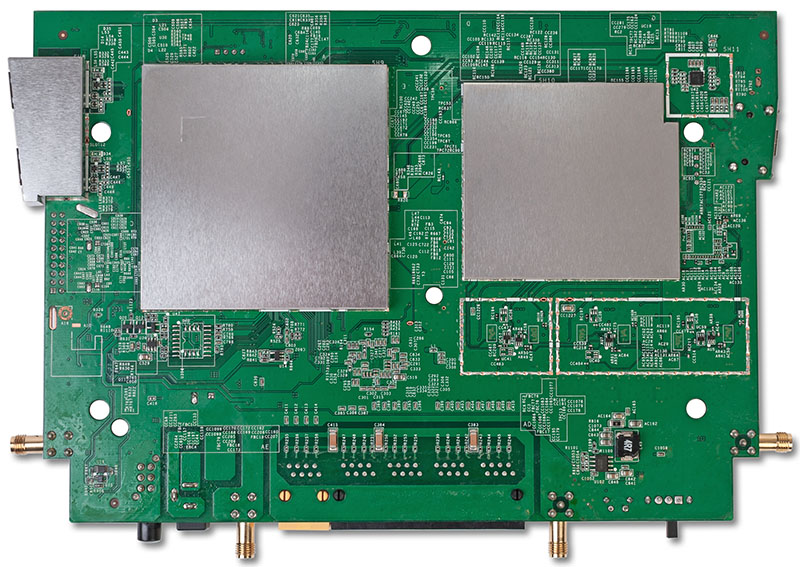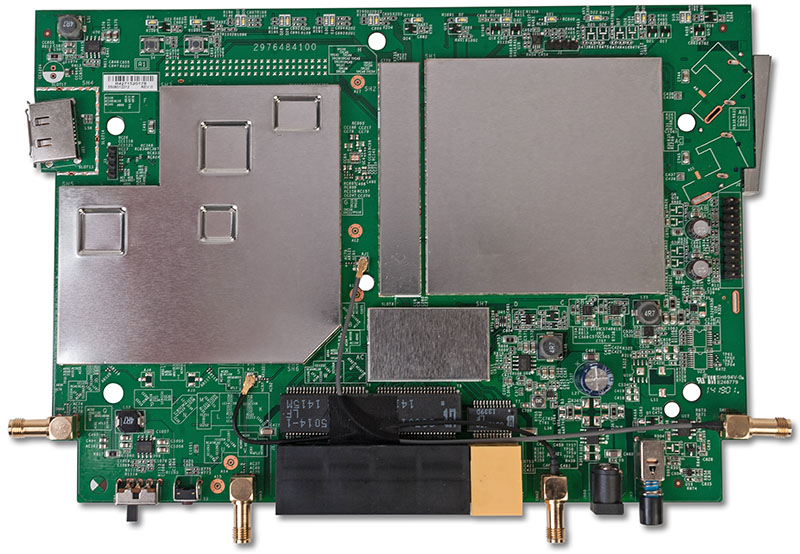 Now, let's turn to software of the device.
Firmware upgrade and additional utilities
To upgrade firmware one should refer to «FIRMWARE UPDATE» item of the «ADMINISTRATION» group in «ADVANCED» section. Changing the firmware version is possible in two modes: semiautomatic and manual. In the first case R7500 will check the available updates in the Internet, in the other mode administrator will have to upload the file with firmware sample manually onto the device.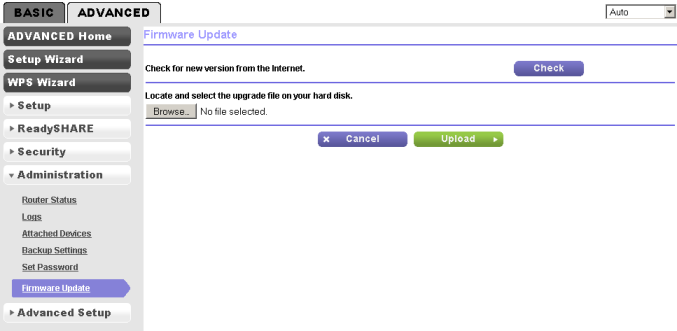 Several additional utilities aimed to simplify the process of network administration are suggested to owners of the device. One of them is NETGEAR genie – an application for mobile devices which helps to execute most frequently used options.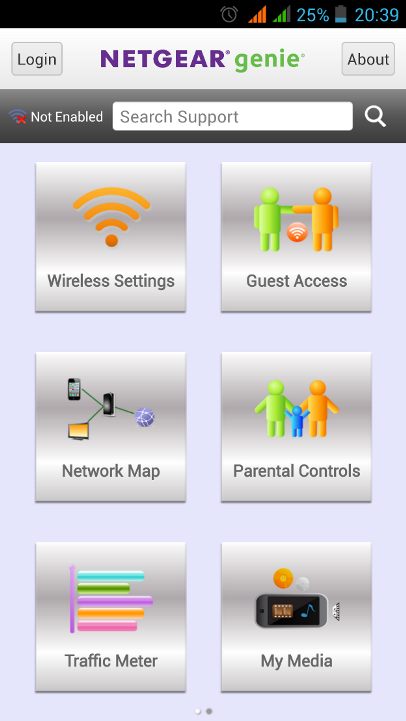 NETGEAR ReadyShare utilities provide a user with additional ways of using home network: connecting USB flash drives and printers, backing up, along with an opportunity to create personal cloud.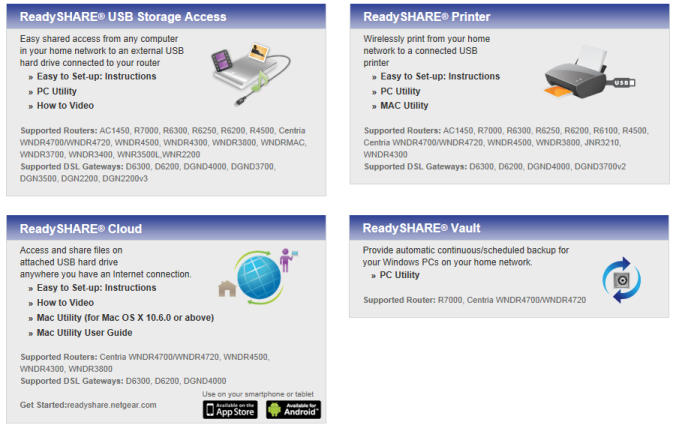 Now we will move on to reviewing the features of web-interface.
Web-interface
Web-interface of the devices of NETGEAR company is well-known to our readers, that's why we won't take long covering familiar points and will focus our attention on new capabilities of the presented model.
An access to the web-interface can be gained via name routerlogin.net or address 192.168.1.1. To log in a user has to enter login information, after that s/he gets on the start page of the device, which interface is available in 22 languages.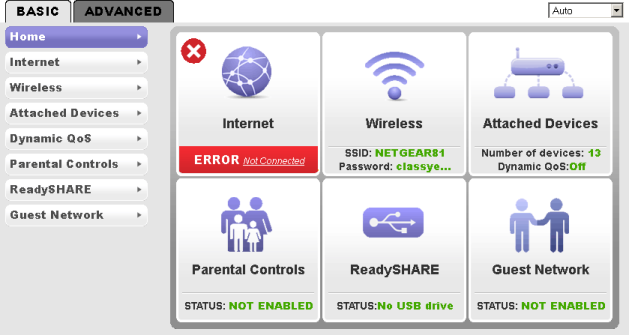 All the settings are located in two sections: «BASIC» and «ADVANCED». The first one contains the information about the state of the device, Internet-connection manager, Wi-Fi networks, etc. Configuring of a guest network or an access to USB storage can be performed in this section as well.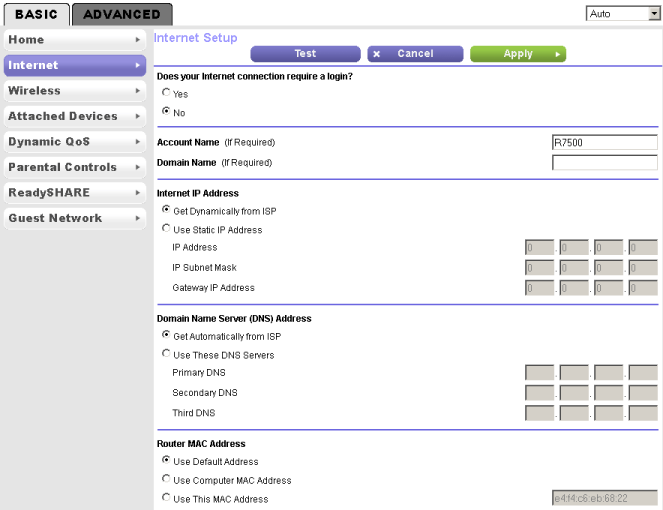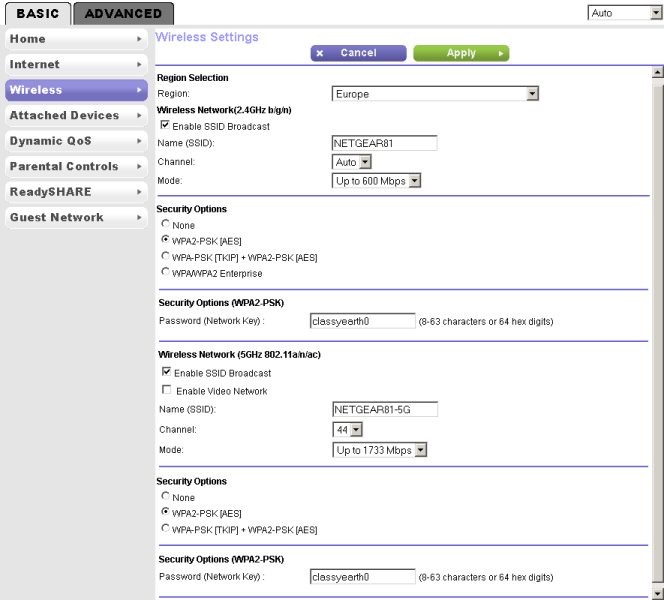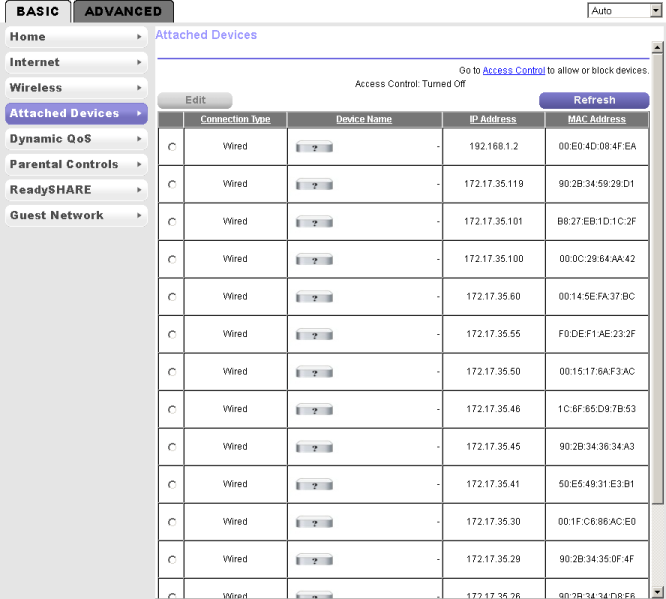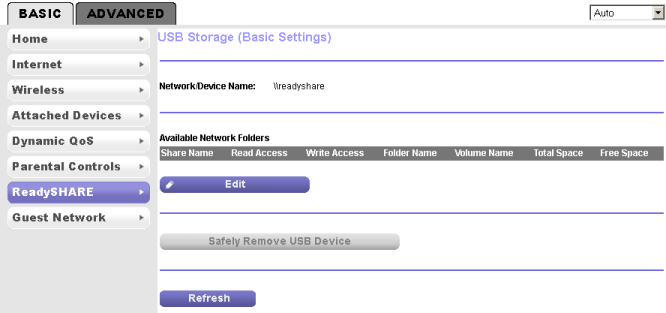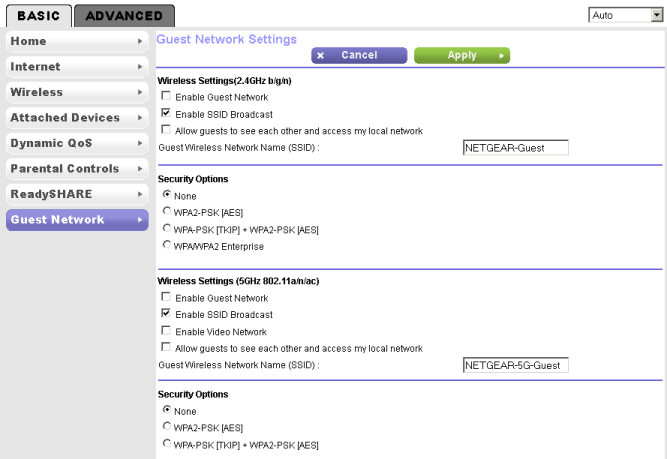 The points «SETUP WIZARD» and «WPS WIZARD», situated in «ADVANCED» section, are intended for automating the process of connection to the global network and for the process of connecting new clients to wireless network correspondingly. It should be noted that in the interface of the device both physical and software WPS buttons are implemented.


The group «SETUP» gives an opportunity of detailed configuring of WAN-port, local network and QoS.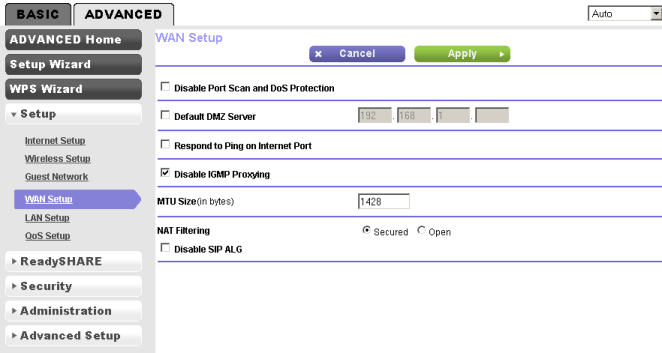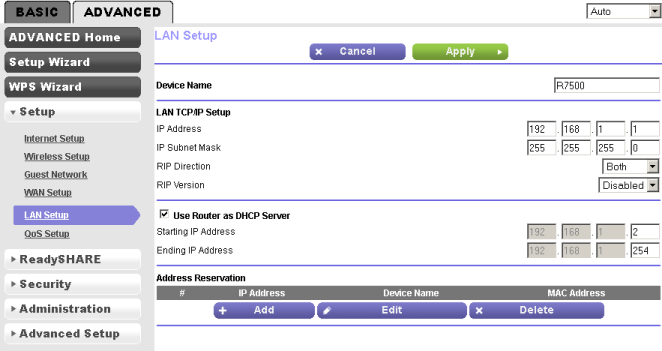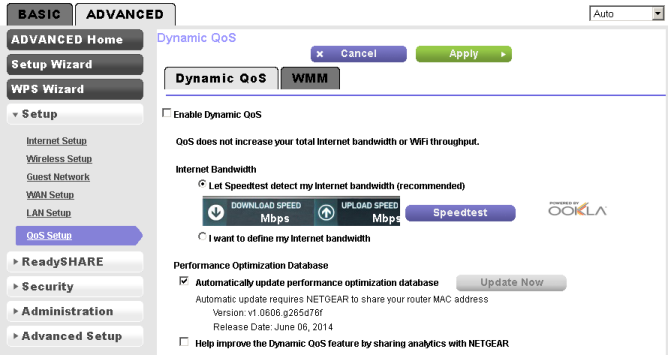 In «READYSHARE» group there are advances access settings to USB-drive. There you can also enable a media server to access multimedia data and set up a network printer. «READYSHARE VAULT» is an interesting option allowing backing up at PCs with Microsoft Windows.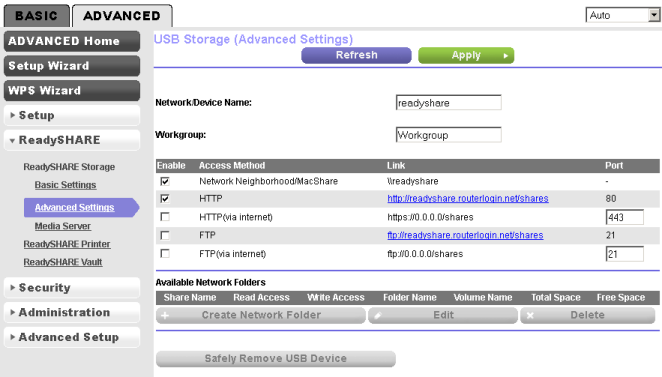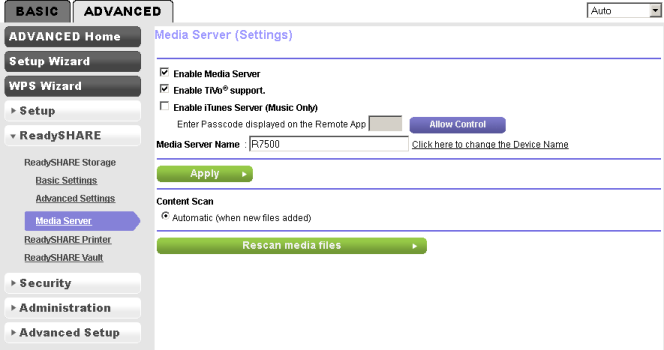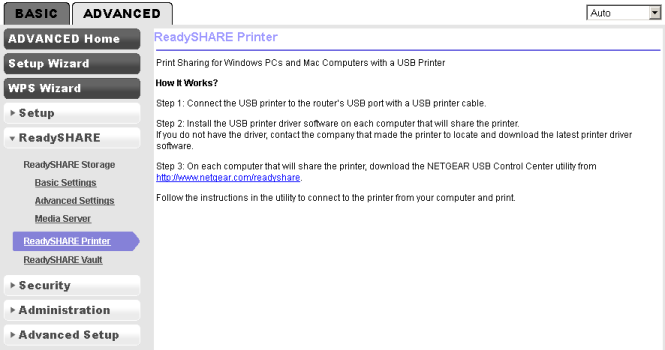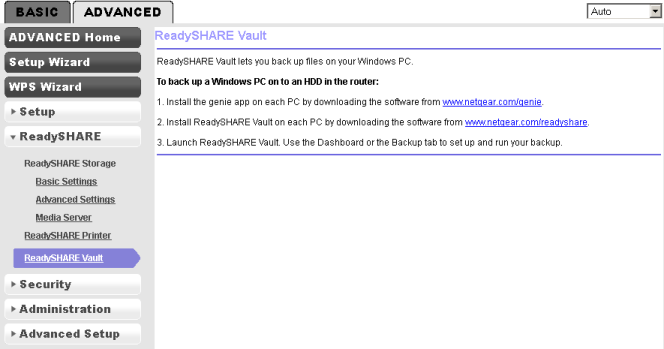 To activate blocking of sites and services one should choose «SECURITY» group.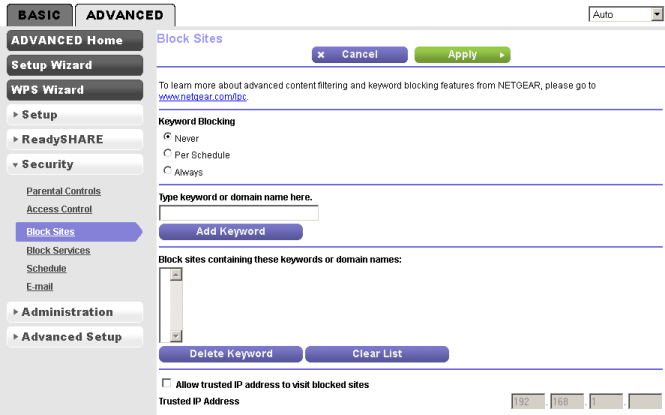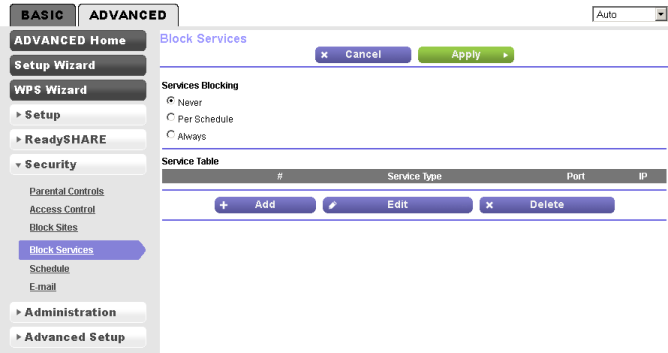 The group «ADMINISTRATION» offers opportunities of managing the device itself: router status, backup settings and firmware update.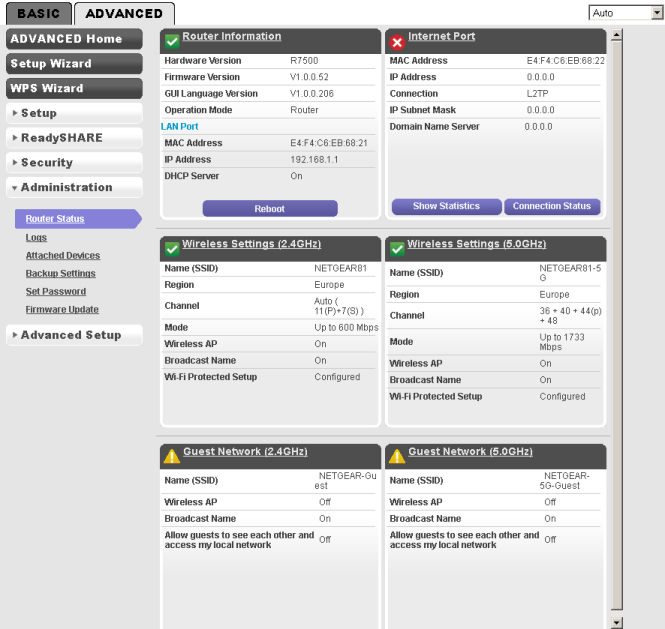 In «ADVANCED SETUP» group a user can turn on DDNS, indicate static routes, enable VPN and many other things. The last option appeared to be of a peculiar interest for us – Facebook Wi-Fi, which allows setting up redirection to the page in a social network of the same name when connected to a guest SSID. However, this option is still in the testing stage and will be unavailable for general users for some time (the point «Facebook Wi-Fi» is absent in the firmware versions relevant at the moment of writing these lines). We will also put off its detailed reviewing for the time being.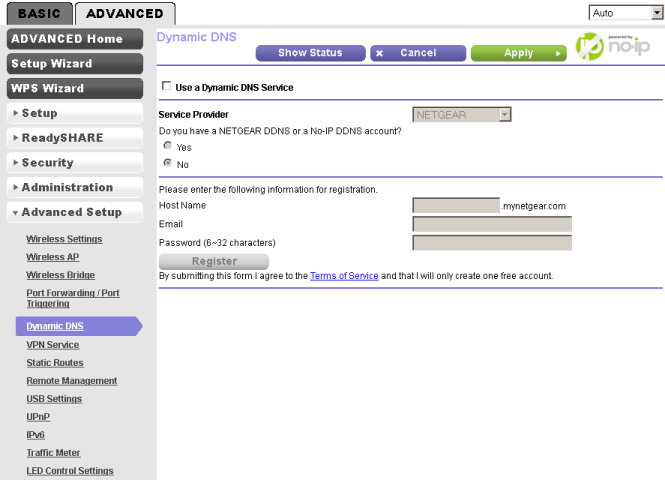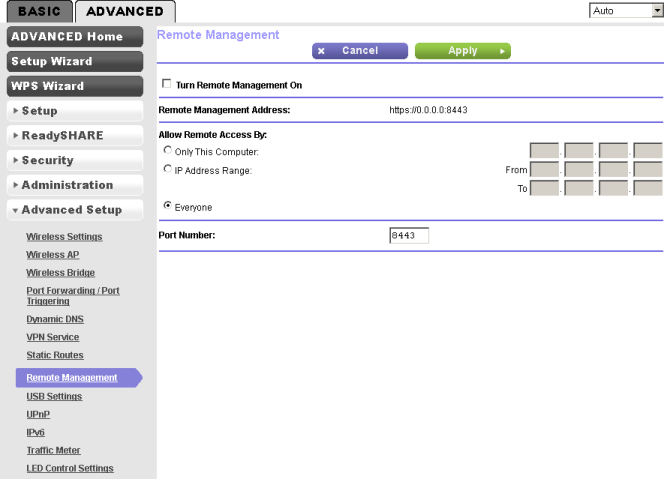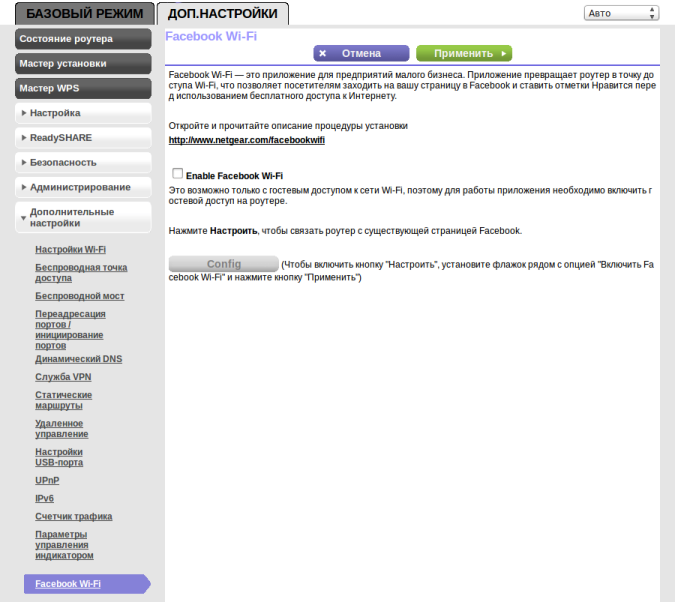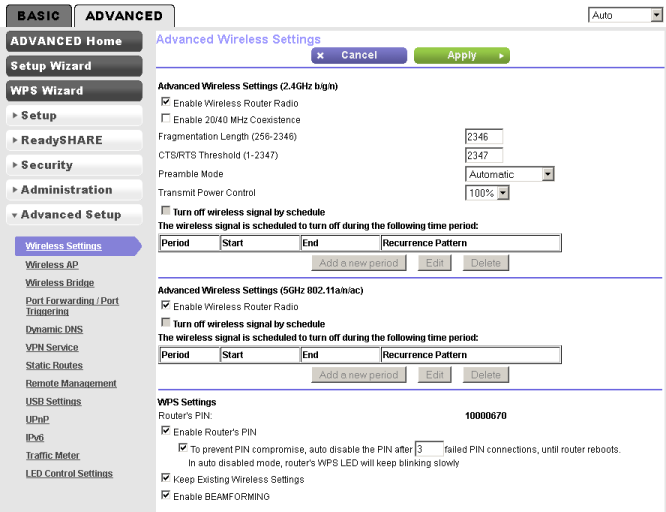 Here we come to an end of our short review of possibilities of R7500 web-interface and pass directly on testing.
Testing
Traditionally we begin our testing section with determining the boot time of the device – the time interval between the moment of power connection and the first return of ICMP echo-response. The examined router replied to our echo-request in 50 seconds after being switched on, whereas the power LED changed its colour from red to white only in 2 minutes and 7 seconds.
After that we proceed with security checking. As usual network security scanner Positive Technologies XSpider 7.7 (Demo Build 3100) is used. NETGEAR R7500 showed not bad results: only DNS service appeared to be theoretically vulnerable.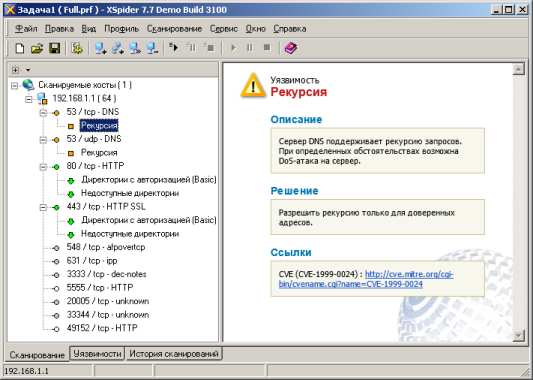 The performance tests are carried out with the stand with the following characteristics:
Component
PC
Notebook
Motherboard
ASUS Maximus VI Extreme
ASUS M60J
CPU
Intel Core i7 4790K 4 GHz
Intel Core i7 720QM 1.6 GHz
RAM
DDR3 PC3-10700 SEC 16 Gbyte
DDR3 PC3-10700 SEC 8 Gbyte
NIC
Intel PRO/1000 PT
ASUS PCE-AC68
Atheros AR8131
Operating system
Windows 7 x64 SP1 Rus
Windows 7 x64 SP1 Rus
For a start let's determine the performance of IPv4 routing upon carrying out of NAT/PAT translations and the speed of IPv6 routing for one, five and fifteen simultaneous TCP connections.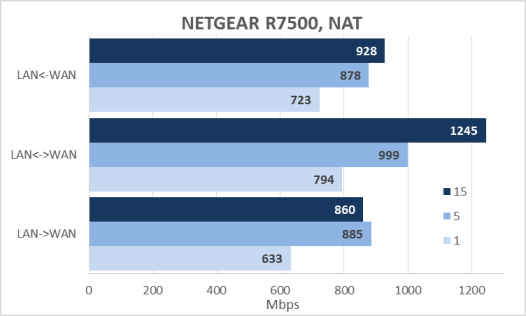 Having enabled IPv6 support, we found out that the dynamic routing protocol RIPng was used, which was rather unexpectedly for the devices of such kind.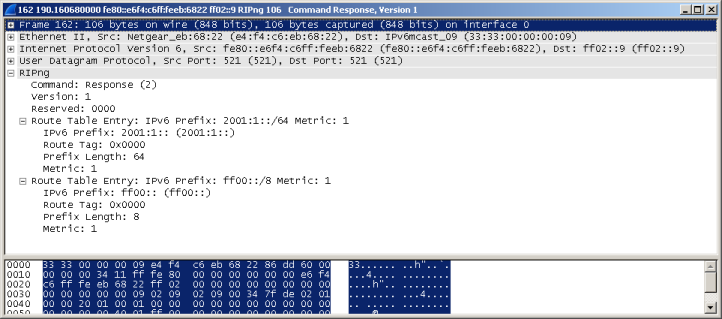 Connection to the provider can be established via tunnels. One of the variants of connecting is using PPTP tunnel, which performance is shown in the diagram below.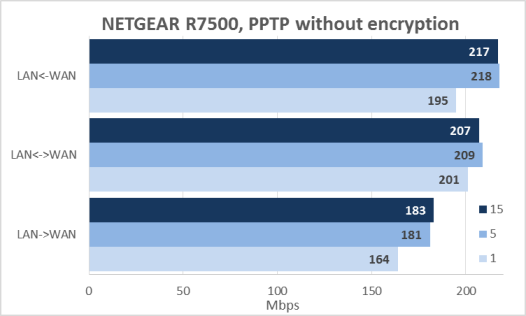 Wireless router NETGEAR R7500 has a built-in VPN-server of OVPN protocol, providing user's data transmission speed about 40 Mbps. When the tunnel on the basis of OVPN was tested software data compressing was used, therefore the obtained result appears to be quite relative as it depends on the type of transmitted data.
To test the speed of operation of the device as a network storage we connected an external drive Transcend StoreJet 25M3 with the capacity of 750 Gbyte, which formatted into FAT32, NTFS and EXT2/3, to USB3.0 port. The test results are presented below.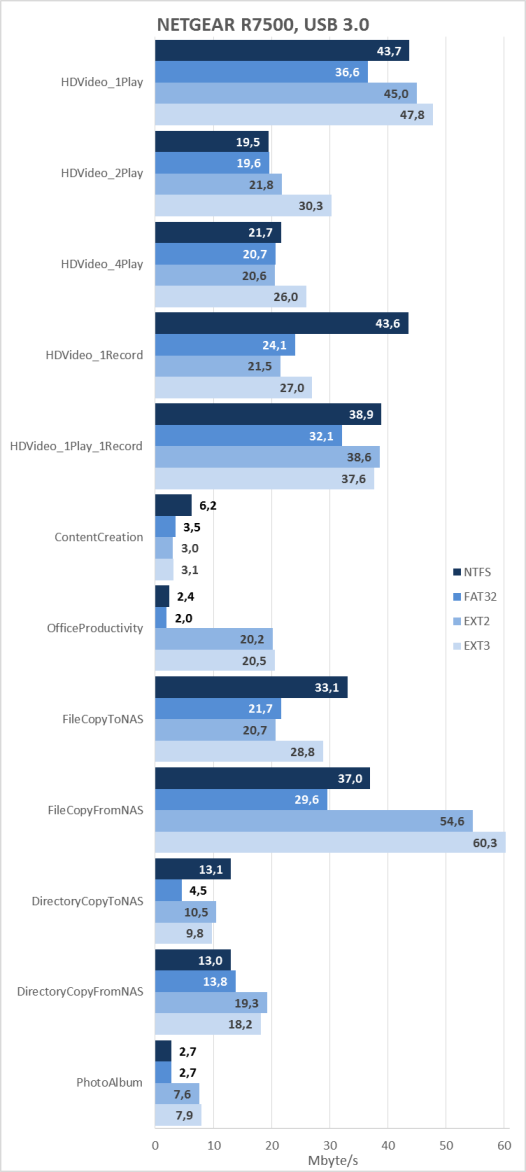 By the time this review had been finished, we got a new version of firmware 1.0.0.68, one of the changes in this version was the increase of the access speed to files stored at external hard disk. Naturally, we couldn't help repeating the examination of the speeds of file access with the new firmware. As it can be seen from the diagram below, in some tests the increase in performance of the device was really detected, however, using other access types the speed, on the contrary, fell slightly.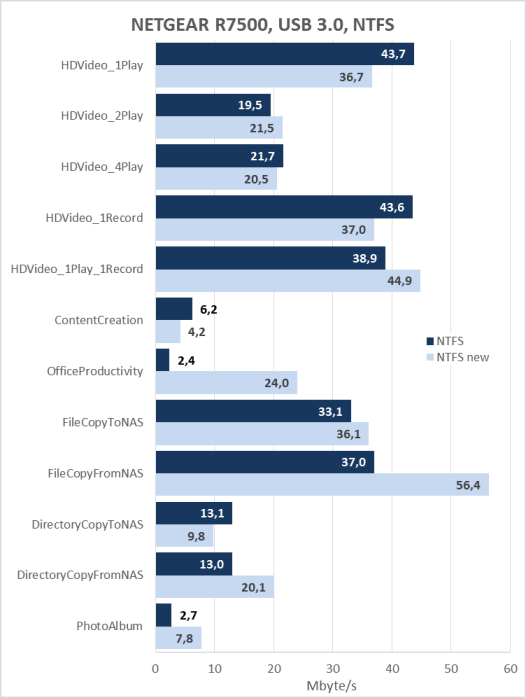 At last, we tested a wireless segment. As a client's wireless network interface card ASUS PCE-AC68 was used.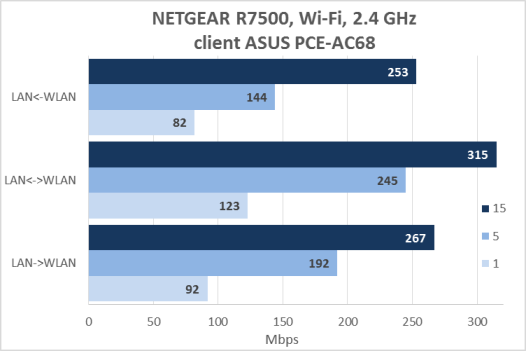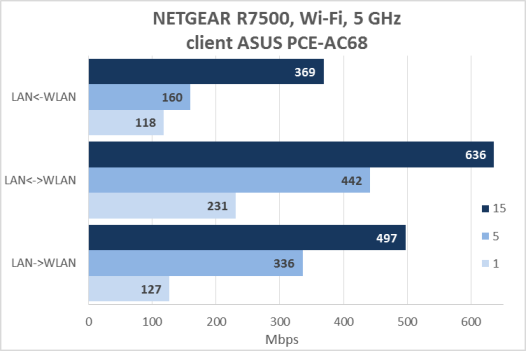 We used ASUS RT-AC87U router as a client's device for testing NETGEAR R7500 in a «wireless bridge» mode.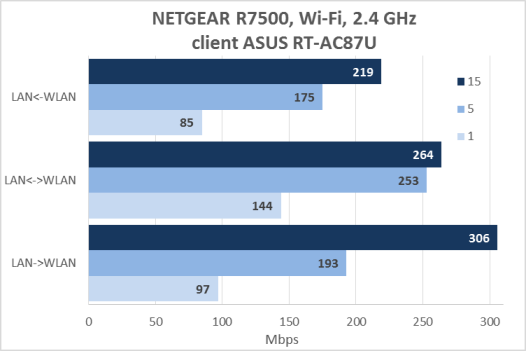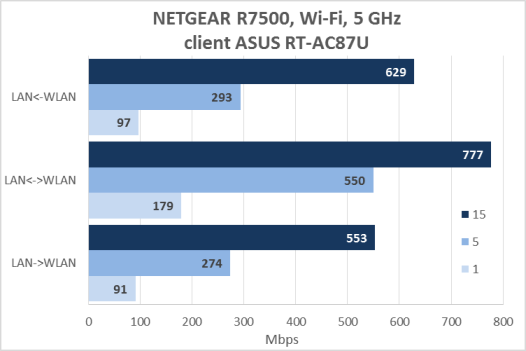 We finish the testing section here and pass over to conclusion.
Conclusion
All in all, we are satisfied with the examined wireless router NETGEAR R7500, which has support of IPv6 protocol, the draft of IEEE 802.11ac standard (AC2400). It is worth mentioning the capability of the device to function as a file server in a local network.
The strong points of NETGEAR R7500 router are listed below.
Excellent data transmission speeds through a wireless network.
IPv6 protocol support.
Good access speeds to external drives.
Support of two wireless ranges.
Availability of two USB3.0 ports.
Good data transmission speeds via PPTP tunnel.
Unfortunately, we cannot but point out the disadvantages as well.
Relatively high price.
Absence of encrypted PPTP tunnels support.
At the moment of writing this review a wireless router NETGEAR R7500 wasn't in the market in Russia, that's why it was premature to cover a price question. In the USA the price for this model amounts not less than $300.