Firmware upgrade and plug-in management
It was just recently our laboratory hosted Dune HD TV-301W media player and at the moment at our disposal we have another device by this brand, TV-303D, that is intended to replace the one we already tested. Among the advantages of TV-303D are renewed hardware platform and support of Blue-Ray 3D. However, let's take our time and tell you about everything in parts.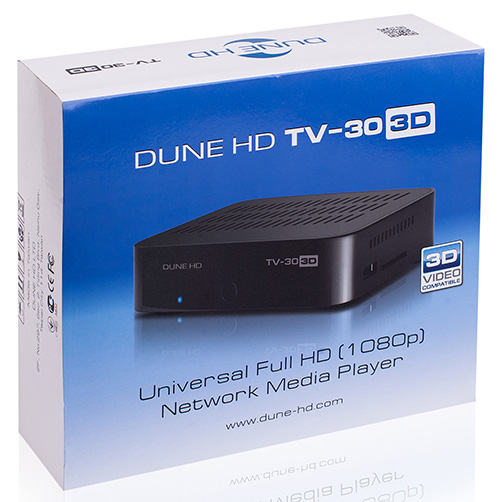 The device external design bears a strong resemblance to its predecessor: the media player comes in a black case with rounded corners made of plastic and metal. Its dimensions are 169x135x38mm excluding the antenna. Power supply is carried out via an external DC power unit with detachable plugs and the following characteristics: 12V and 1.5А.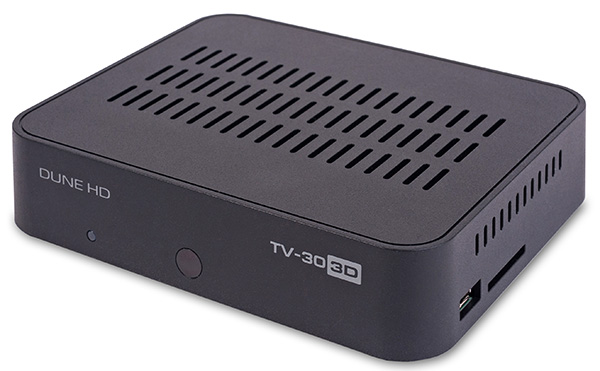 On the front panel there are a brand tag, model name, LED indicating the device status, and IR receiver.

The rear panel of the media player has the following interfaces located on it: USB 3.0 used for connection to a PC, USB 2.0 used to connect external storage, optical digital audio output, external Wi-Fi antenna, AV output (mini-jack), HDMI 1.4 port, IR extender jack, Y/Pb/Pr component video jack, Gigabit Ethernet, and external power supply unit jack with a switch.

Not all ports are located on the rear panel of TV-303D; on one of its side panels there are a USB 2.0 port and SD memory card slot.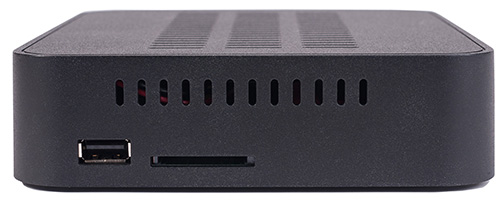 The other side panel has a bay used to mount an internal 2.5" HDD.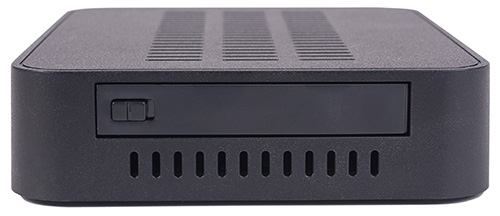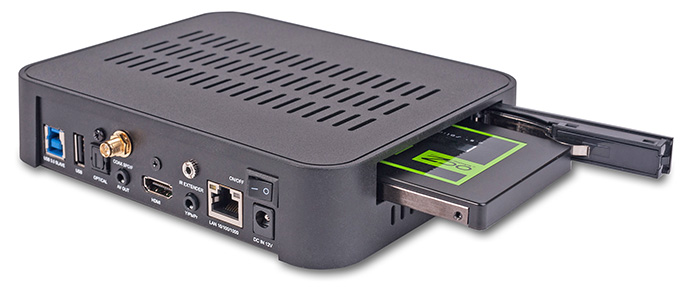 On the bottom of the device there are four round rubber legs and a sticker with brief information about the device.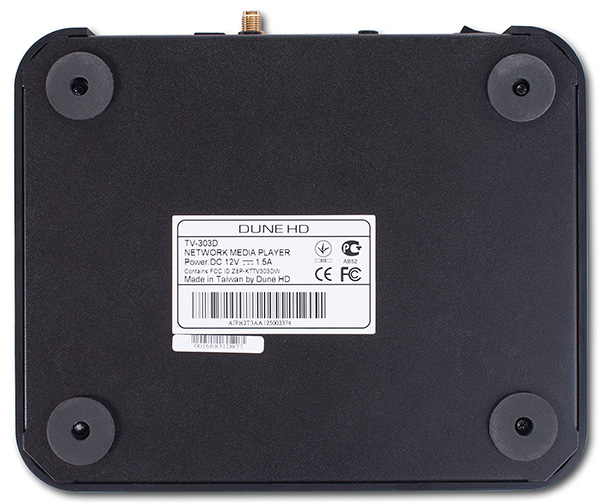 Now let's have a look at the insides of the media player.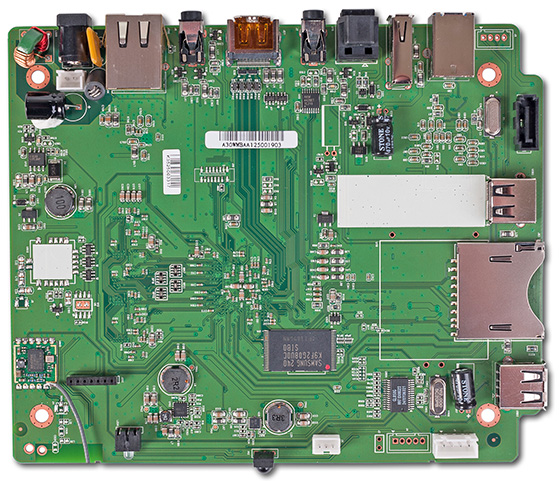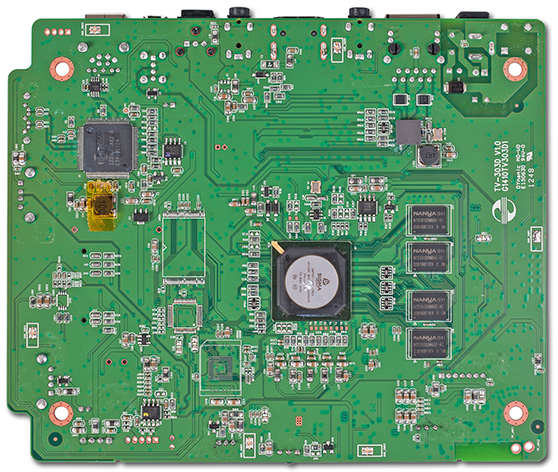 Dune HD TV-303D is powered by Sigma Designs SMP8672A30-CBE3 CPU. Its flow chart is presented below.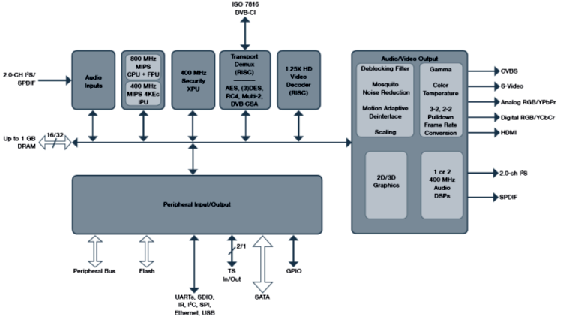 Four Nanya NT5TU128M8GE modules with the size of 128 Mbytes each act as the device RAM, making the total RAM of the device 512 Mbytes. Samsung K9F2G08U0C with the overall memory capacity of 256 Mbytes performs functions of the flash memory. JMicron JMS551 chip functions as the SATA-USB controller. Wired network support is carried by Atheros AR8035 chip. Its flow chart is presented below.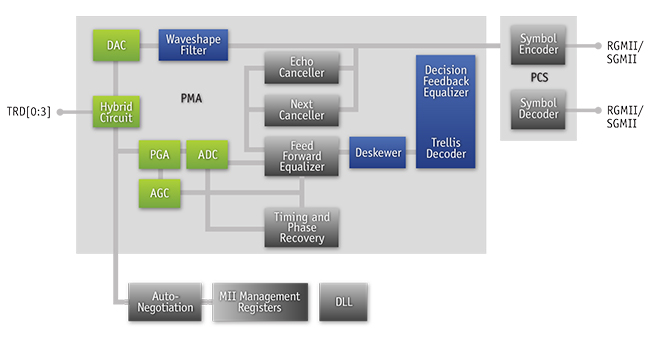 Dune HD TV-303D is fitted with a wireless Realtek RTL8188CUS chip.
That is where we bring the review of the hardware platform of Dune HD TV-303D to a conclusion and pass on to examining capabilities of its software component.
Firmware upgrade process may be carried out both in manual and semi-automatic mode. In case of the former the user will need to download the firmware upgrade file from the vendor's web-site by him/herself, upload it to the internal HDD of the device or external USB disk, and then just launch it. In order to upgrade the firmware in the automatic mode one needs to enter Setup-Miscellaneous-Firmware Upgrade menu item. Dune HD TV-303D downloads all necessary files automatically and upgrades the firmware by itself.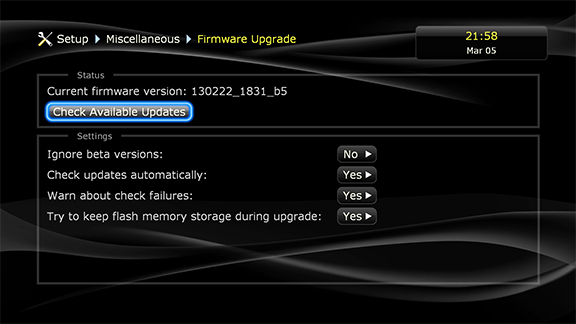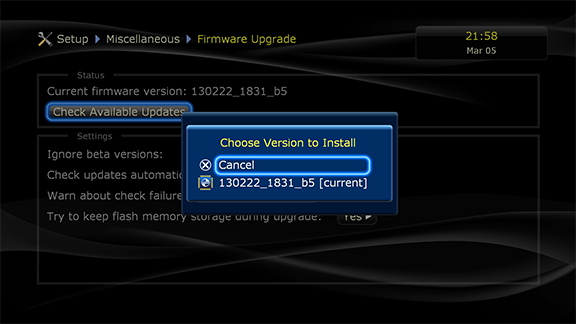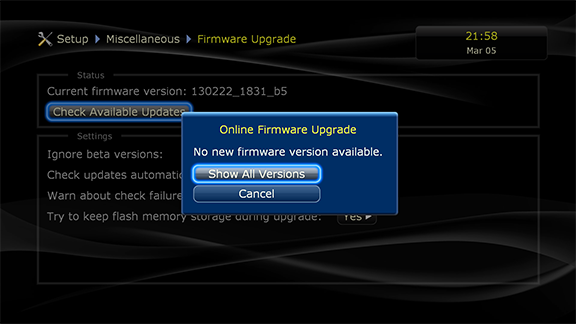 We decided to review the process of installation and removal of add-ons by the example of a plug-in that allows watching TV channels from a Russian TV services provider company, Vdali TV. This plug-in as well as dozens of others are available for downloading from the hdtv.ru forum. An administrator needs to upload the plug-in to one of the sections of the internal HDD or external USB disk before installing it.
Vdali TV plug-in installation is performed using the archive file and the only thing one needs to do is to type in the applicable data to activate it.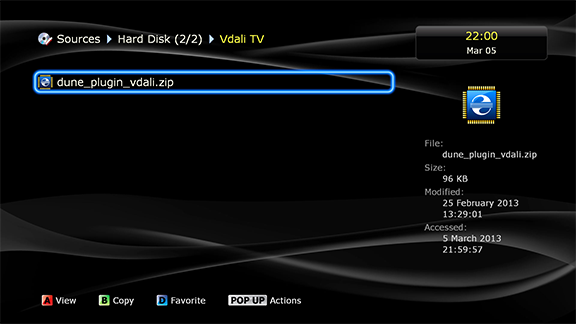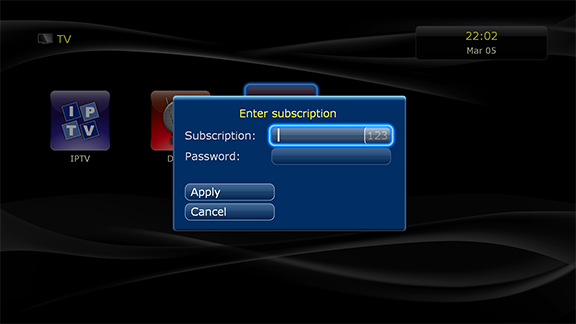 Once the plug-in is successfully installed, to watch Vdali TV the user will need to enter the corresponding TV menu item and choose the channel that s/he wishes to watch.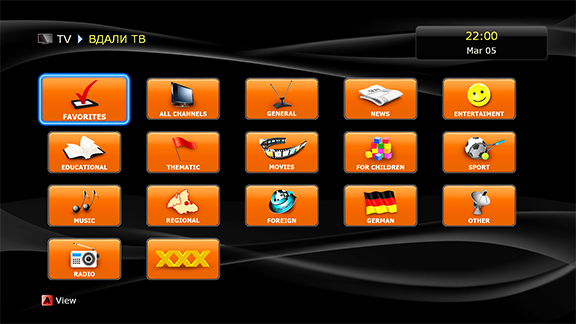 To change the plug-in settings the administrator will need to enter Setup-Applications-Настройка ВДАЛИ ТВ menu item.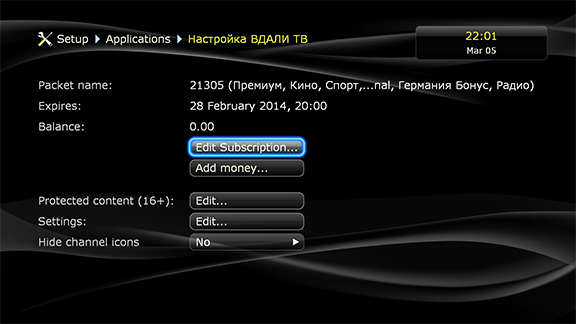 The plug-in removal procedure is carried out using Setup-Miscellaneous-Plugins-ВДАЛИ ТВ menu item.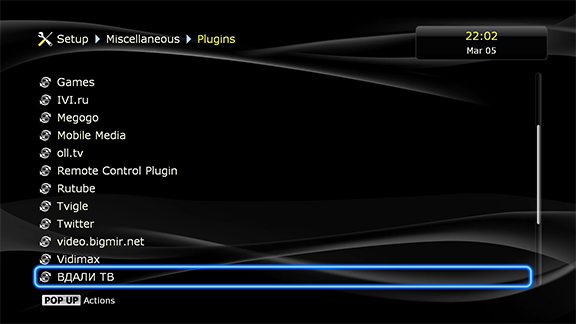 Now let's pass on to reviewing the interface capabilities of the device.
The main menu of Dune HD TV-303D interface can be scrolled right and left and has five items: Sources, TV, Favorites, Applications, and Setup.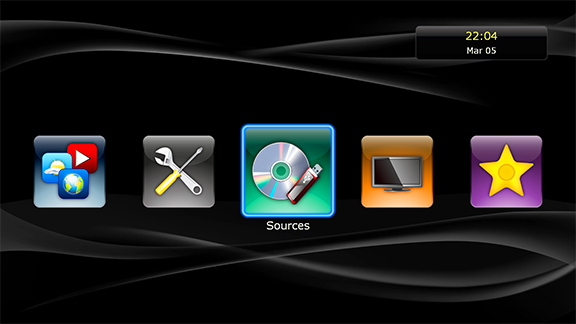 Using Sources menu item a user can choose the place to store multimedia data, firmware and plug-in files, and any other information s/he is interested in.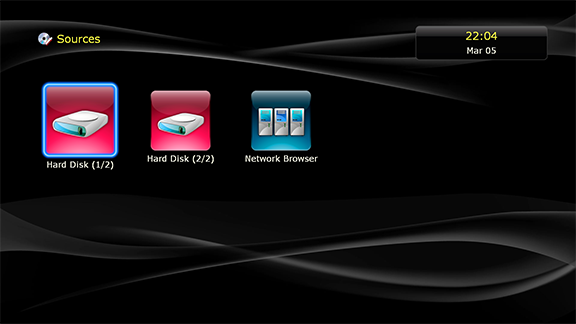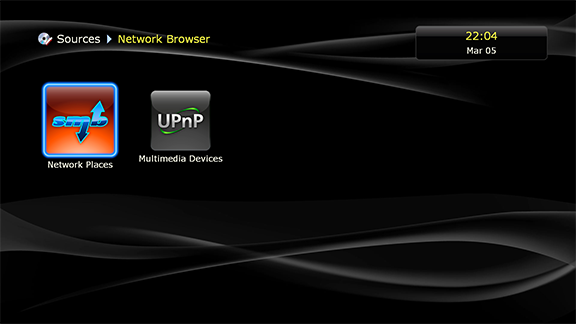 TV menu item allows the user to choose the preferable source of TV channels and proceed directly to watching them.
Favorites menu item contains shortcuts to the user's favourite media files located on a local data carrier or elsewhere on-line.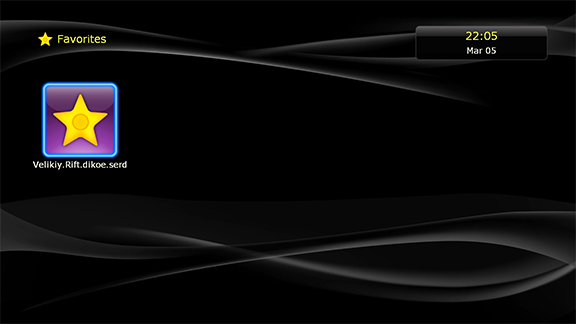 Applications menu item features web browser, games, weather forecast and horoscopes, as well as various mobile and social media plug-ins.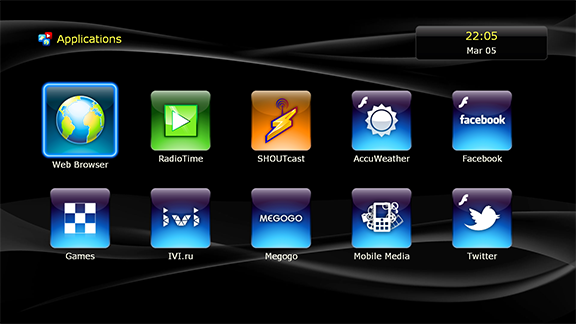 Dune HD TV-303D is a flexible and highly-customizable device in terms of settings, and it is intended to satisfy a wide array of the user's needs. The corresponding settings are located in Setup menu item. Let's have a closer look at them.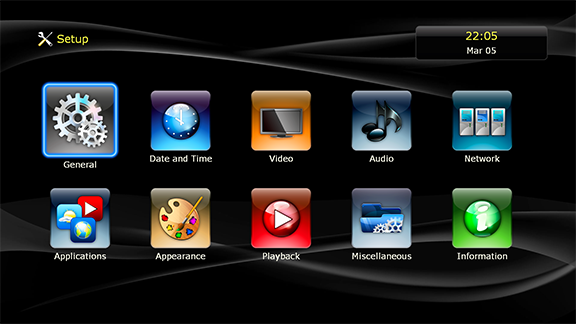 In General sub-item one can choose the interface language, manage screen saver, or reset the user settings.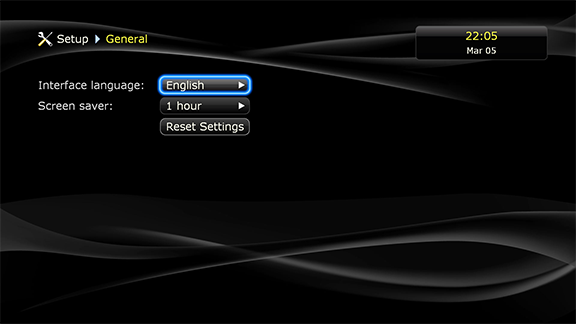 Time synchronization and time zone settings are located in Date and Time sub-item.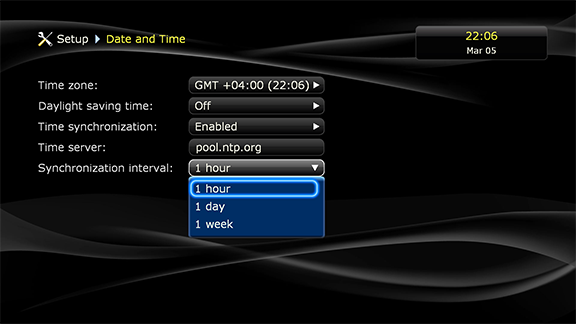 Operation parameters of the video output are located in Video sub-item.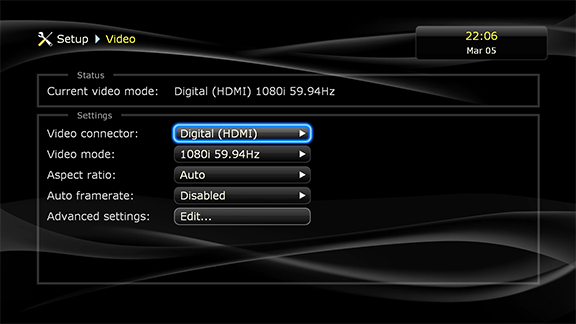 Audio sub-item allows managing the corresponding audio output settings.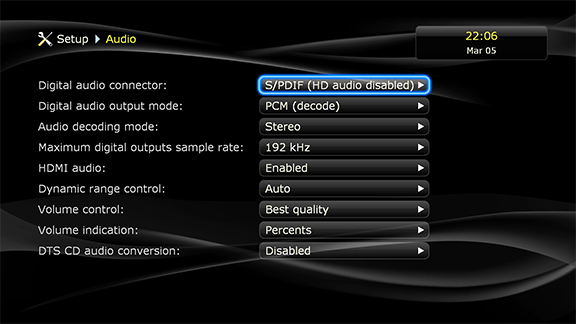 Dune HD TV-303D can connect to the network using both wired and wireless interfaces. It's worth noticing that upon connection via wired interface the user can either choose the dynamically IP-address receipt or specify it manually. The device also supports connection via PPPoE. Upon wireless connection the media player displays the list of available SSIDs and offers the user to get connected to one of them. A capability of the device to act as an access point upon availability of a main wired connection came to be a really nice added feature. Moreover, at the same time Dune HD TV-303D can also perform functions of a router between the wired and wireless interfaces.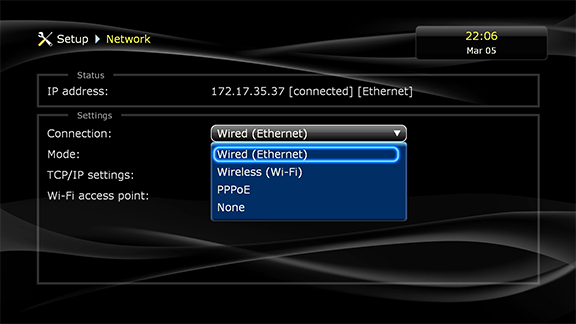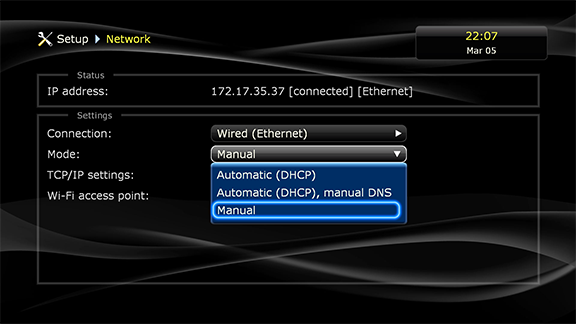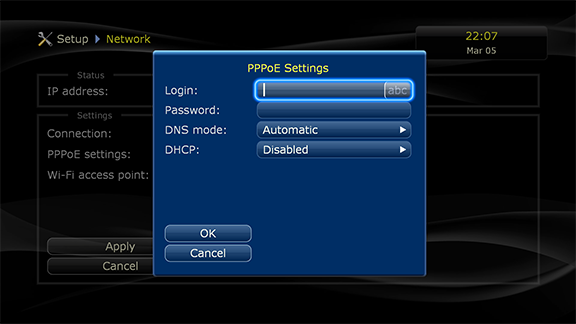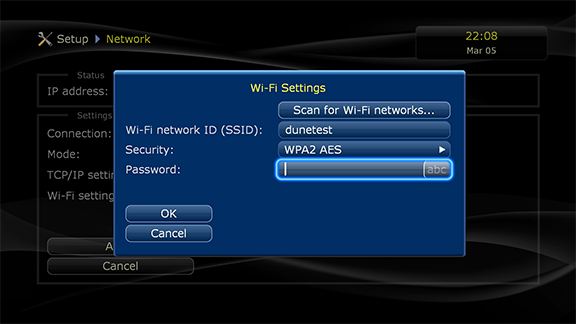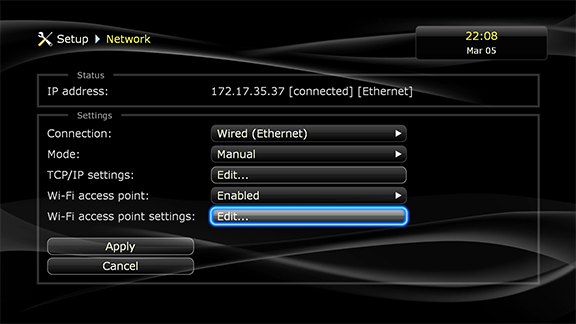 Certain applications can be managed in Applications sub-item.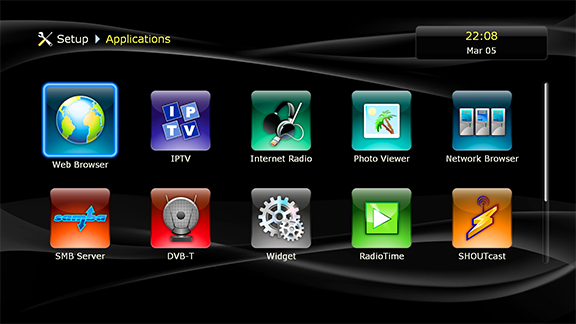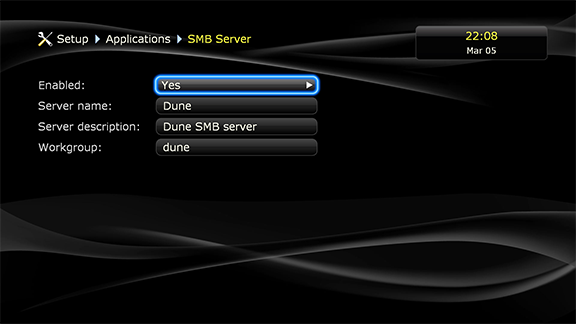 Appearance menu sub-item is used to change the device interface design.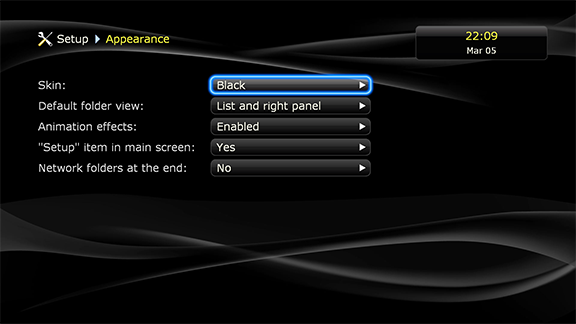 Parameters of video playback are located in Playback sub-item. Over here the user can choose the preferable audio track and subtitle language and set other relevant preferences.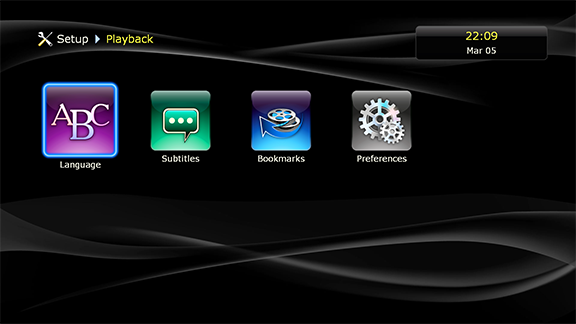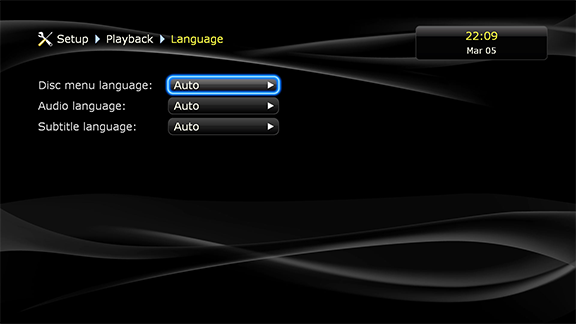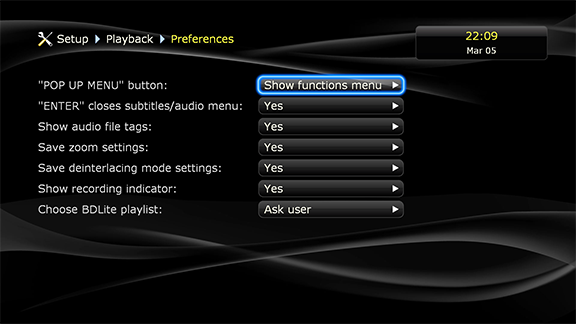 Using Miscellaneous sub-item the user can alter parameters of playlist view, choose the preferable encoding type, upgrade the firmware, as well as manage the power, plug-in, and optical drive settings.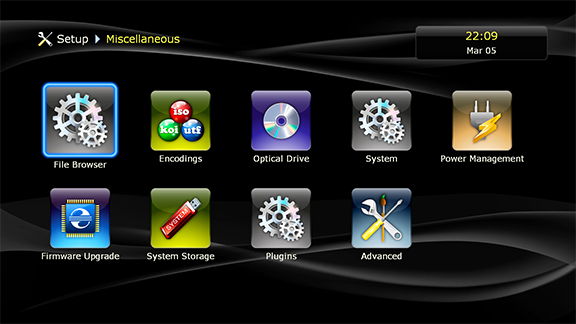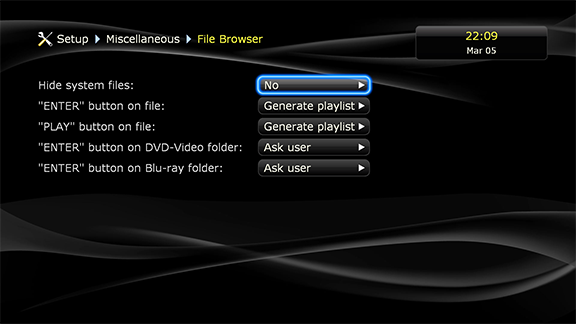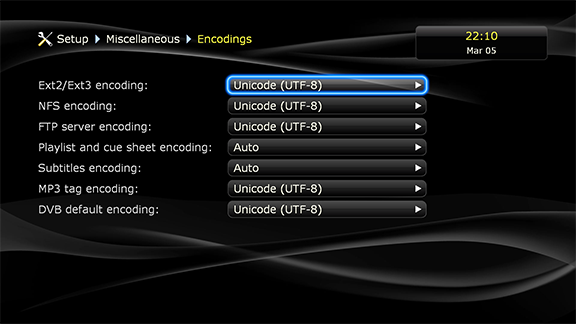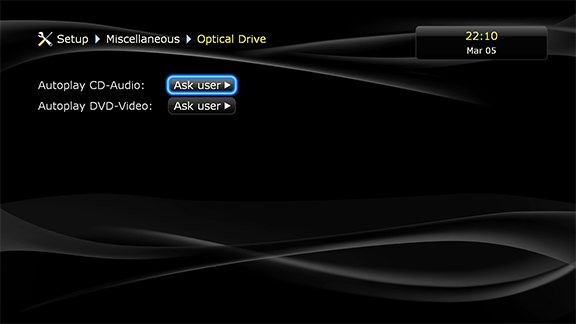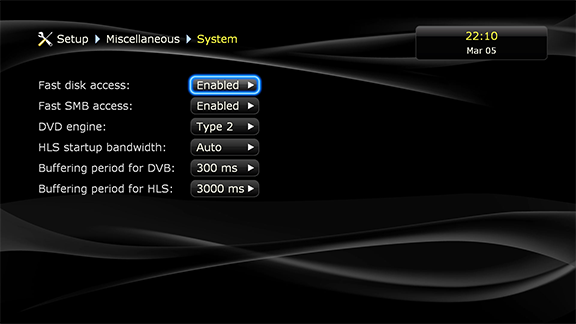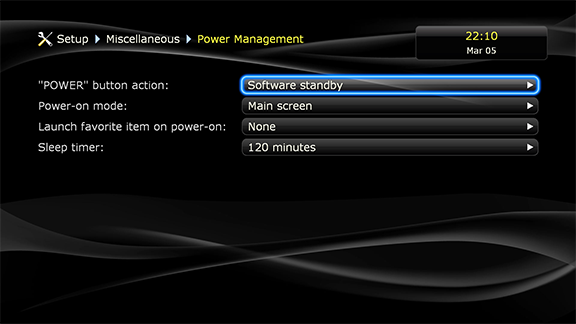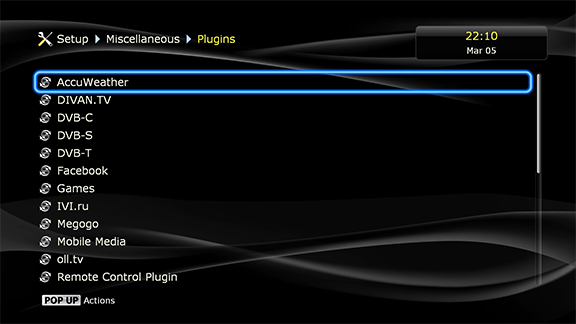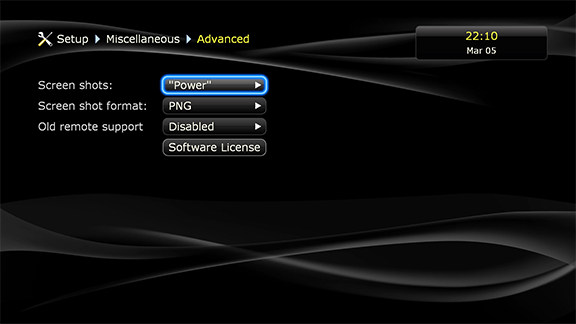 Information sub-item features brief information about the device.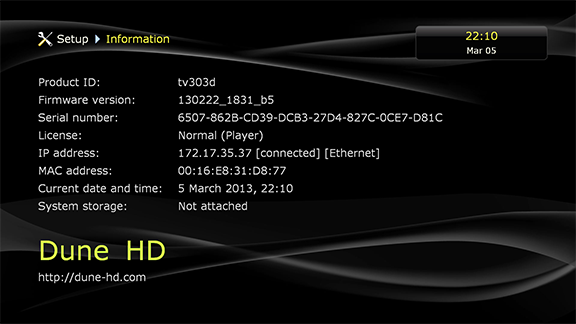 That is where we bring review of the device interface to a conclusion and pass directly on to testing it.
The first testing procedure we usually carry out is estimating the booting time of the device, which is a time interval starting with the moment when the power is on until the first echo reply is received through ICMP protocol. Dune HD TV-303D boots in 30 seconds. It's worth noticing that the device booting may take less time when it changes from the sleep mode to active one (only relevant if the player has been turned off using the remote).
The second traditional test was a security scanning procedure, which has been carried out using Positive Technologies XSpider 7.7 (Demo build 3100) utility. On the whole, there were seven open ports discovered, and they are TCP-21 (FTP), TCP-53 (Blocked), TCP-80 (HTTP), UDP-137 (NetBIOS Name), TCP-139 (NetBIOS samba), TCP-445 (Microsoft DS), and TCP-30000 (unknown). The most interesting data are presented below.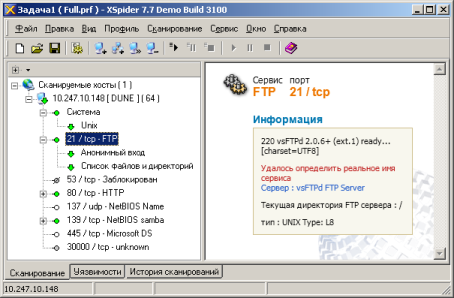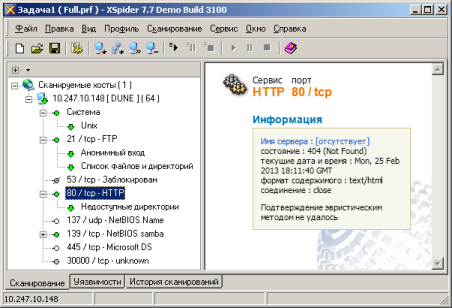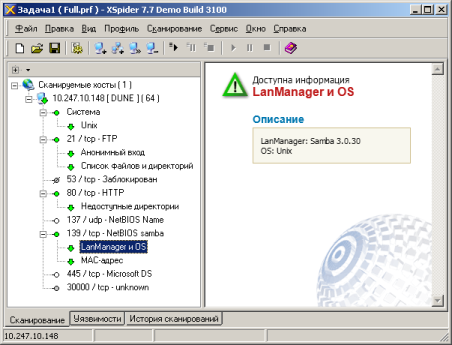 We have also took time to test Vdali TV service, and just as when we tested it in the review of Dune HD TV-301W, it showed pretty decent results.
The next thing we did was a performance test. Using Intel NASPT 1.7.1 utility we measured the access speed to the internal HDD through Samba; OCZ Agility 3 (AGT3-25SAT3-480G) with the capacity of 480 Gbytes acted as the HDD.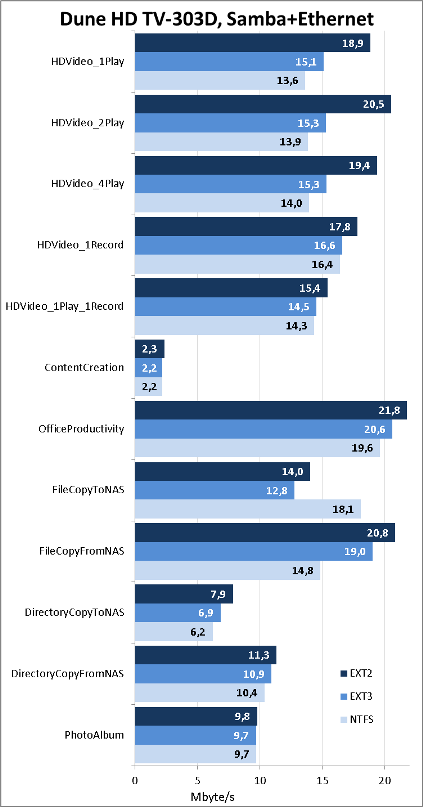 We also decided to make not synthetic measurements of data transfer speeds between a test PC and TV-303D via copying large files over the network using Windows explorer.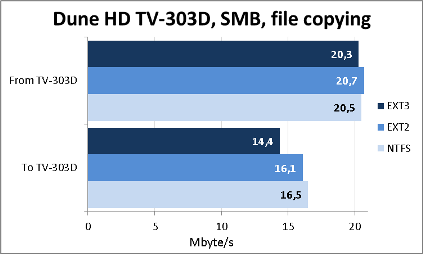 After that we connected Dune HD TV-303D to the test PC via USB. The HDD has been formatted in NTFS. Such a fundamental difference in comparison with TV-301W model we tested previously could appear on account of the other type of HDD used in tests.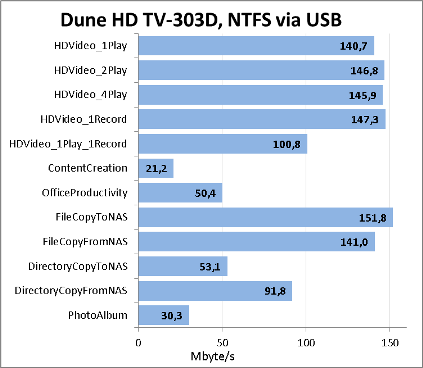 The next thing we did was to get connected to the media player via the wireless interface to test the access speeds. Dune HD TV-303D can act both as a wireless client and access point (in case the main wired connection is available).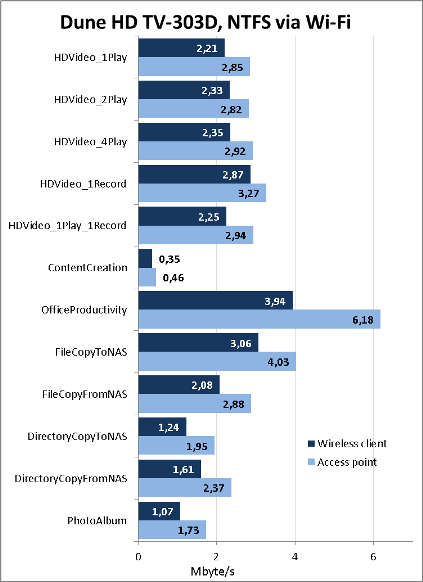 Another feature of the device that we found interesting is its ability to perform functions of a wireless router, allowing the wireless clients access to the wired network segment resources. In the meantime, the device carries out network address translation (NAT/PAT). The wireless clients are attached the addresses from 192.168.10.0/24 subnet, which is unable to be changed in the current firmware version. We just couldn't help but review the corresponding feature and test the throughput from the wireless client to the wired one using one, five, and fifteen simultaneous TCP sessions.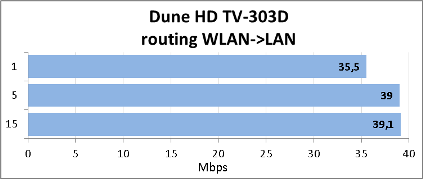 That's where we draw the testing chapter to a close and move on to summing it all up.
Generally, we are very glad about the new Dune HD TV-303D media player that allows users playing multimedia files from both local and remote data carriers and disks in the user networks as well as performing functions of a digital TV add-on device for various IPTV services without being linked to a particular internet provider. In comparison with the previous model we had already reviewed TV-303D boasts support of 3D video and higher internal HDD access speeds via Samba protocol and USB interface, but the wireless access speeds leave much to be desired. It would be fair to say that the wireless access speeds we obtained are enough for proper operation of all preinstalled interactive Dune HD video services.
The strength areas of Dune HD TV-303D are presented below.
Unique functionality and support of all wide-spread formats and audio/video codecs
Ability to choose a preferable sound track and proper operation of all popular subtitle formats
High data access speeds via USB connection
Ability to act as a wireless router
Support of Blue-Ray 3D including 3D video with MVC codec
Ability to install additional plug-ins
Unfortunately, we cannot help to mention one drawback.
Comparative low wireless segment performance
As of when this article was being written, the average price for a Dune HD TV-303D in Russia was 7990 roubles without a disc.
Also, we decided to point out both advantages and drawbacks of Vdali TV service, which we installed in the device during the testing procedure. Plug-in Vdali TV service intended for use in DUNE HD media players supports channel buffering and allows playing image and sound even with the slowest internet channels; that is the reason why user may experience substantial delays while switching over the channels.
The following are its advantages.
More than 200 TV channels (including HD ones)
Not linked to a particular internet provider
Excellent image quality
And these are the drawbacks.
Long buffering even if the connection speeds are high
Comparatively high subscription price for Vdali TV channels