When we received this wireless StreamTV adapter—which is just a bit bigger than a match box—from the vendor, we actually doubted about whether this tiny device would be able to perform according to its declared capabilities. However, during the testing procedures the device functionality turned out to be even higher than it was specified by the vendor. However, let's take our time and tell you about everything in parts.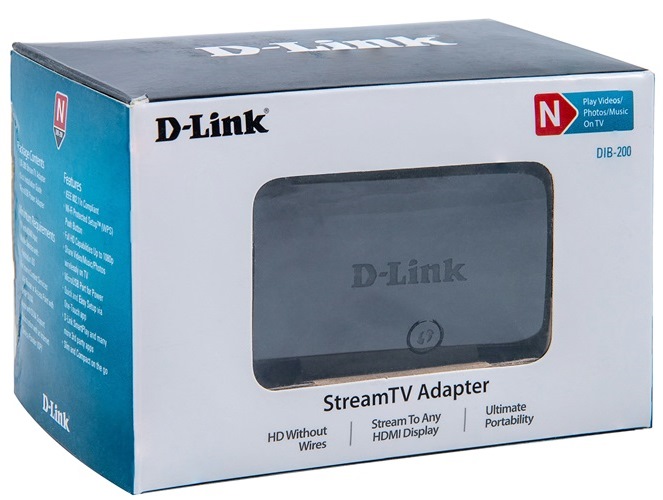 StreamTV wireless adapter comes in a black gazed plastic case which looks like a large memory card. However, it must be connected not to a USB port, but to an HDMI one. The device dimensions are 60х37х14 mm.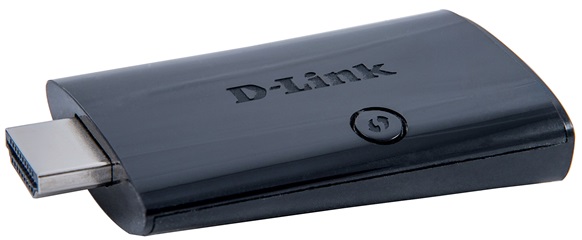 There is a microUSB port located on the opposite side of the HDMI slot. The power adapter is included in the box. However, instead of using the adapter, DIB-200 can be powered via the USB port of a TV or any other device.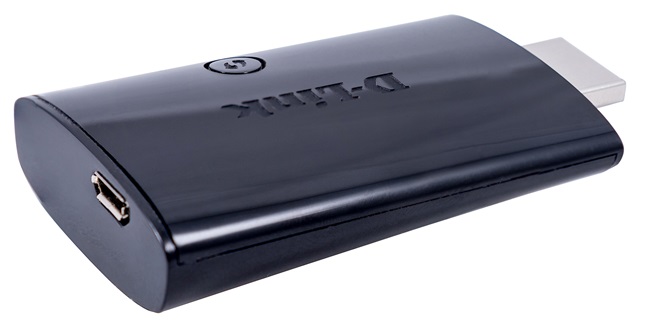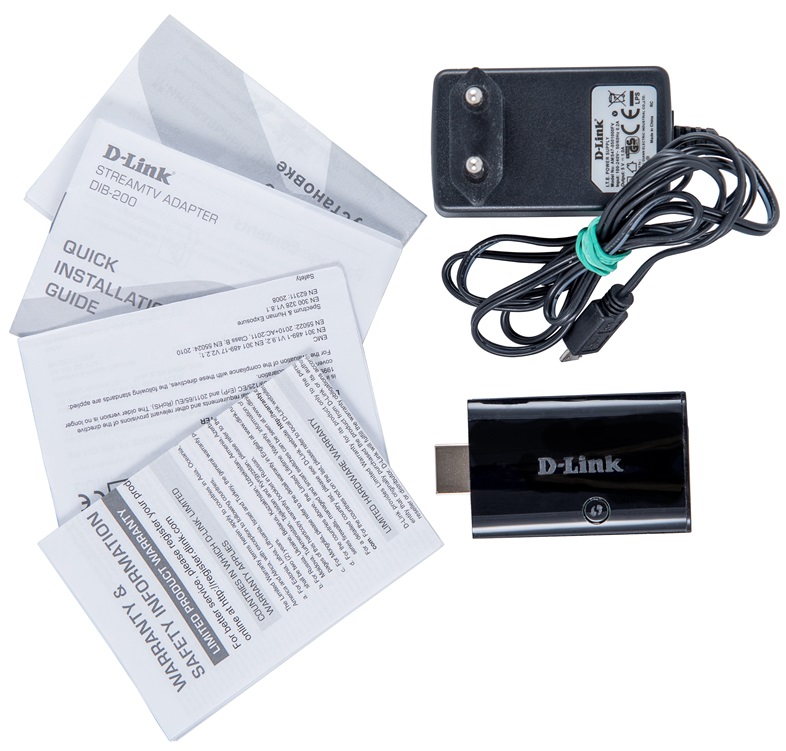 There is a WPS button, which is meant for facilitation of connection to the wireless network, located on the front panel of the device. On the other side of the device there is a round ventilation opening and sticker with brief information about the device.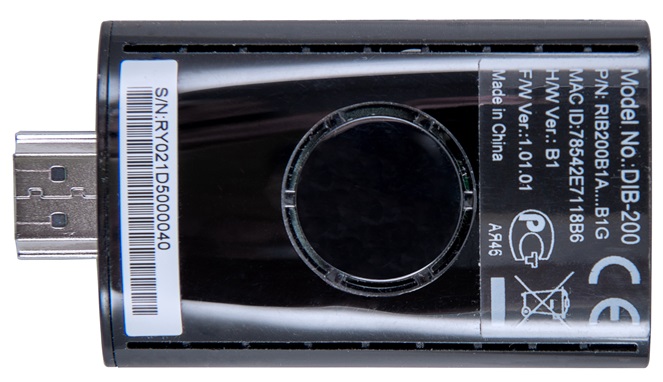 Now let's have a look at the insides of the case. The hardware platform of D-Link DIB-200 is two green textolite cards, one of which performs functions of the wireless adapter, Realtek RTL8188CUS-PF, with a USB interface that functions in 2.4 GHz frequency range. Realtek RTD1185DA, which has Gigabit Ethernet interfaces as well as USB 2.0, SATA, PCI-E, and HDMI ports, functioning in 500 MHz frequency, is used as a SoC chip in the device. The device has 256 MB of RAM that is powered by Nanya NT5CB128M16FP chip and 512 MB Toshiba TC58NVG2S3ETA00 flash memory.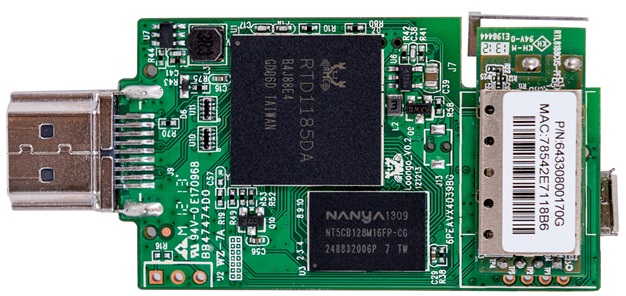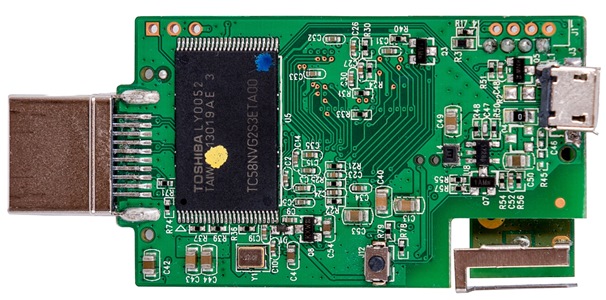 Now let's skip on to reviewing the software platform of DIB-200.
Firmware upgrade is carried out using One-Touch mobile utility which is compatible with Apple iOS and Android platforms.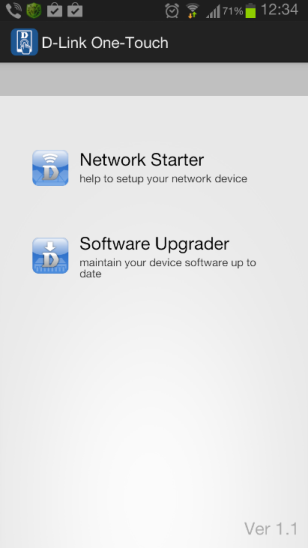 Upon firmware upgrade one needs to enter Software Upgrader item and initiate the process of detection of DIB-200 devices in the wireless segment of the local network. Once the device detection has been finished, one needs to select the adapter whose firmware should be upgraded.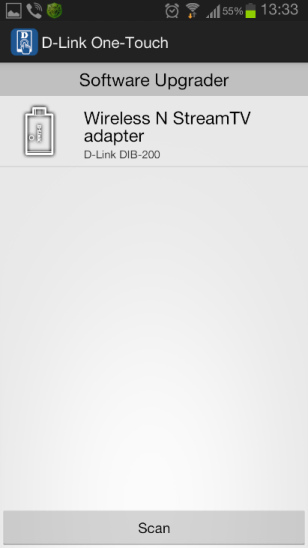 D-Link One-Touch utility would show information about the current firmware of the selected device and begin downloading the new firmware version and uploading it to the adapter.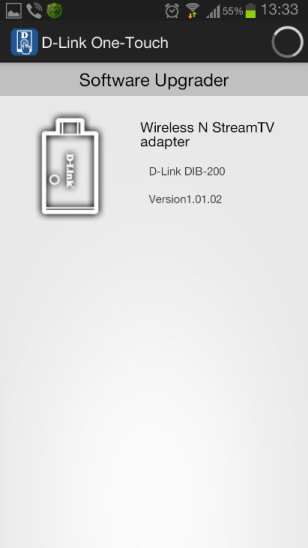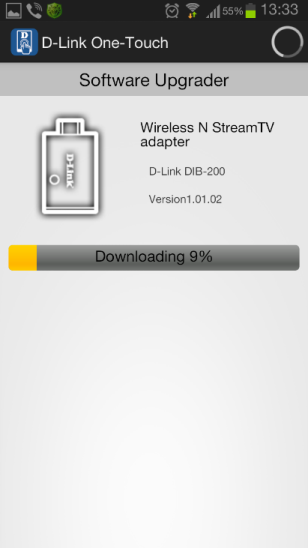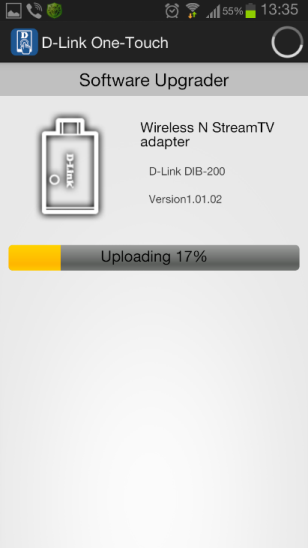 As soon as the firmware has been successfully uploaded, the device will be automatically rebooted and the firmware built in DIB-200 will be upgraded.
Let's now pass on to reviewing the interface and capabilities provided by D-Link DIB-200.
Upon the first launch D-Link StreamTV adapter creates a private wireless network and informs the user about it by displaying the corresponding notification on the screen of the TV it is connected to. In order to manage the device one must use D-Link One-Touch mobile application, which is available for the following platforms: Apple iOS and Google Android. This application lets one connect to the wireless network of DIB-200 and detect the adapter within it.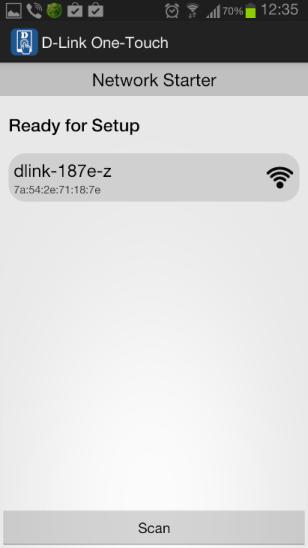 The first thing one should begin the adapter adjustment with is setting a password that will provide for access limitation to the adapter.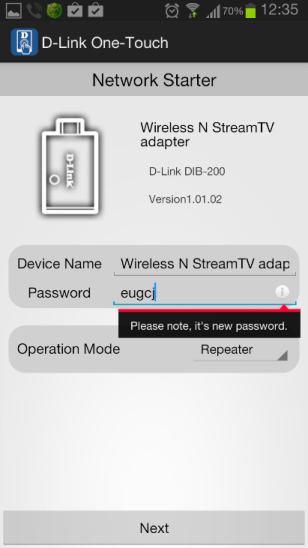 Once the password has been set, one will need to select the wireless network which DIB-200 will get connected to.
It should be mentioned that upon using D-Link One-Touch mobile application, the users will be able to use help whose design is made in a quite unusual way.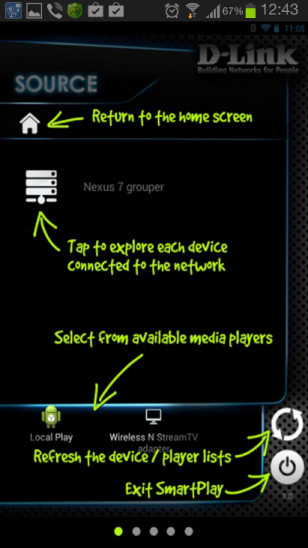 Straight after setting-up and primary adjustments have been finished, StreamTV wireless adapter will render it possible to display multimedia data stored locally in the phone memory to the TV screen.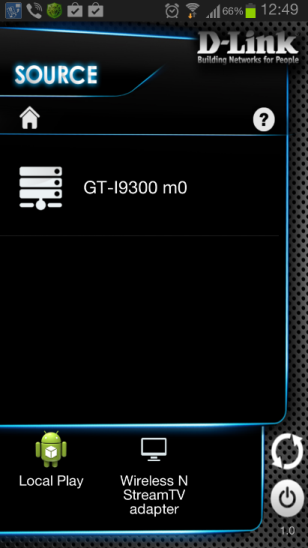 Among these data are audio and video files and photos.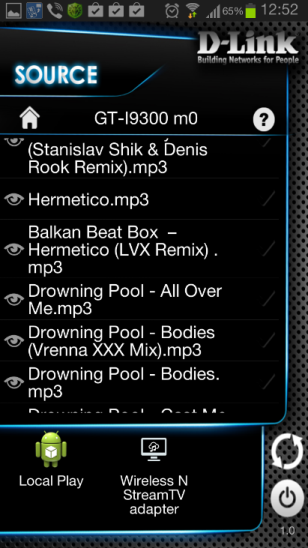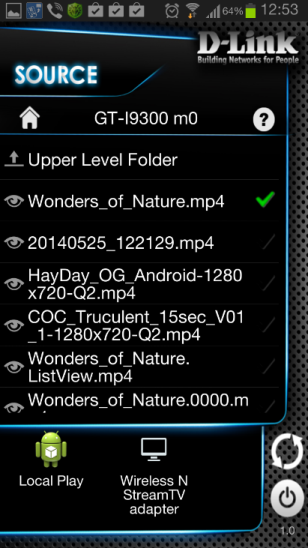 Once the media files have been selected, they will be uploaded to the device. Obviously, what's really happening is that these media files are being played in the continuous data flow mode from the user smart phone.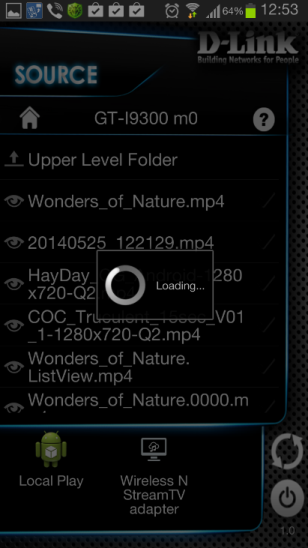 Naturally, D-Link One-Touch lets one manage the playlist in real time.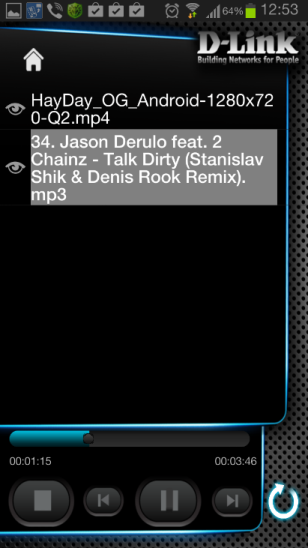 Nonetheless, we didn't find a capability that would let the user play multimedia files directly from the Internet using One-Touch application. Since the vendor made an official claim that this capability is present in the device, we just couldn't help but puzzle out how one can make it work. We found out that in order to receive data from the Internet the user will need to install a third-party application that provides the corresponding functionality. twonkybeam is one of such applications.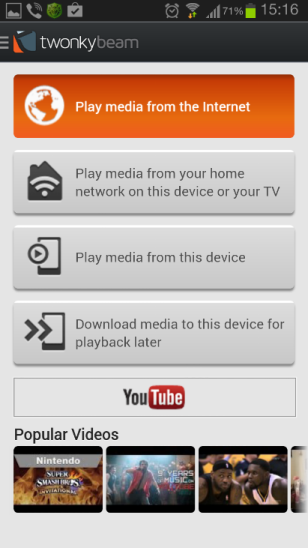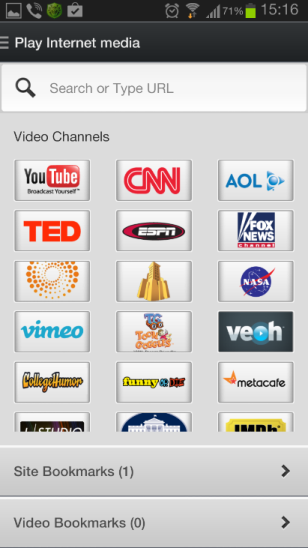 It'd be fair to mention that playback of multimedia data can be performed not only from the phone memory, but also from any NAS that supports DLNA protocol. Another feature of the device, which surprised us even more, was a possibility to send the media data flow from a usual PC to the device that supports DLNA protocol. StreamTV wireless adapter is one of the devices like that. The image below shows one how to perform the relay of the flow of the video located on Synology DiskStation 1513 NAS in the test segment of our network using Windows Media Player.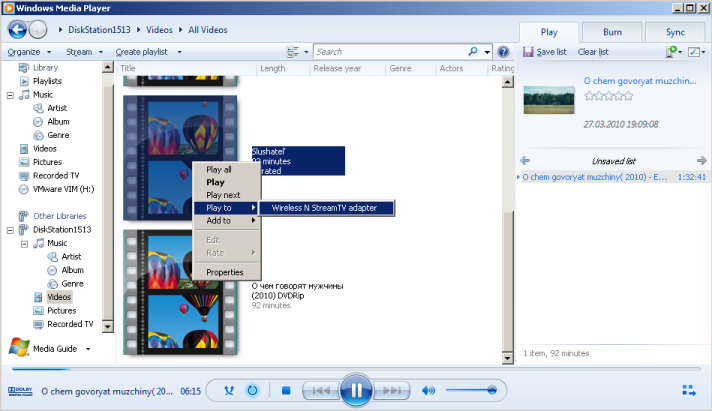 When this article had been already written, we discovered Nokia Play to app, which is used for operation with Windows Mobile smart phones by Nokia. The above mentioned application allows one connecting to D-Link DIB-200 using UPnP/DLNA and sending multimedia data to it. Of course, it's not the fully-featured support of Windows Mobile, but it's definitely better than nothing.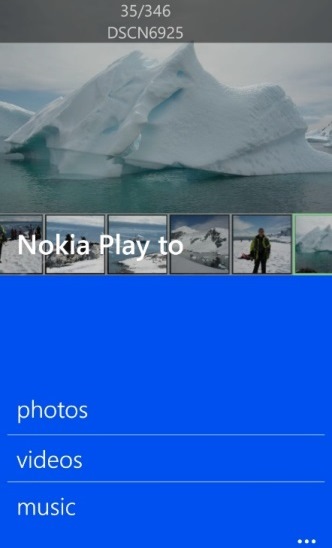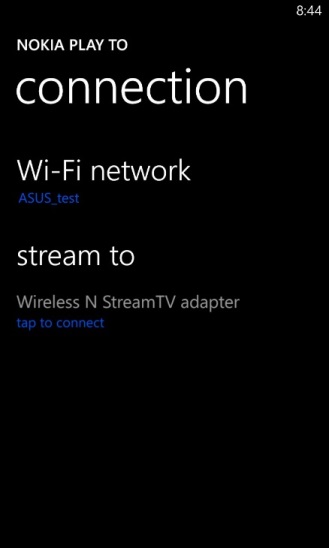 That's where we draw the brief review of capabilities of D-Link DIB-200 wireless adapter to a close and move on to summing it all up.
Generally, we are glad about the tested wireless adapter that lets one display media content on a TV screen or projector via connecting it to the HDMI port. Management and adjustment of D-Link DIB-200 adapter is performed using mobile applications for iOS and Android. However, it's also possible to send a video stream to it using a PC or notebook upon connection using DLNA/UPnP. Multimedia data can be received both via the Internet and using NASes located within the user local network upon connection via DLNA/UPnP protocols.
The strength areas of D-Link StreamTV adapter are presented below.
• Playback of multimedia data received from the global network
• Small size
• Ability to receive the video stream from local NASes
• Competitive price
• Ability of management and adjustment using mobile devices
• Ability to display data stored on a mobile device
• Ability to receive the media stream from a usual PC located within the local network
Unfortunately, we cannot help to mention some of its drawbacks.
• Absence of software for management and adjustment of the adapter available for Windows Phone OS
Also, it'd be really useful if the device could be managed not only via mobile clients, but also using a web-interface and/or utilities that one can install on a PC.
As of when this article was being written, the average price for StreamTV D-Link DIB-200 adapter in Moscow online shops was 2100 roubles.