Buffalo LinkStation 421
Firmware upgrade, utilities, and getting started
Recently our laboratory has already seen a NAS by Buffalo company—TeraStation 5600—that is marketed as a corporate segment device. Today we will review a simpler model intended for home users: LinkStation 421 with two SATA discs.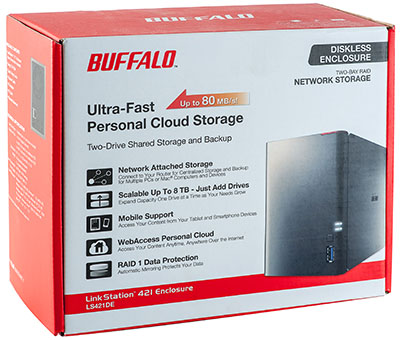 LS421DE NAS comes in a plastic case with rounded corners, which is quite conventional for this class of devices, with dimensions of 87x128x205 mm. To work properly the device needs an external power unit with the following characteristics: 12V and 4А.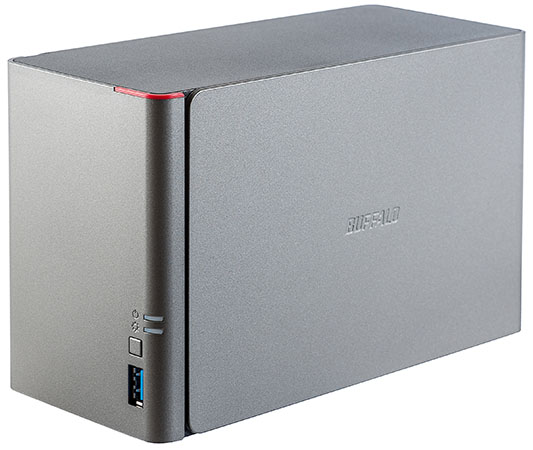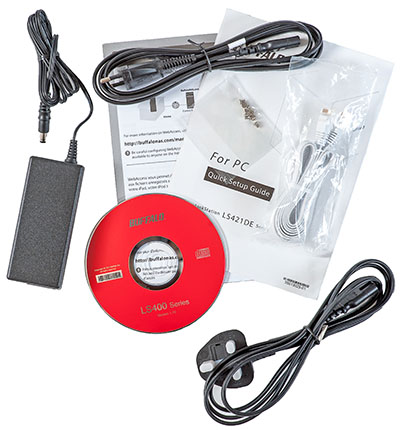 Apart from the 3D brand tag located on the sides, the upper and side panels are not remarkable at all. On the bottom of the device there are one large rubber leg and a sticker with brief information about the device.
The front panel is detachable. Behind it one can find two plastic boxes for HDD mounting and two unusable LEDs that indicate the HDD operation status. Also, behind the front panel one can find Power and Function LEDs that indicate the device status. Together with it there is another button located over here that is used to disconnect the USB devices and initialise settings. USB 3.0 slot is located under the LEDs and button.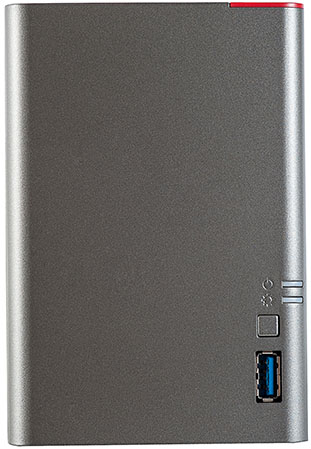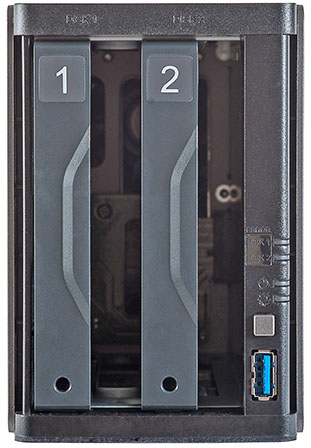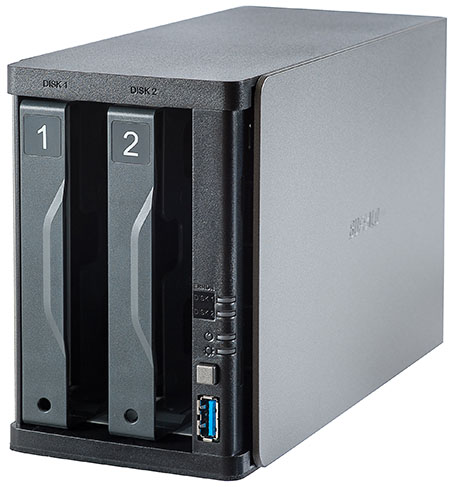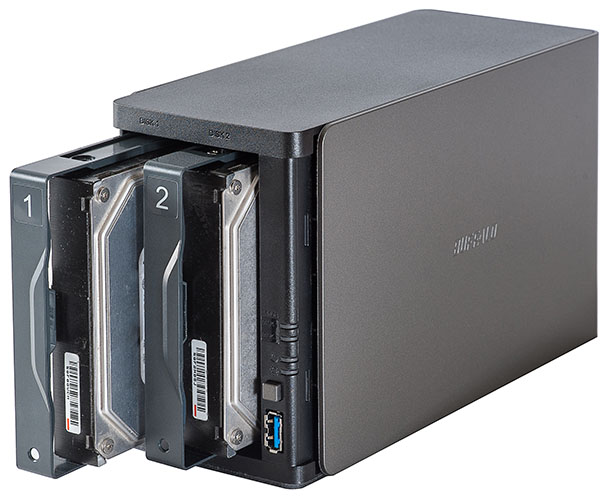 A 60 mm fan, ON/OFF button, USB 2.0 port, power socket, and cable holder are located on the NAS rear panel. Apart from all of it there are also Gigabit Ethernet network interface and Kensington lock located over here.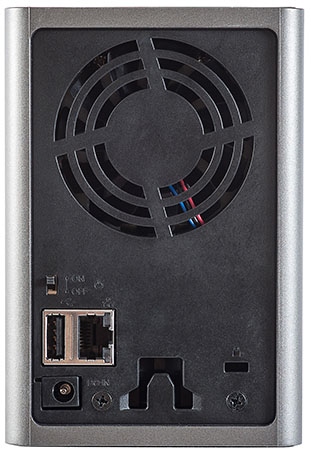 Now let's have a look at the insides of the case.
The Buffalo LinkStation 421 electronic stuffing consists of two green textolite cards. One of them is charged solely with adapter functions, letting the user get HDD connected to the main card.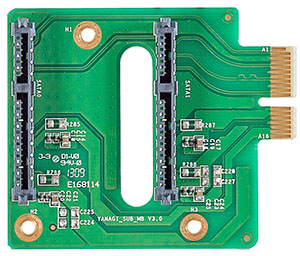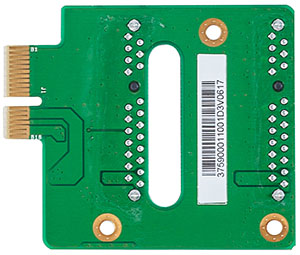 Components of the main card are located on both of its sides. SK Hynix H27U4G8F2DTR chip with the overall memory size of 512 Mbytes acts as the flash memory.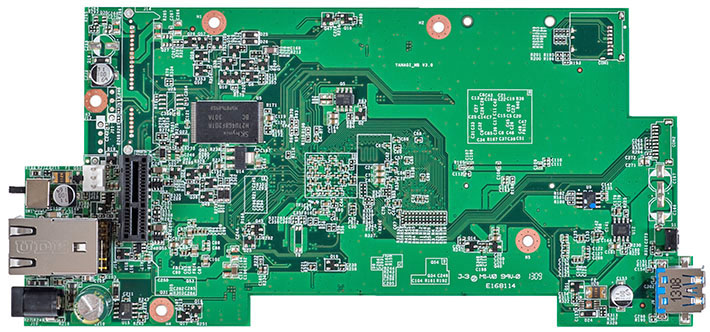 LinkStation 421 is powered by 1.2 GHz Marvell 88F6707 CPU, while two DDR3 256 Mbyte Hynix H5TQ2G83CFR chips acts as the device RAM, making the total RAM size 512 Mbytes. The network adapter is built on gigabit Marvell Alaska 88E1518 module. Support of the USB 3.0 ports is maintained by NEC/RENESAS D720202 chip.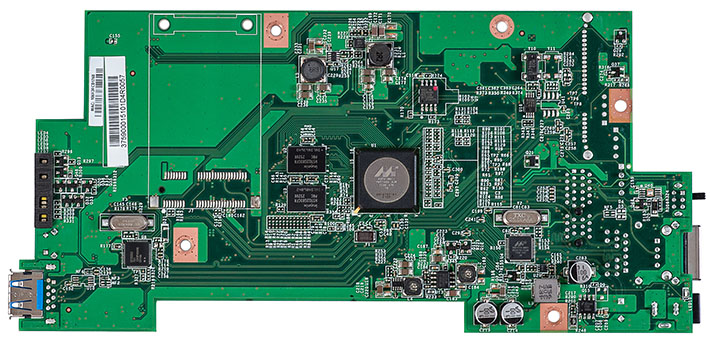 That is where we bring the review of the hardware platform of LinkStation 421 to a conclusion and pass on to examining capabilities of its software component.
Once the user has Buffalo LinkStation 421 NAS purchased, s/he will need to perform a getting started procedure. To do this one needs to install discs without partitions into the NAS, put the device on, and wait until it loads completely from the built-in flash card. Upon the initial load completion (the user will see both LEDs on the front panel lightened, one in white, the other one in red) one needs to press Function button to start the disc initialising procedure by the device. The initialisation procedure involves creation of partitions and transfer of the firmware to the HDDs, where from the fully-featured NAS loading will be performed later on. The only lightened white LED on the front panel warns the user about successful completion of all getting started procedures and loading of LinkStation 421. It's worth noticing that even before the discs were actually initialised, the device under review has been detected by NASNavigator2 utility.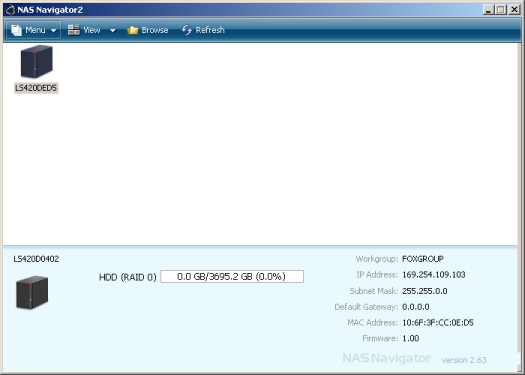 The whole getting started procedure takes about ten minutes.
One can update the firmware on the NAS that's turned on using either LSUpdater utility or by referring to Update sub-item, Management web-interface menu item. However, it's worth noticing that in this case LinkStation 421 must be connected to the Internet.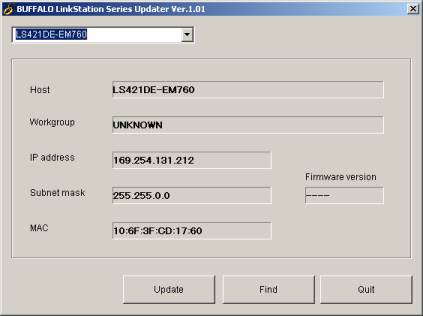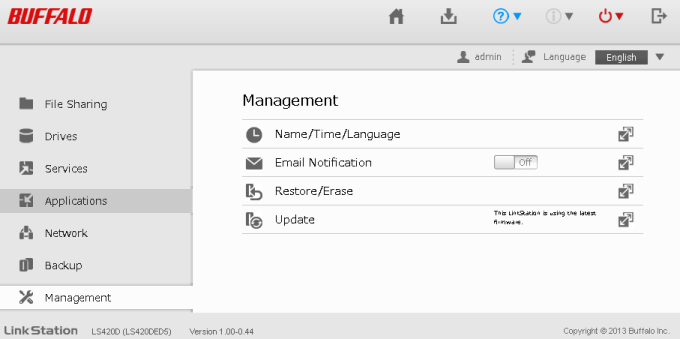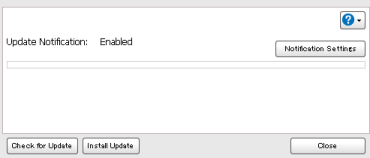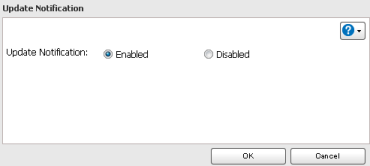 Ritually, we recommend the users to update the firmware on a regular basis since apart from the updated functionality the newer firmware versions also fix detected errors and vulnerabilities.
Once the firmware has been updated, one will need to pass on to the initial device set-up procedure by detecting the NAS within the network using NASNavigator2 utility and addressing its web-interface where the initial set-up wizard is located.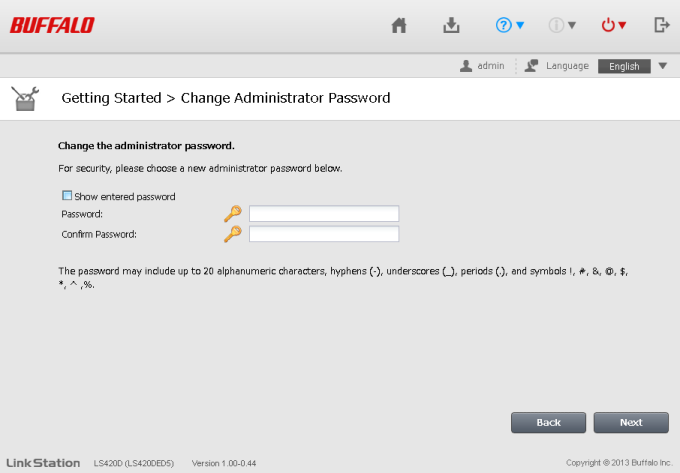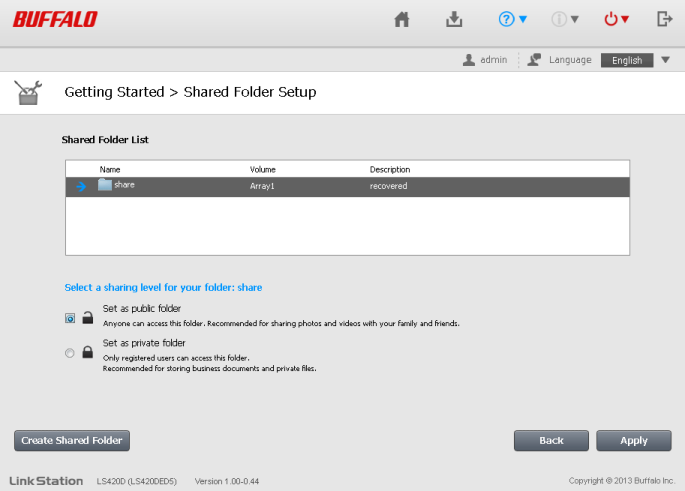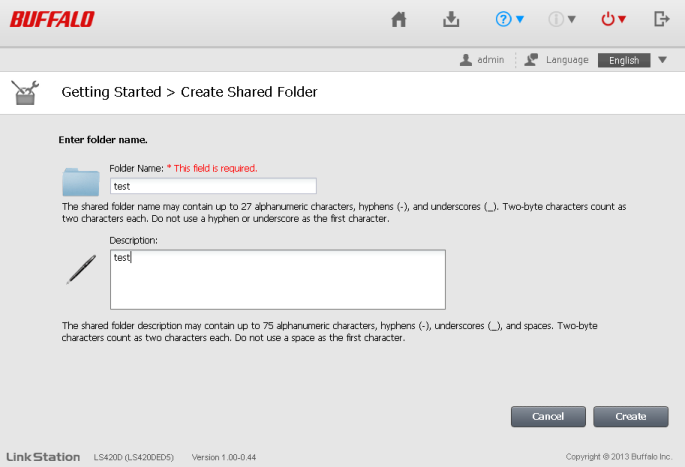 Another utility that may be quite helpful for the user is Network-USB Navigator. It allows detecting a Buffalo NAS with connected USB devices within the local network. This kind of detection may be useful if a user wishes to get the devices virtually connected to his/her PC.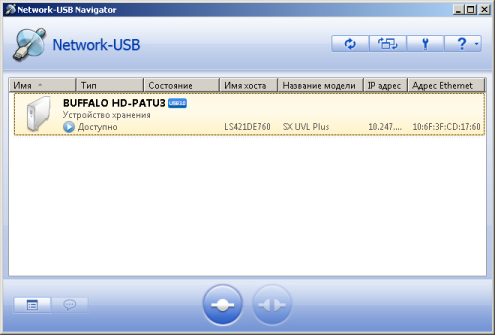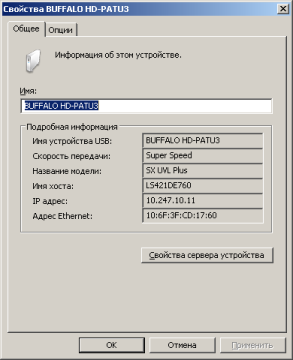 That is where we bring review of the getting started process to a conclusion and pass on to examining capabilities of the device web-interface.
Web-interface is available in two mode —easy admin and advanced mode—in 17 languages. Easy admin mode allows the user only to review service statuses.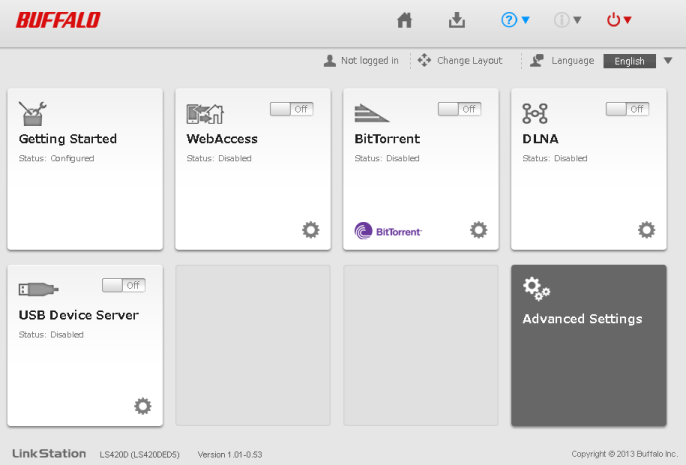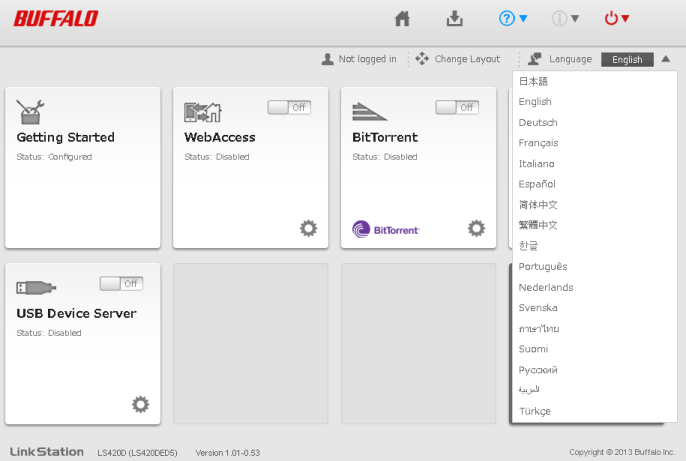 To obtain access to the advanced mode the user needs to get authenticated.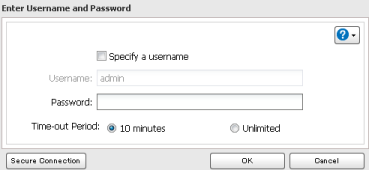 LS421DE NAS web-interface is similar to the one we already saw in TeraStation 5600, and therefore we will not review all of its capabilities in detail but only focus on the most interesting ones. File Sharing menu item allows managing folders, users and their groups, and SMB, AFP, FTP, and WebAccess services. The latter affords access to data using HTTP.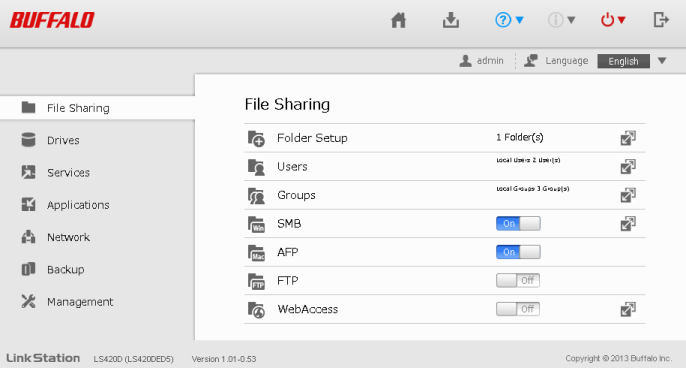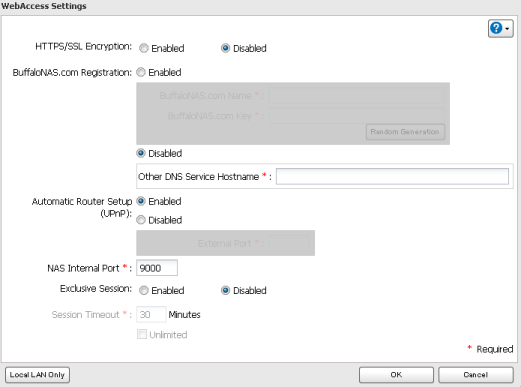 By using Drives menu item the user can manage internal and external HDDs and RAID arrays. Buffalo LinkStation 421 NAS only allows creating the following arrays: RAID0 and RAID1.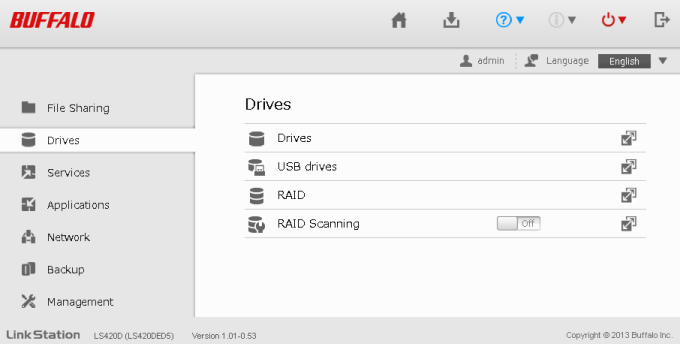 Network access services are located in Services group, where the user can manage DLNA, iTunes, and print server services. Apart from it, using the same group the user can gain access to the settings of the network USB port service that allows transferring the device, which is connected to the NAS USB port, to a local user PC. However, one will need to install supplementary software on the user PC beforehand. DLNA server initialising may result in a considerable decline in access speeds to the user data located on the NAS, and that's why the vendor technical support strongly advises the users to switch this service off unless used on a regular basis.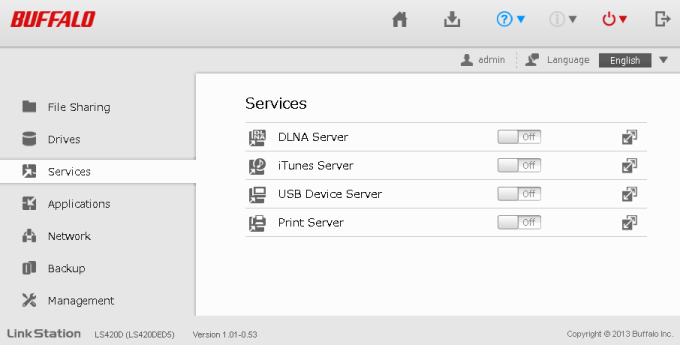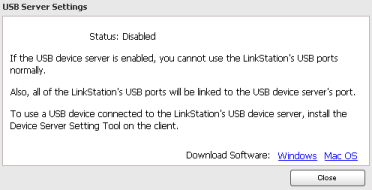 Buffalo LinkStation 421 supports operation in P2P networks and one can use BitTorrent sub-item, Applications menu item to manage it.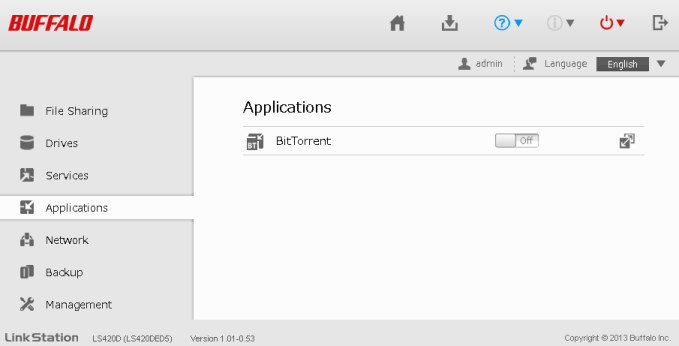 Using Network menu item the user can alter IP parameters, add the device into a domain, and check the network connectiveness using ICMP.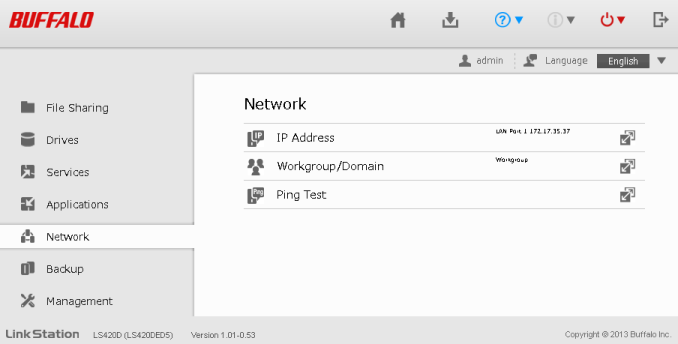 The user can carry out data hot backup using the same-named menu item.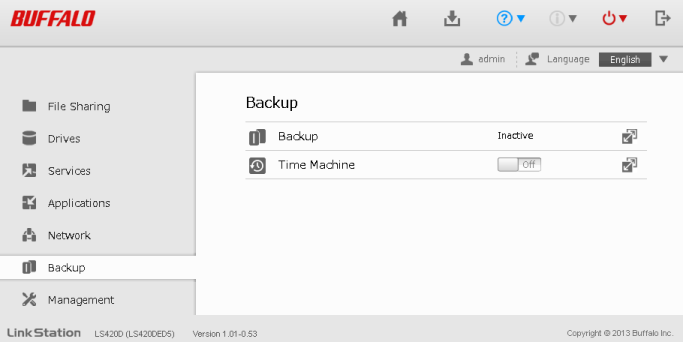 Management menu item allows one to choose the device name and web-interface language, specify the time sync parameters, manage user settings, and upgrade firmware.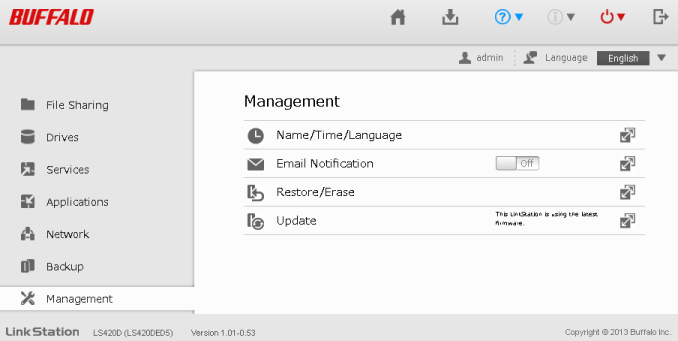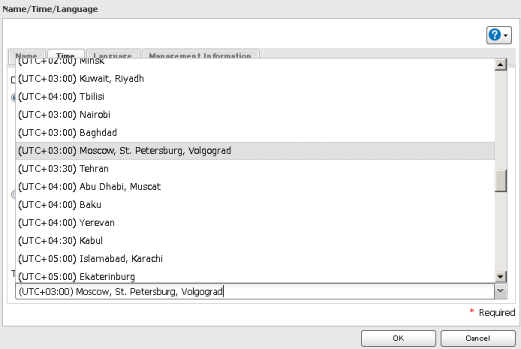 Unfortunately, Buffalo LinkStation 421 device still thinks that Moscow time is three hours ahead UTC.
That's where we proceed to completion of the brief review of the NAS web-interface capabilities and pass directly on to testing it.
The first testing procedure we usually begin our testing section with is estimating the booting time of the device, which is a time interval starting with the moment when the power is on until the first echo reply is received through ICMP. Buffalo LinkStation 421 boots in 119 seconds.
The second test was a security scanning procedure, which has been carried out using Positive Technologies XSpider 7.7 (Demo build 3100) utility. On the whole, there were 12 open ports discovered, and they are TCP-22 (SSH), TCP-80 (HTTP), UDP-137 (NetBIOS Name), TCP-139 (NetBIOS Samba), TCP-443 (HTTP SSL), TCP-445 (Microsoft DS), TCP-515 (Printer), TCP-548 (afpovertcp), TCP-873 (RSyncd), TCP-3689 (HTTP), TCP-8873 (unknown), and TCP-22939 (unknown). The most interesting data of those we obtained are presented below.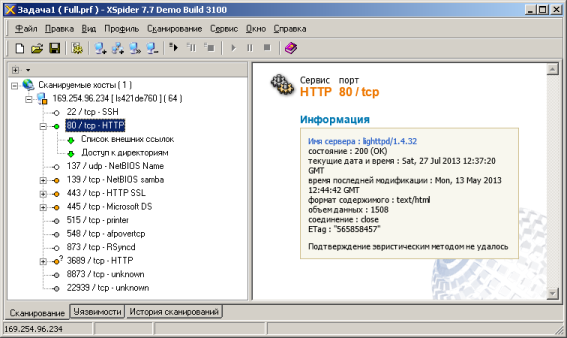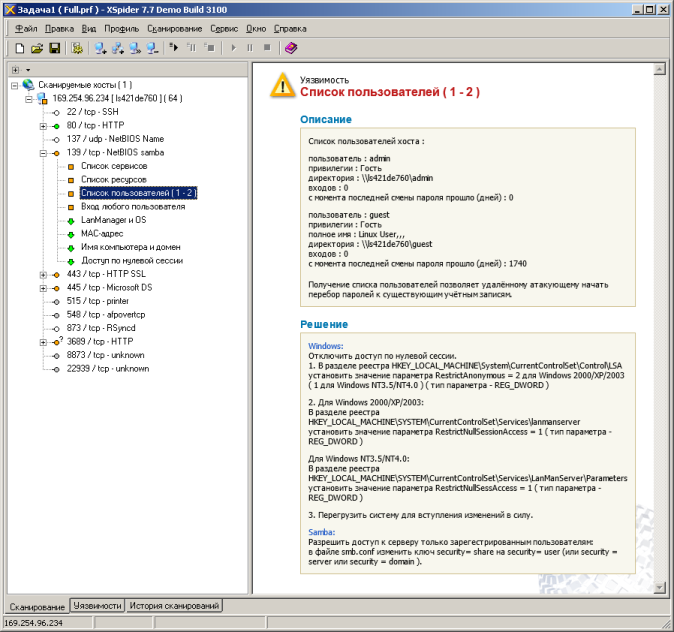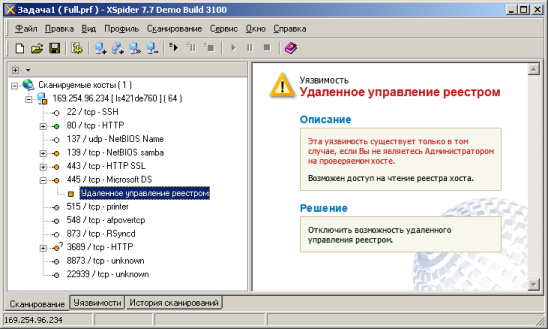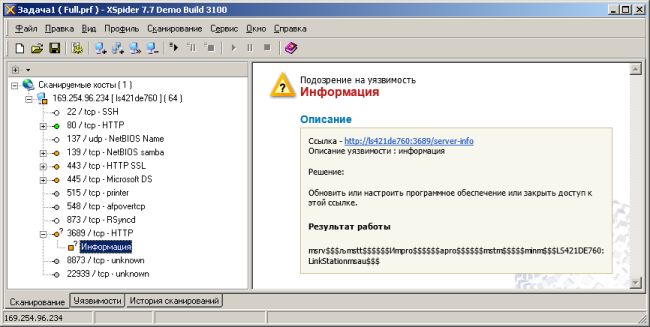 Before getting down to performance tests we would like to mention the key specification of the test stand we used.
Component
PC
Motherboard
ASUS Maximus V Extreme
CPU
Intel Core i7 3770K 3.5 GHz
RAM
DDR3 PC3-10700 SEC 32 Gbytes
NIC
Intel Gigabit CT Desktop Adapter
Intel Gigabit 82579V
OS
Windows 7 x64 SP1 Rus
The first throughput test was measuring the access speed to the data stored on internal HDDs. As always, we used SATA III Seagate Constellation ST2000NM0011 data carriers for testing. Since Buffalo LinkStation 421 NAS is meant to be used with two HDDs, only RAID0 and RAID1 arrays can be created.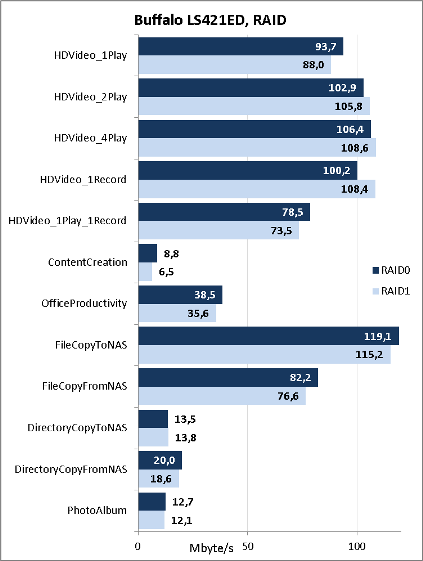 On the device front panel there is USB 3.0 port, while the rear panel has USB 2.0 port located on it. At first we decided to test access speeds to the data stored on an external data carrier, connecting it to USB 2.0 and 3.0 ports. We planned to use our usual 750 Gbyte Transcend StoreJet 25M3 external data carrier, but the NAS refused to detect it and work with it. We were somewhat surprised at this since TeraStation 5600—a high-end model which we have already reviewed—successfully detected the disc and was exchanging data with it. We asked a vendor representative to comment on that issue and we were told that all Buffalo devices support operation only with discs made by the same vendor. At our request we were provided MiniStation Thunderbolt (HD-PATU3) data carrier that we used to perform the comparison test with a partition in NTFS.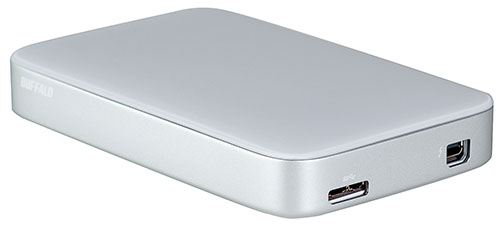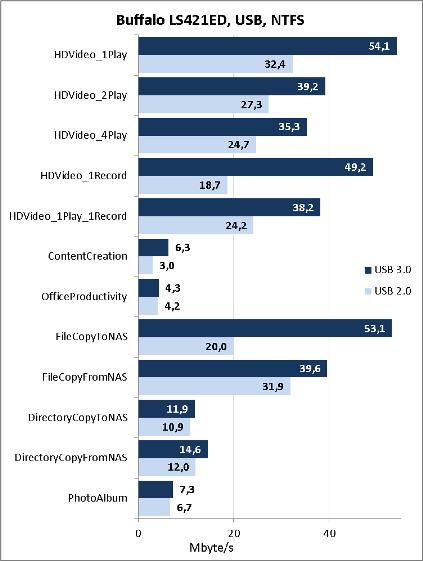 We also decided to find out what effect the file system has on access speeds to the data located on an external USB 3.0 HDD. We do not know what's the reason for such high figures of XFS, but most probably some kind of caching caused this and we believe that one should not rely on these results too much.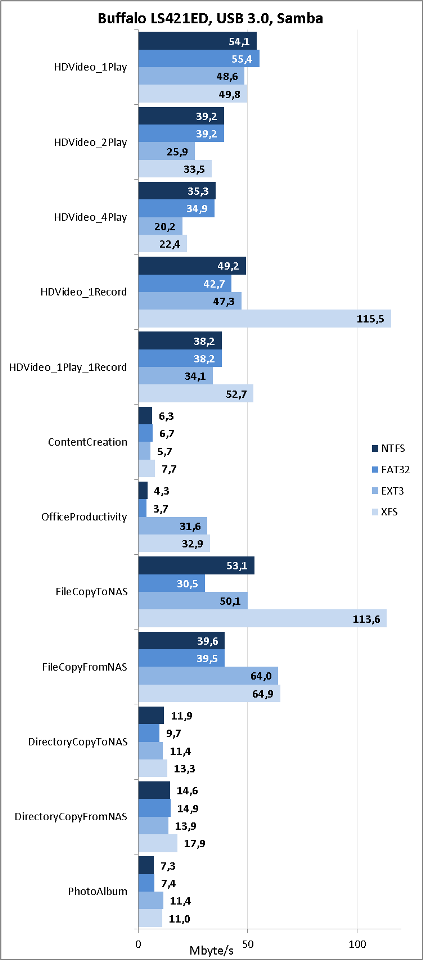 LinkStation 421 has an interesting capability—USB-port feature—that allows the user to get a remote device, which is connected to the NAS USB port, transferred to the local PC. To make this feature work one needs to have supplementary software installed. It will allow for detection of Buffalo devices within the network and emulate the device local connection. We decided to test access speeds to the data stored on MiniStation Thunderbolt disc using Samba and USB-port.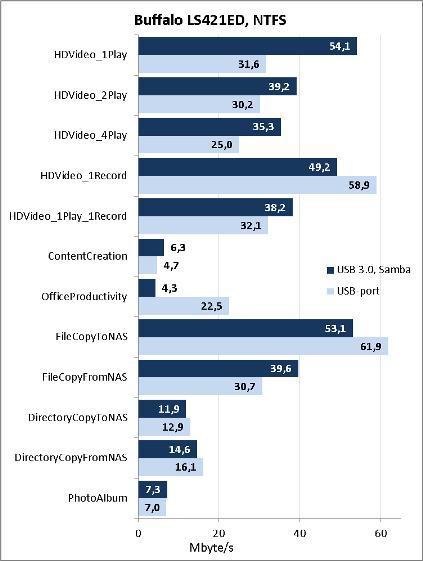 We think that it's necessary to say a few words about Buffalo MiniStation Thunderbolt external disc, which supports connection via Thunderbold and USB 2.0/3.0 interfaces. Upon connection to the PC via Thunderbolt interface the device manager displays the name of the connected disc, ST500LM012 HN-M500MBB ATA Device.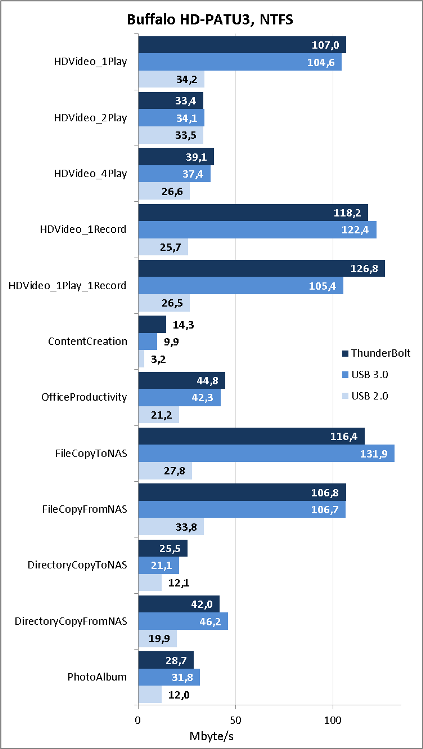 That's where we draw the testing chapter to a close and move on to summing it all up.
Generally, we are quite glad about Buffalo LinkStation 421 NAS intended for use at home and small offices. It's a small and relatively silent device without odd buttons and LEDs. Though there was one thing we were surprised at in this device; it's the absence of support of third-party external data carriers. On one hand, it let us get more acquainted with another Buffalo's device, MiniStation Thunderbolt, but on the other hand, it may be a real headache for those LinkStation 421 users who didn't plan to purchase any hard discs by Buffalo. Fortunately, the reviewed model does not require the internal hard discs to come from the same brand, as we saw it in TeraStation 5600 model.
Strength areas of Buffalo LinkStation 421 NAS are presented below.
High data access speeds
Presence of USB-port feature used for connection of remote devices to the PC
May be managed by both HTTP and HTTPS
Availability of context-sensitive help on each page of the web-interface
Ability to operate in P2P networks
Small size
Competitive price
Unfortunately, we cannot help to mention some of its drawbacks.
Incorrect time zones
Long procedure of RAID1 creation
Limited support of external USB discs
No IPv6 support
As of when this article was being written, the average price for Buffalo LinkStation 421E (without discs) in Moscow online shops was 8200 roubles.