ASUS RT-N14U
Firmware upgrade and utilities
Lately our laboratory mainly hosted top devices by ASUS, but today we decided to review a wireless router that falls within a completely different price range. Welcome budget-priced ASUS RT-N14U.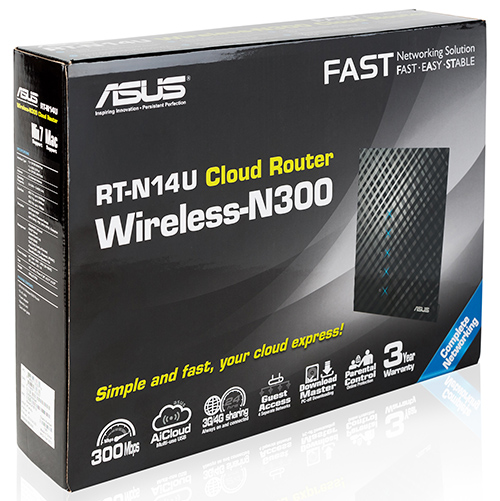 External design of ASUS RT-N14U is very similar to that of RT-N56U model we had already reviewed. It is mounted in the same way - vertically using a support stand - and has the same glazed and ribbed case coating material. However, the material feels different: you can see that the plastic is thinner and its quality is lower. The device has dimensions of 187x145x77 mm including the support stand. To work properly ASUS RT-N14U needs an external power unit with the following characteristics: 12V and 1А.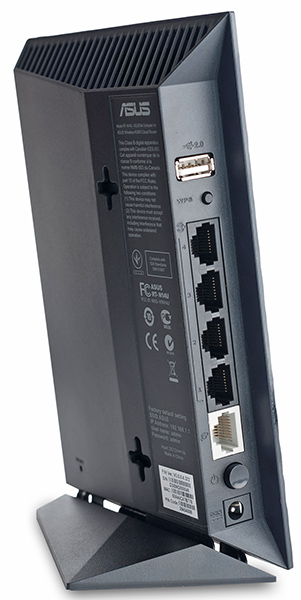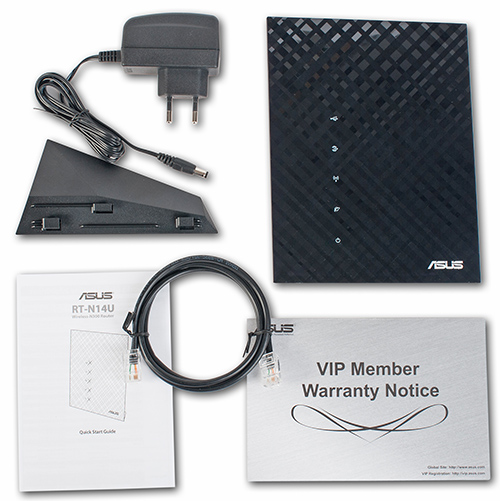 The front panel has the following LEDs located on it: USB, LAN, AIR, WAN, and PWR, as well as a 3D brand tag.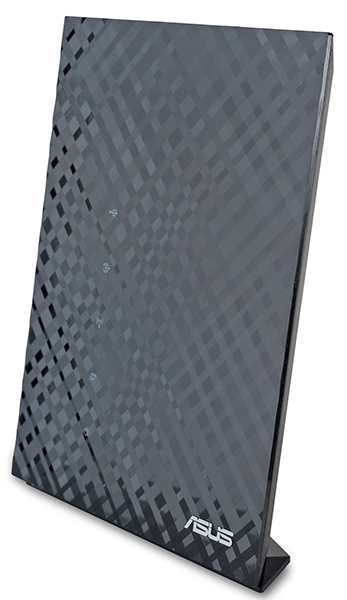 The upper panel is a ventilation grate.

On one of the side panels there are five Fast Ethernet ports (one of them is WAN and the rest are LAN), USB 2.0 port, and a power socket. This panel also has ON/OFF button and WPS button used for facilitating new wireless user connection procedure located on it.

On the rear panel of the case there are sunken Reset button, two tooling holes used to mount the router onto the wall, and a sticker with brief information about the model.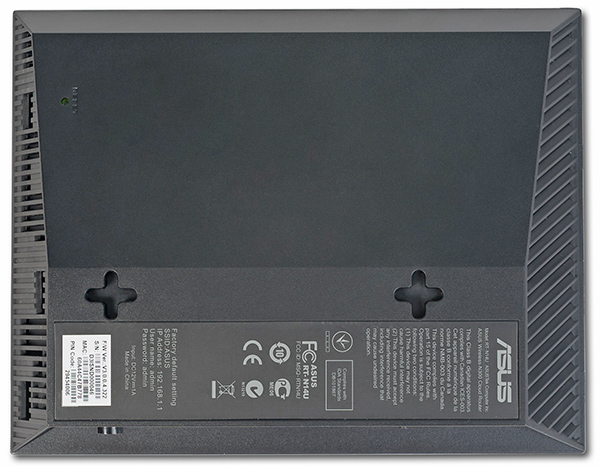 The bottom panel has a ventilation grate with the socket for stand mounting located on it.

Now let's have a look at the insides of the router. Hardware platform of ASUS RT-N14U is one green textolite card with two main chips on one of its sides. The first chip is Mediatek MT7620N, while the second is a DDR Nanya NT5DS32M16DS-5T RAM module with a capacity of 64 Mbytes.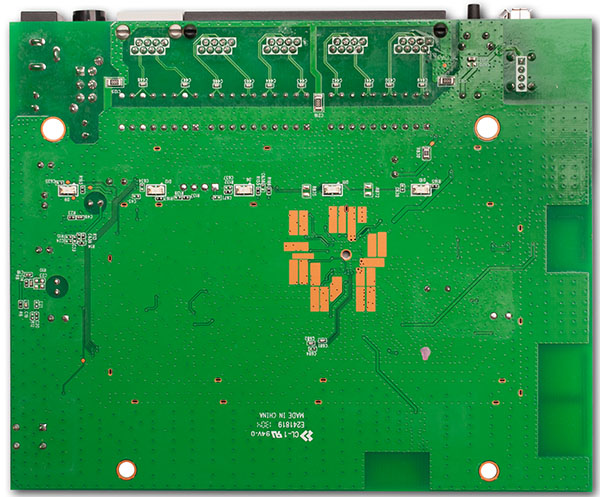 That is where we pass on to reviewing the software capabilities of the device.
Firmware upgrade is carried out in Firmware Upgrade tab, Administration menu item. If the device is connected to the WAN, in semi-automatic mode it can check availability of newer firmware on the vendor's website. As a matter of course, a manual firmware upgrade option is available. The whole firmware upgrade procedure takes about three minutes (not considering the firmware download time from the ASUS servers) and does not require any kind of special technical knowledge from the user.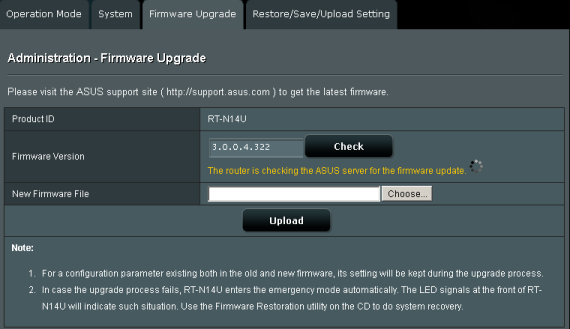 In case of a failure during the firmware upgrade process, the router changes for the rescue mode during which the Power indicator on the device front panel starts slowly flashing. It's worth noticing that the user can switch ASUS RT-N14U to the rescue mode by pressing WPS or Reset button for a few seconds while the device is booting. In comparison with the other wireless network equipment by ASUS, RT-N14U does not reply to echo requests through ICMP in the rescue mode. Firmware Restoration software, which is available for downloading from the vendor's website as part of the utility kits, makes it possible to upgrade the firmware while the device is in the rescue mode. The recovery process is easy enough; one just needs to choose a file with the applicable firmware and click on Upload button. The utility will do the rest.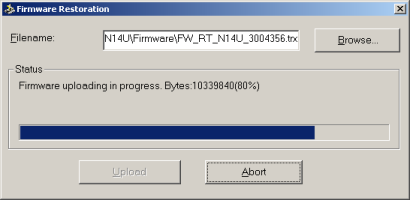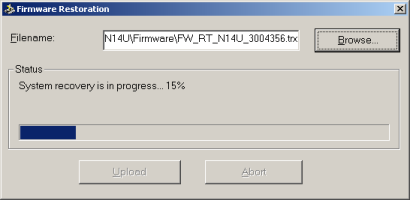 The manual recovery process is available as well. To do this one needs to get connected to the RT-N14U LAN-port and use a network analyzer (we used Wireshark 1.8.6) to identify for what IP-address 192.168.1.1 node sends out ARP-requests. In our case the requests were sent out for 192.168.1.75 address. It is possible that the address will be the same for all the rest of ASUS RT-N14U devices and all other firmware versions.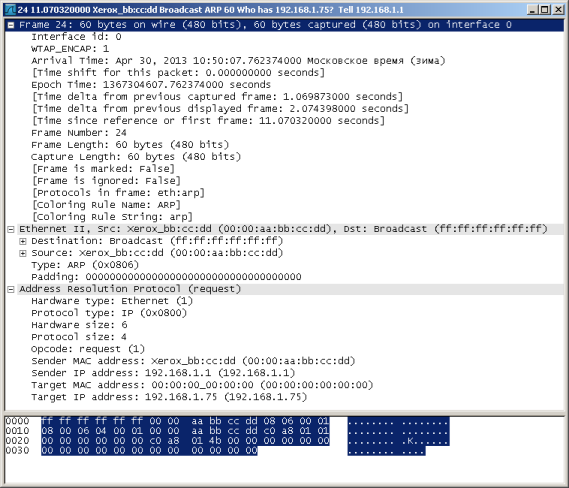 The next thing one needs to do is to change the IP-address for the one we obtained (192.168.1.75 in our case) on a PC from which the recovery process is carried out, and upload the firmware to the router through TFTP.
C:\>tftp -i 192.168.1.1 put FW_RT_N14U_3004322.trx
Successfully sent: 12978965 bytes for 38 sec., 341551 bytes/s
Once the firmware has been successfully uploaded, one will need to wait for a couple of minutes and reboot the router. These steps are enough to restore the firmware on the device.
When this article was being written the vendor's website featured the following utilities: Printer Setup Utility used to connect a printer, Device Discovery used to discover ASUS wireless devices in the local network, Firmware Restoration used to restore the firmware, and Router Setup Wizard which is used to facilitate the initial router configuration process.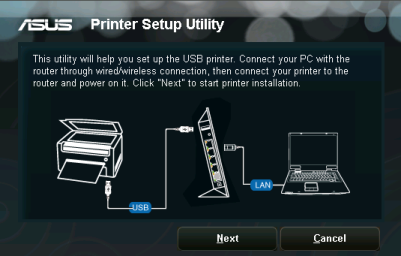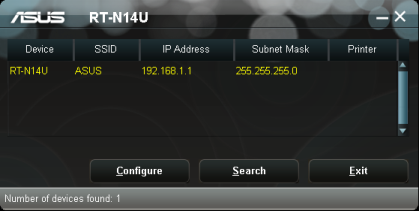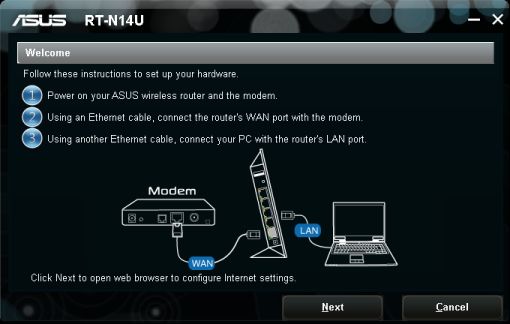 Now we are ready to pass on to reviewing ASUS RT-N14U wireless router web-interface capabilities.
Any modern web-browser may be used in order to access the device web-interface. Upon the first login the user will need to specify certain initial settings that include administrator password, operation mode, and Internet access options.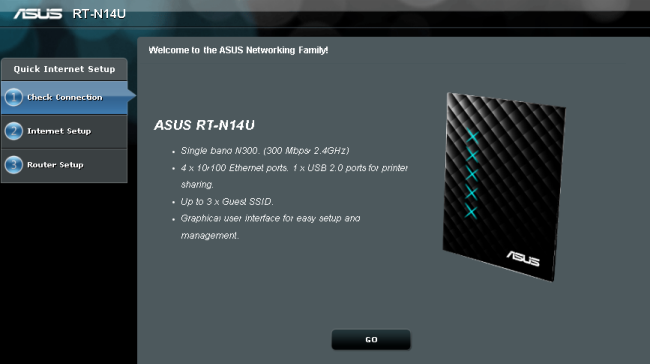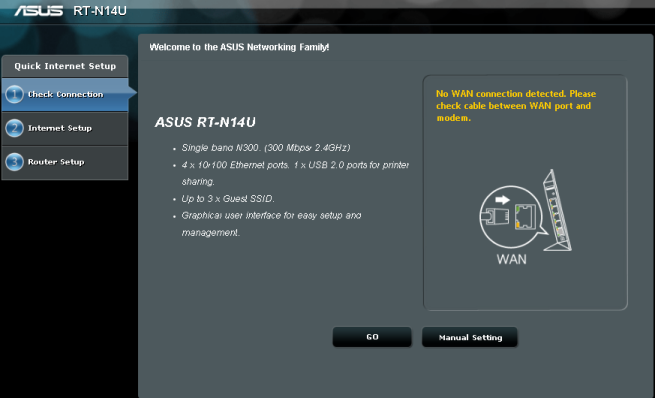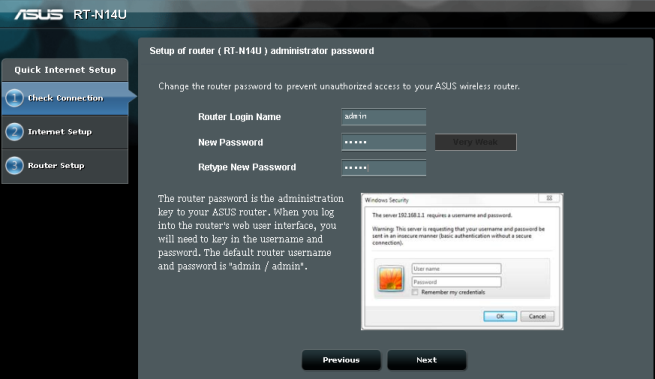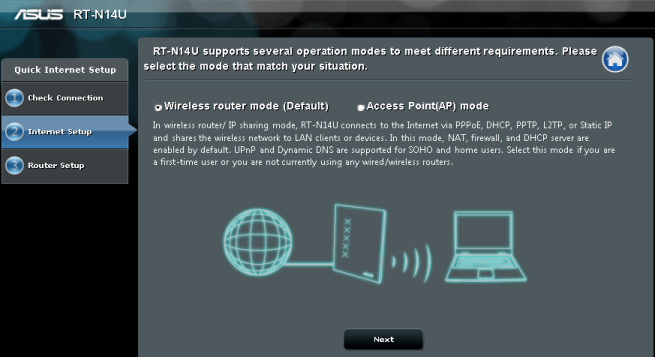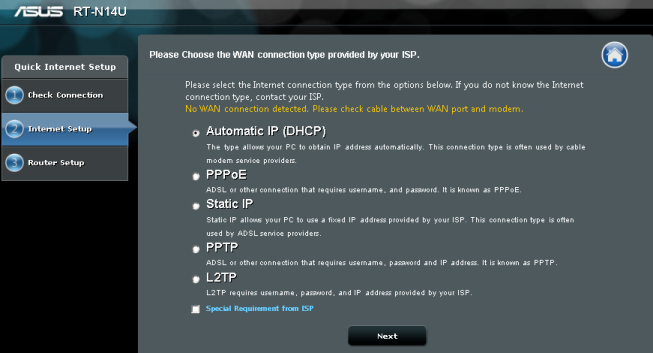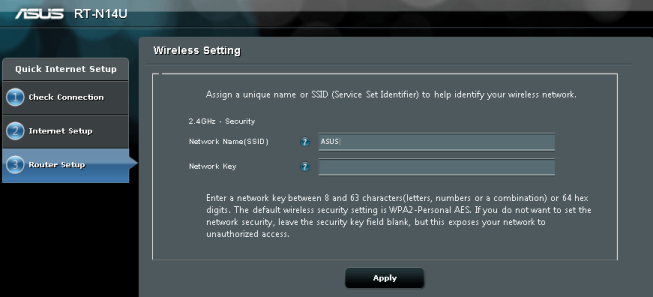 Once this has been finished, the user will find him/herself on the home page of the router web-interface which is available in 19 languages.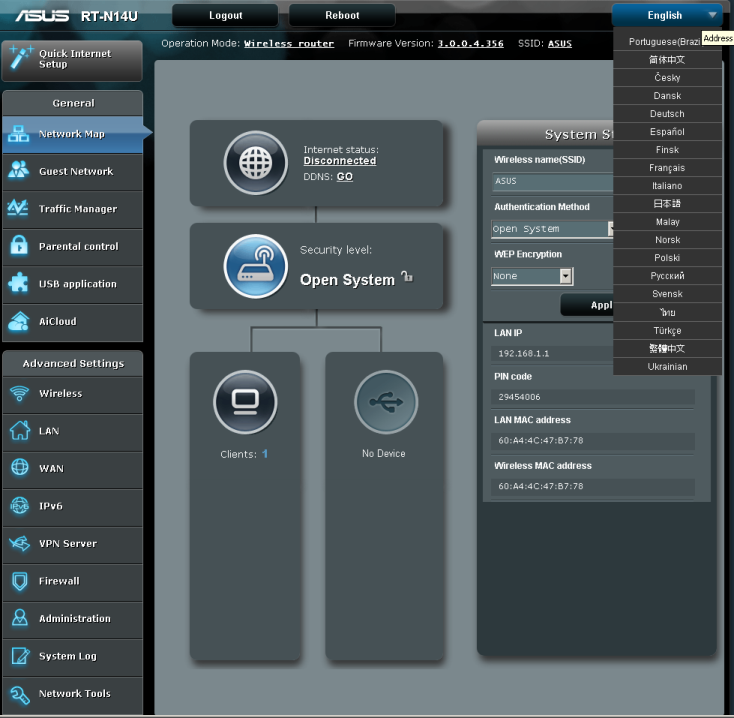 We will not review all capabilities of ASUS RT-N14U web-interface in detail since it is built on ASUSWRT firmware, the capabilities of which we had already explained in reviews of top models RT-AC66U and RT-N66U routers. We will only review some of its capabilities.
USB application menu item features a whole array of services: AiDisk, Servers Center, Network Printer Server, 3G/4G, Download Master, Media Server. They are all used to get printers, flash cards, external HDDs, or wireless 3G/4G modems connected to the device USB-port.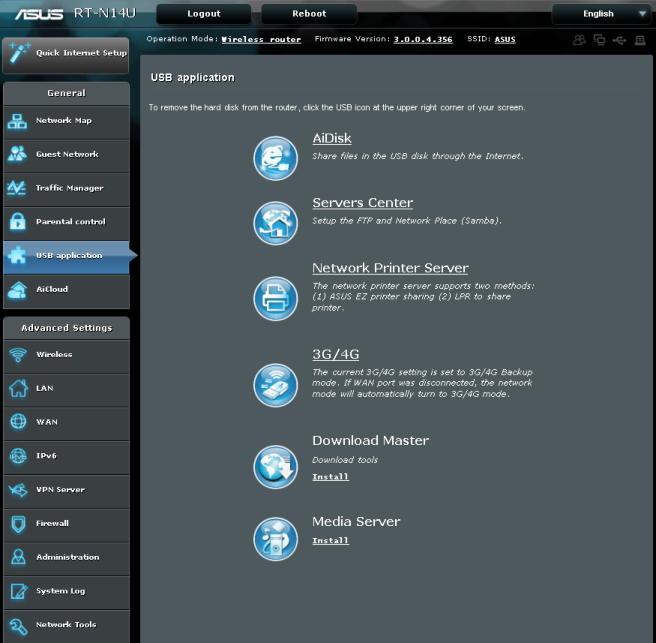 Access to ASUS cloud services can be gained using AiCloud menu item.
RT-N14U wireless router allows connecting IPTV STBs to the local network. To manage the connection settings one needs to use IPTV tab, LAN menu item. We would like to point out that we couldn't find any settings associated with NAT hardware accelerator which we had seen in more expensive ASUS router models.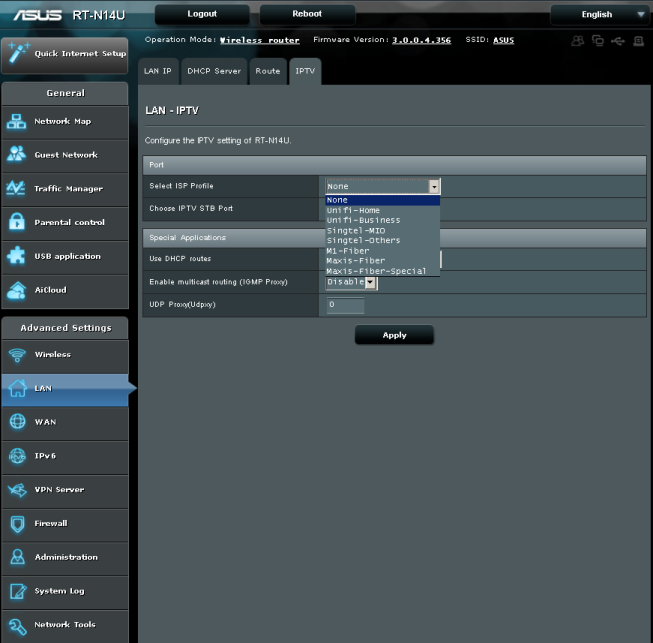 WAN group needs to be used in order to manage parameters of connection to the provider. The connection may be carried out both using static or dynamic IP, PPPoE, L2TP, or PPTP addresses. Among pleasant capabilities of the device is an option that switches on additional authentication through 802.1x protocol.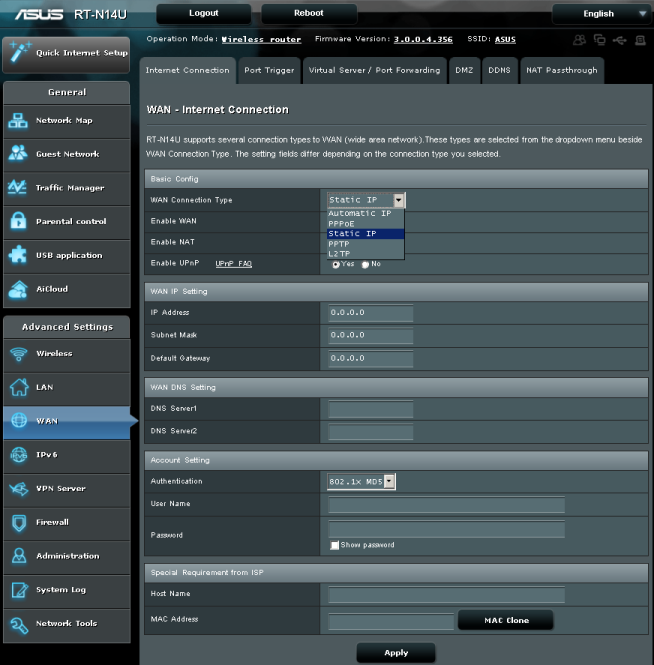 As a matter of course, ASUS RT-N14U supports IPv6 and the corresponding settings are located in the same-named menu item.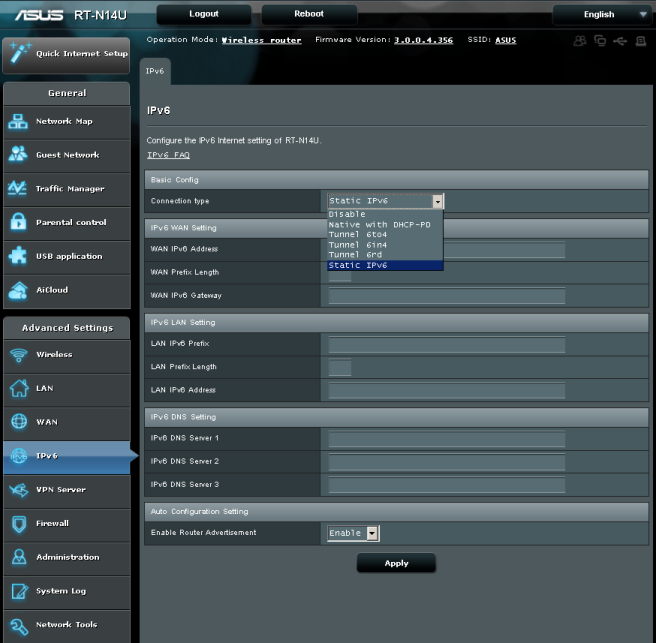 If it's necessary to get connected to the local network remotely, the user will need to use VPN Server group where s/he will be able to manage connections through PPTP for ten users.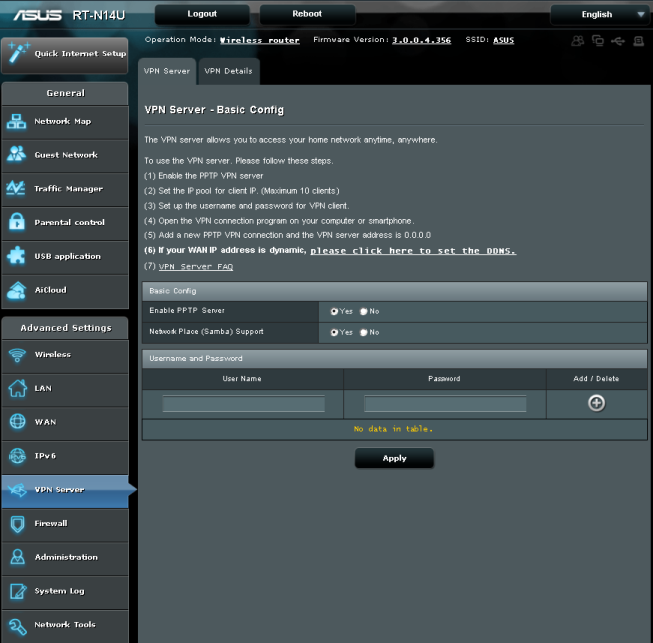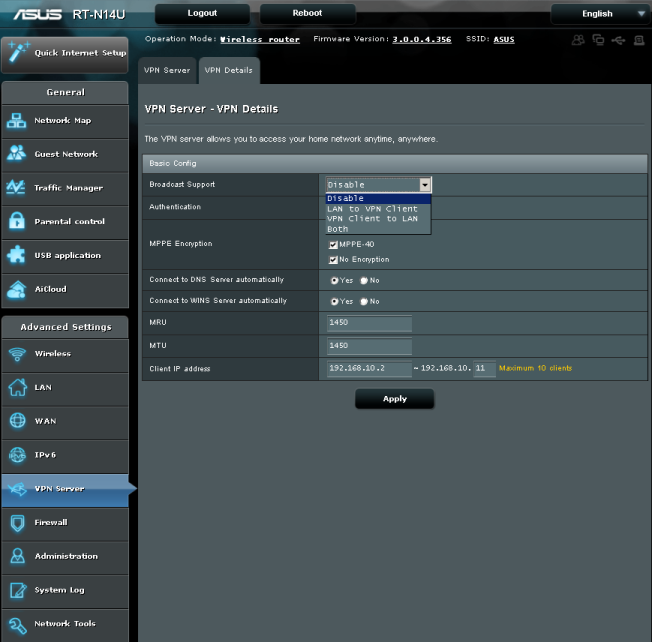 Firewall group is used to limit the access to the internet.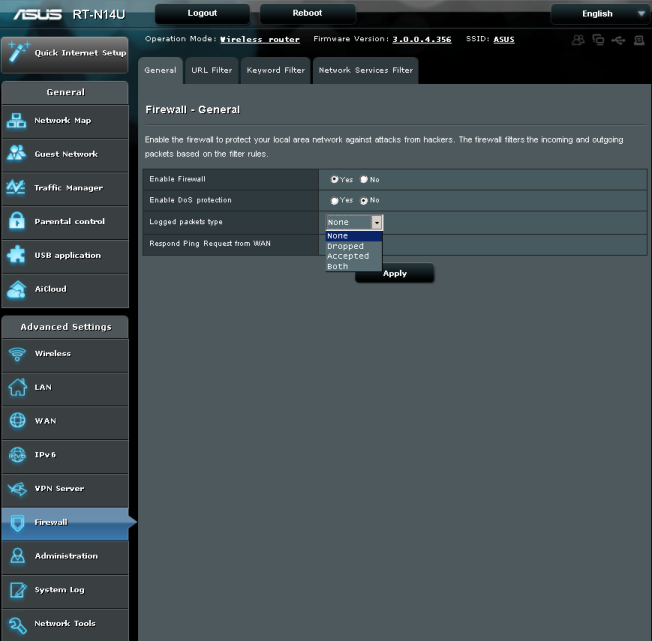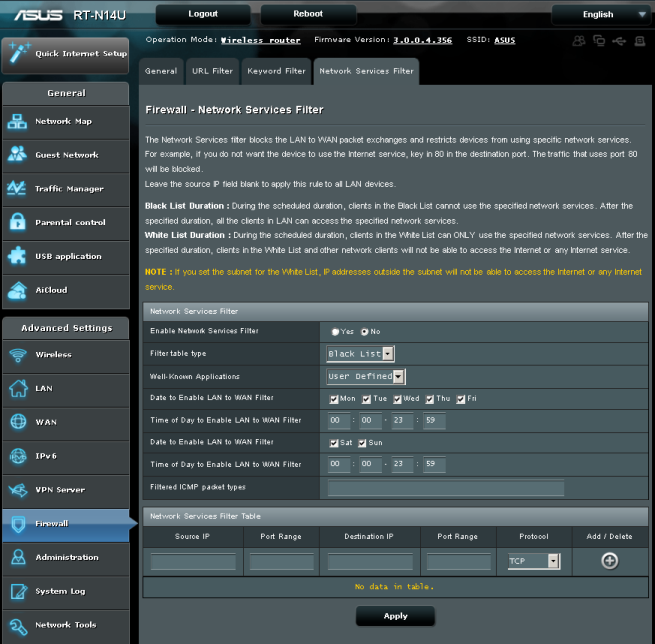 System tab, Administration menu item, allows limiting access to the router for management purposes.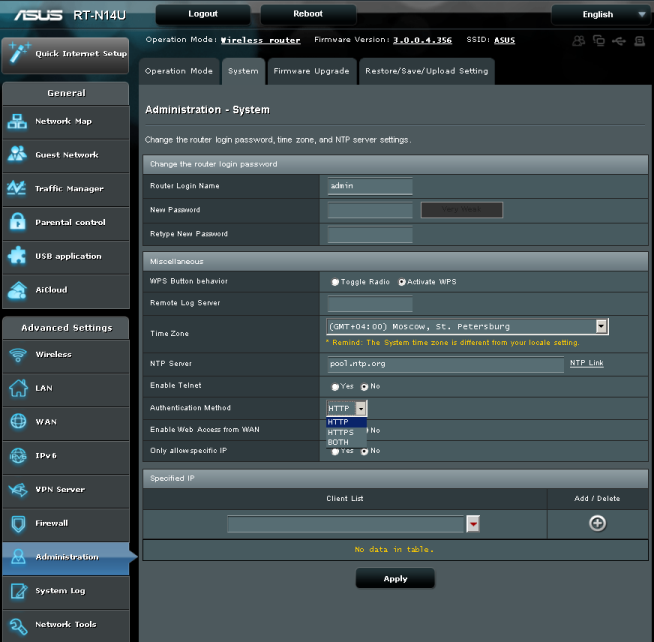 After this review had been completely finished, the vendor published a new firmware version, 3.0.0.4.356, which features several web-interface updates. For example, Network Tools menu item was added. It is used to check the availability of certain Internet services, review the list of router open ports, or switch on a computer within the local network using WoL technology, and only in case if the computer supports this technology.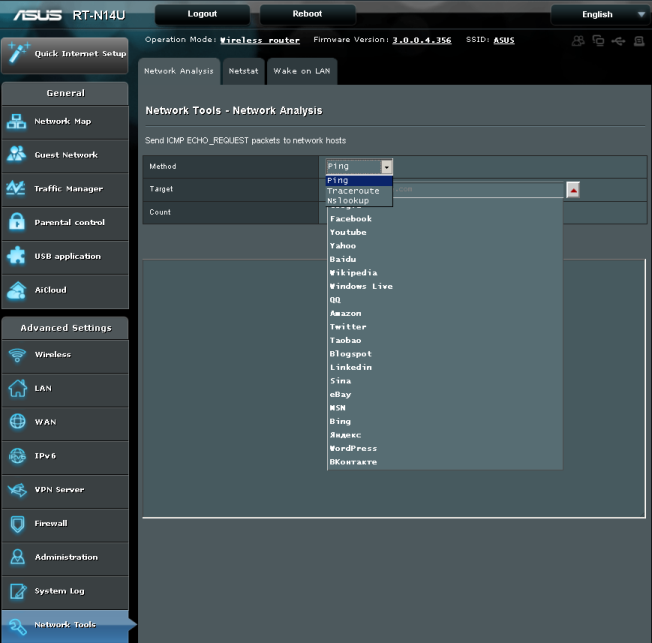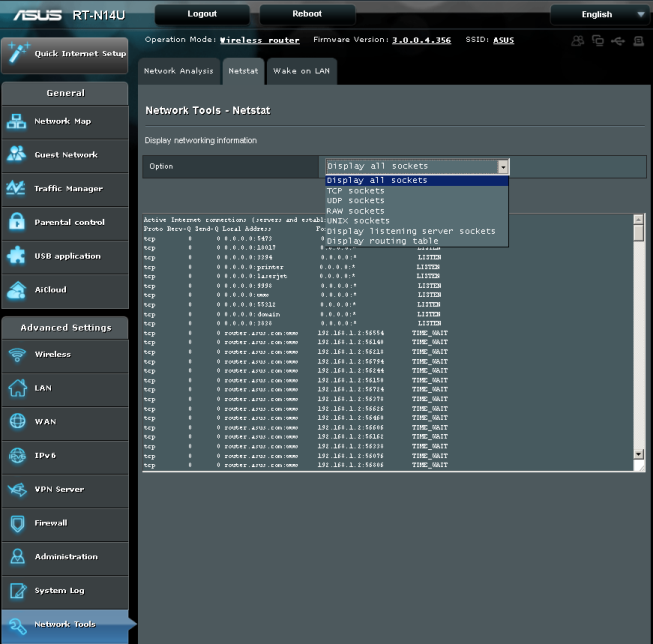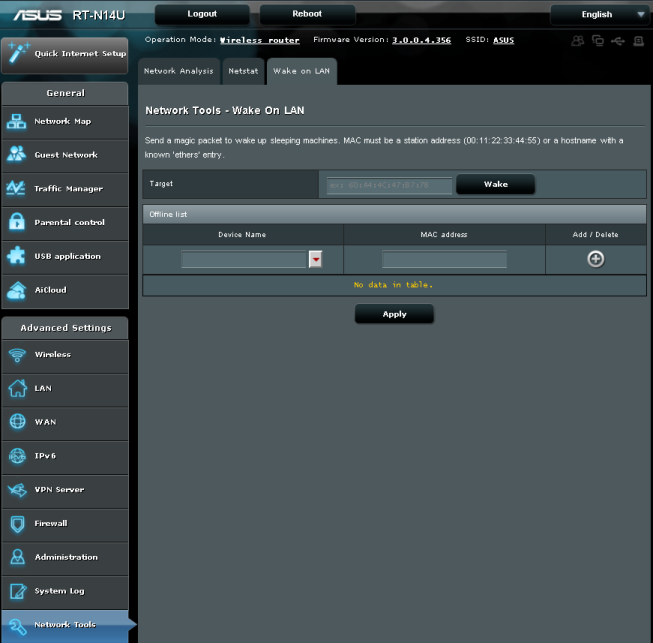 That is where we bring a brief review of ASUS RT-N14U router web-interface to a conclusion and pass on to examining capabilities of its command line.
By default, the access to the device command line is prohibited. In order to permit the access one needs to use System tab, Administration menu item. However, the administrator can also switch it on the old way by using hidden Main_AdmStatus_Content.asp page, where s/he needs either to enter the commands manually in the corresponding field or launch telnetd daemon.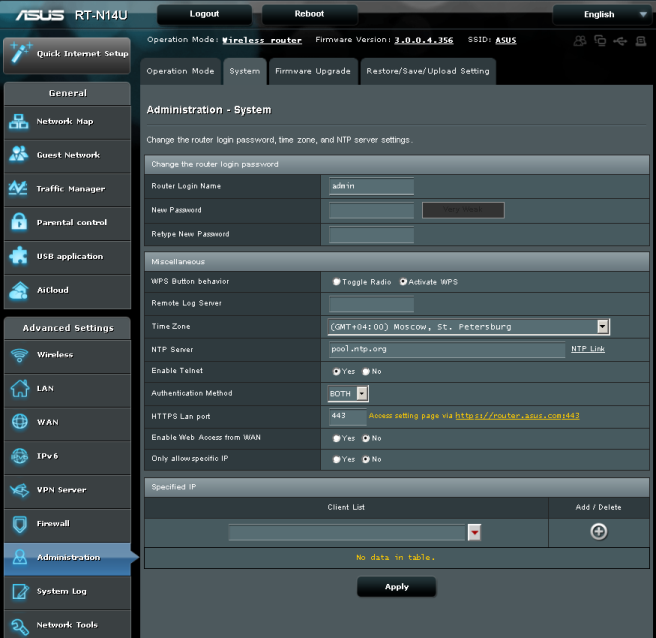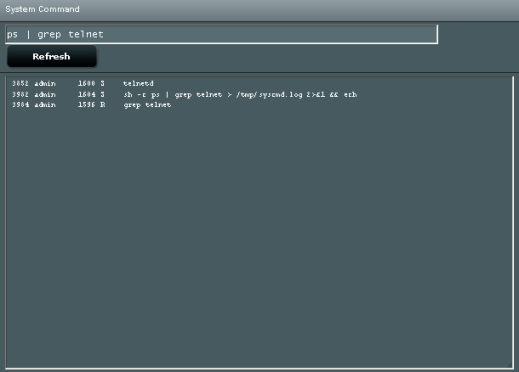 We decided to launch telnetd daemon and access the command line using the same-named protocol.
(none) login: admin
Password:
ASUSWRT RT-N14U_3.0.0.4 Wed Jan 30 06:47:37 UTC 2013
Upon authentication the current firmware version is displayed. It's curious that the firmware versions in the web-interface and in command line are different.
BusyBox 1.17.4 library is installed in Linux 2.6.36
admin@(none):/# busybox
BusyBox v1.17.4 (2013-01-30 14:47:35 CST) multi-call binary.
Copyright (C) 1998-2009 Erik Andersen, Rob Landley, Denys Vlasenko
and others. Licensed under GPLv2.
See source distribution for full notice.
Usage: busybox [function] [arguments]...
 or: function [arguments]...
 BusyBox is a multi-call binary that combines many common Unix
 utilities into a single executable.  Most people will create a
 link to busybox for each function they wish to use and BusyBox
 will act like whatever it was invoked as.
Currently defined functions:
 [, [[, arp, arping, ash, awk, basename, blkid, cat, chmod, chown,
 chpasswd, clear, cmp, cp, crond, cut, date, dd, df, dirname, dmesg, du,
 e2fsck, echo, egrep, env, ether-wake, expr, fdisk, fgrep, find, flock,
 free, fsck.ext2, fsck.ext3, fsck.minix, fsync, ftpget, ftpput, grep,
 gunzip, gzip, head, ifconfig, insmod, kill, killall, klogd, less, ln,
 logger, login, ls, lsmod, lsusb, md5sum, mkdir, mkdosfs, mke2fs,
 mkfs.ext2, mkfs.ext3, mkfs.vfat, mknod, mkswap, modprobe, more, mount,
 mv, nc, netstat, nice, nohup, nslookup, pidof, ping, ping6, printf, ps,
 pscan, pwd, readlink, renice, rm, rmdir, rmmod, route, sed, sendmail,
 setconsole, sh, sleep, sort, strings, swapoff, swapon, sync, syslogd,
 tail, tar, telnet, telnetd, test, tftp, top, touch, tr, traceroute,
 traceroute6, true, tune2fs, udhcpc, umount, uname, unzip, uptime,
 usleep, vconfig, vi, watch, wc, wget, which, zcat, zcip
admin@(none):/# uname -a
Linux (none) 2.6.36 #1 Wed Jan 30 16:05:53 CST 2013 mips GNU/Linux
admin@(none):/# cat /proc/version
Linux version 2.6.36 (root@asus) (gcc version 4.2.4) #1 Wed Jan 30 16:05:53 CST 2013
Commands ether-wake and pscan, which are used to send packets using Wake On LAN technology and carry out scanning of remote node ports, came out to be a really pleasant capability.
admin@(none):/# ether-wake
BusyBox v1.17.4 (2013-01-30 14:47:35 CST) multi-call binary.
Usage: ether-wake [-b] [-i iface] [-p aa:bb:cc:dd[:ee:ff]] MAC
Send a magic packet to wake up sleeping machines.
MAC must be a station address (00:11:22:33:44:55) or
a hostname with a known 'ethers' entry.
Options:
 -b              Send wake-up packet to the broadcast address
 -i iface        Interface to use (default eth0)
 -p pass         Append four or six byte password PW to the packet
admin@(none):/# pscan
BusyBox v1.17.4 (2013-01-30 14:47:35 CST) multi-call binary.
Usage: pscan [-cb] [-p MIN_PORT] [-P MAX_PORT] [-t TIMEOUT] [-T MIN_RTT] HOST
Scan a host, print all open ports
Options:
 -c      Show closed ports too
 -b      Show blocked ports too
 -p      Scan from this port (default 1)
 -P      Scan up to this port (default 1024)
 -t      Timeout (default 5000 ms)
 -T      Minimum rtt (default 5 ms, increase for congested hosts)
Let's see what processes are currently running using ps command. By using top utility one can obtain information on the current activity of the launched processes.
admin@(none):/# ps
 PID USER       VSZ STAT COMMAND
 1 admin     2064 S    /sbin/init
 2 admin        0 SW   [kthreadd]
 3 admin        0 SW   [ksoftirqd/0]
 4 admin        0 SW   [kworker/0:0]
 5 admin        0 SW   [kworker/u:0]
 6 admin        0 SW<  [khelper]
 7 admin        0 SW   [sync_supers]
 8 admin        0 SW   [bdi-default]
 9 admin        0 SW<  [kintegrityd]
 10 admin        0 SW<  [kblockd]
 11 admin        0 SW   [kswapd0]
 12 admin        0 SW   [fsnotify_mark]
 13 admin        0 SW<  [crypto]
 17 admin        0 SW   [mtdblock0]
 18 admin        0 SW   [mtdblock1]
 19 admin        0 SW   [mtdblock2]
 20 admin        0 SW   [mtdblock3]
 21 admin        0 SW   [mtdblock4]
 22 admin        0 SW   [mtdblock5]
 23 admin        0 SW   [mtdblock6]
 24 admin        0 SW   [kworker/u:1]
 31 admin        0 SW   [kworker/0:1]
 1132 admin      664 S    hotplug2 --persistent --no-coldplug
 1176 admin     2036 S    console
 1178 admin     1612 S    /bin/sh
 1180 admin        0 SWN  [jffs2_gcd_mtd5]
 1182 admin     1600 S    syslogd -m 0 -S -O /tmp/syslog.log -s 256 -l 5
 1185 admin     1600 S    /sbin/klogd
 1187 admin        0 SW   [khubd]
 1258 admin     2044 S    usbled
 1293 admin        0 SW   [RtmpCmdQTask]
 1294 admin        0 SW   [RtmpWscTask]
Mem: 25576K used, 36096K free, 0K shrd, 1844K buff, 8068K cached
CPU:   0% usr   9% sys   0% nic  90% idle   0% io   0% irq   0% sirq
Load average: 0.01 0.02 0.00 1/55 1452
 PID  PPID USER     STAT   VSZ %MEM %CPU COMMAND
 1331     1 admin    S     3476   6%   0% httpd
 1     0 admin    S     2064   3%   0% /sbin/init
 1422     1 admin    S     2056   3%   0% u2ec
 1429  1428 admin    S     2056   3%   0% u2ec
 1428  1422 admin    S     2056   3%   0% u2ec
 1335     1 admin    S     2044   3%   0% watchdog
 1346  1335 admin    S     2044   3%   0% ots
 1319     1 admin    S     2044   3%   0% /sbin/wanduck
 1324     1 admin    S     2044   3%   0% ntp
 1258     1 admin    S     2044   3%   0% usbled
 1320     1 admin    S     2044   3%   0% wpsaide
 1176     1 admin    S     2036   3%   0% console
 1440  1434 admin    S     1628   3%   0% -sh
 1178  1176 admin    S     1612   3%   0% /bin/sh
 1452  1440 admin    R     1604   3%   0% top
 1434     1 admin    S     1604   3%   0% telnetd
 1185     1 admin    S     1600   3%   0% /sbin/klogd
 1182     1 admin    S     1600   3%   0% syslogd -m 0 -S -O /tmp/syslog.log -s
 1339     1 admin    S     1244   2%   0% rstats
 1424     1 admin    S     1132   2%   0% lpd
 1352     1 admin    S     1128   2%   0% lld2d br0
Let's find out what kind of content /bin, /sbin, /usr/bin, and /usr/sbin catalogues have. The file list as well as the output of sysinfo command are presented in a separate file.
Now let's turn to /proc catalogue to view its contents and find out the system uptime, its average utilisation, information on the CPU installed, and the amount of RAM. Actually, system uptime and average system utilisation can also be learnt using uptime command.
admin@(none):/proc# ls
1              1333           20             execdomains    nvram
10             1335           21             filesystems    pagetypeinfo
11             1339           22             fs             partitions
1132           1346           23             interrupts     scsi
1176           1352           24             iomem          self
1178           1354           3              ioports        softirqs
1180           1355           31             irq            stat
1182           1356           4              kallsyms       swaps
1185           1380           5              kcore          sys
1187           1419           6              kmsg           sysrq-trigger
12             1422           7              kpagecount     sysvipc
1258           1424           8              kpageflags     timer_list
1293           1428           9              loadavg        tty
1294           1429           buddyinfo      locks          uptime
13             1434           bus            meminfo        version
1319           1440           cmdline        misc           vmallocinfo
1320           1540           cpuinfo        modules        vmstat
1323           17             crypto         mounts         zoneinfo
1324           18             devices        mt7620
1331           19             diskstats      mtd
1332           2              driver         net
admin@(none):/proc# cat uptime
4257.70 4236.18
admin@(none):/proc# cat loadavg
0.00 0.00 0.00 1/55 1542
admin@(none):/proc# cat cpuinfo
system type             : Ralink SoC
processor               : 0
cpu model               : MIPS 24Kc V5.0
BogoMIPS                : 386.04
wait instruction        : yes
microsecond timers      : yes
tlb_entries             : 32
extra interrupt vector  : yes
hardware watchpoint     : yes, count: 4, address/irw mask: [0x0ffc, 0x0ffc, 0x0ffb, 0x0ffb]
ASEs implemented        : mips16 dsp
shadow register sets    : 1
core                    : 0
VCED exceptions         : not available
VCEI exceptions         : not available
admin@(none):/proc# cat meminfo
MemTotal:          61672 kB
MemFree:           35324 kB
Buffers:            1976 kB
Cached:             8532 kB
SwapCached:            0 kB
Active:             5152 kB
Inactive:           8088 kB
Active(anon):       2824 kB
Inactive(anon):     3860 kB
Active(file):       2328 kB
Inactive(file):     4228 kB
Unevictable:           0 kB
Mlocked:               0 kB
SwapTotal:             0 kB
SwapFree:              0 kB
Dirty:                 0 kB
Writeback:             0 kB
AnonPages:          2740 kB
Mapped:             2052 kB
Shmem:              3952 kB
Slab:               7944 kB
SReclaimable:       1284 kB
SUnreclaim:         6660 kB
KernelStack:         440 kB
PageTables:          380 kB
NFS_Unstable:          0 kB
Bounce:                0 kB
WritebackTmp:          0 kB
CommitLimit:       30836 kB
Committed_AS:      12544 kB
VmallocTotal:    1048372 kB
VmallocUsed:        4132 kB
VmallocChunk:    1038228 kB
admin@(none):/proc# uptime
 01:11:15 up  1:11, load average: 0.00, 0.00, 0.00
We can't help to mention nvram utility that allows changing certain important device operation parameters.
admin@(none):/# nvram
usage: nvram [get name] [set name=value] [unset name] [show] [save file] [restore file]
admin@(none):/# nvram show | grep admin
size: 17694 bytes (43746 left)
http_username=admin
http_passwd=admin
acc_list=admin>admin
acc_webdavproxy=admin>1
The only thing we would like to point out is inability of add-on installation. We have already seen this kind of capability earlier in RT-N66U.
That is where we bring review of the device command line to a conclusion and pass directly on to testing it.
The first testing procedure we usually begin our testing section with is estimating the booting time of the device, which is a time interval starting with the moment when the power is on until the first echo reply is received through ICMP. ASUS RT-N14U wireless router boots in 35 seconds. We believe that the result is decent.
The second traditional test was a security scanning procedure, which has been carried out using Positive Technologies XSpider 7.7 (Demo build 3100) utility. On the whole, there were eleven open ports discovered, and they are TCP-53 (domain), UDP-53 (DNS), TCP-80 (HTTP), TCP-515 (printer), tcp-3394 (d2k-tapestry2), TCP-3838 (Unavailable), TCP-5473 (unknown), TCP-9100 (Unavailable), TCP-9998 (Unavailable), TCP-18017 (HTTP) and TCP-50645 (HTTP). The most interesting data are presented below.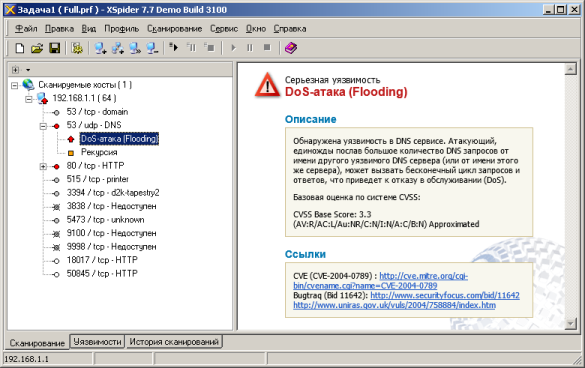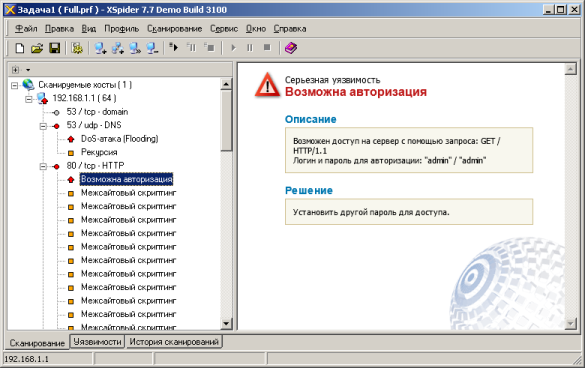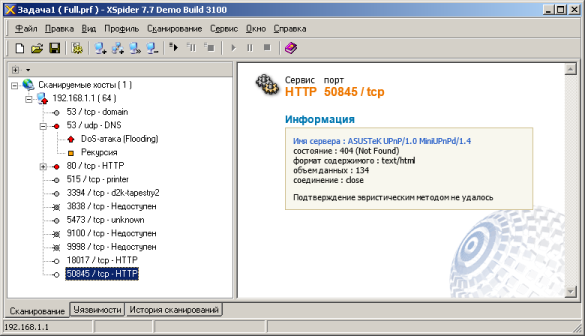 Prior to carrying out performance tests we can't help but mention the key specifications of the test stand we used.
Component

PC

Notebook

Motherboard
ASUS Maximus V Extreme
ASUS M60J
CPU
Intel Core i7 3770K 3.5 GHz
Intel Core i7 720QM 1.6 GHz
RAM
DDR3 PC3-10700 SEC 32 Gbytes
DDR3 PC3-10700 SEC 16 Gbytes
NIC
Intel Gigabit CT Desktop Adapter
ASUS EA-N66
Atheros AR8131
OS
Windows 7 x64 SP1 Rus
Windows 7 x64 SP1 Rus
At first we decided to test the RT-N14U IPv4 routing performance using NAT/PAT translation, as well as without using this feature, for 1, 5, and 15 concurrent TCP-sessions.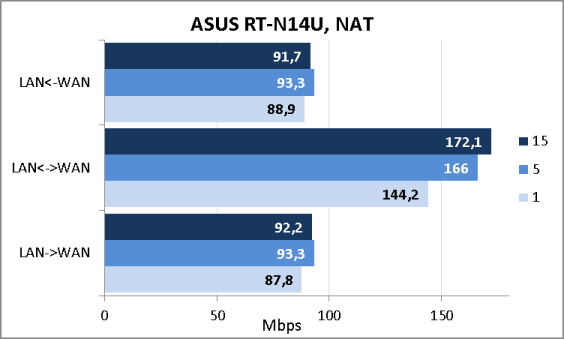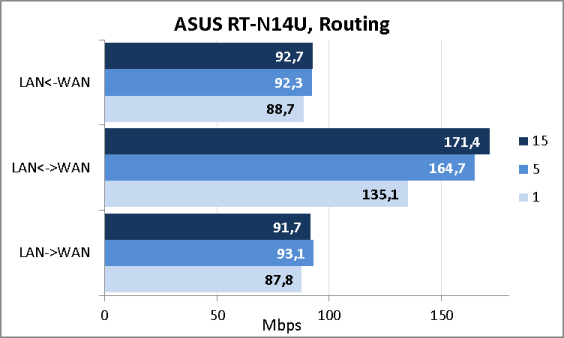 Neither did we keep away from the support of IPv6.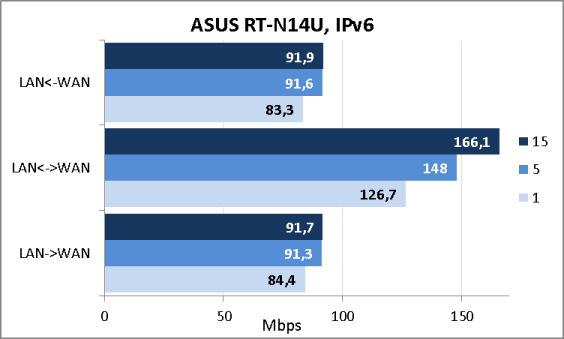 We connected a 750 Gbyte Transcend StoreJet 25M3 hard disc to the device USB 2.0 port, and formatted it into three file systems: NTFS, FAT32, and EXT3. Measurements of data access speed in this test were carried out using NASPT 1.7.1 utility. Results of the measurements are presented below.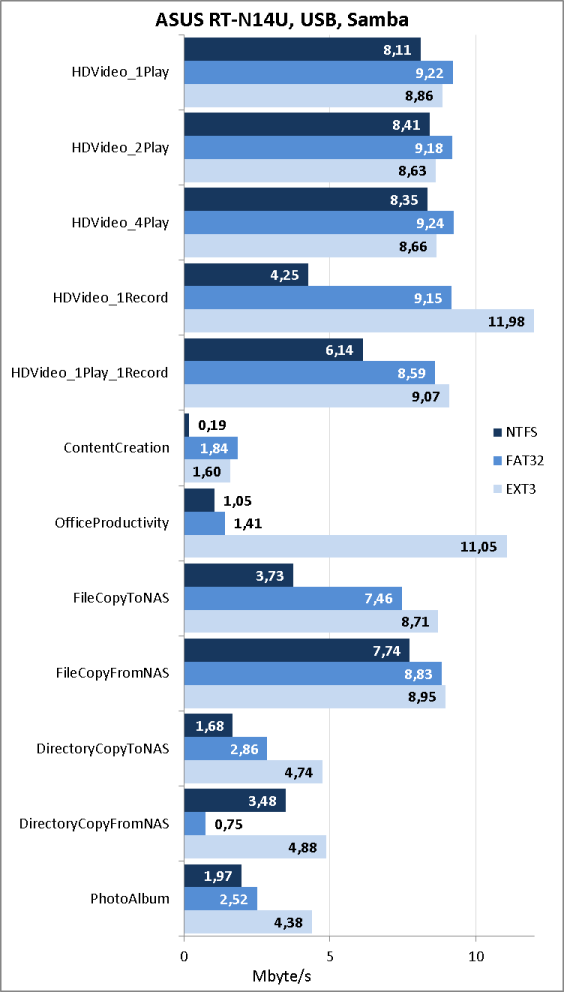 ASUS RT-N14U wireless router supports connection to the provider using one of these three tunnel types: PPPoE, L2TP, and PPTP. After that we decided to test the performance of the latter. Unfortunately, in the end we couldn't make PPTP work without encryption; we managed to install the tunnel without any hassle, but the test packets could not be transmitted through it. That is the reason why below we specified data transmission speeds via an encrypted tunnel (MPPE128).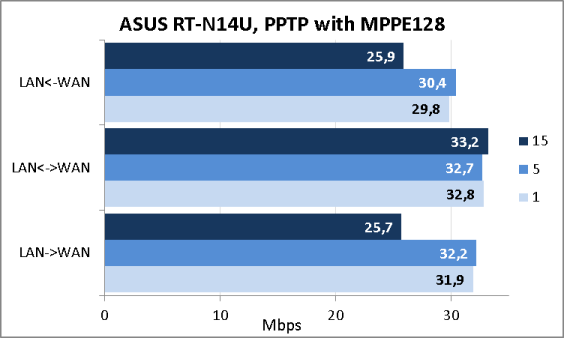 RT-N14U router is built on ASUSWRT firmware, which includes a VPN-server that works via PPTP. This server allows simultaneous connection of up to ten clients, both using MPPE128 encryption and without it.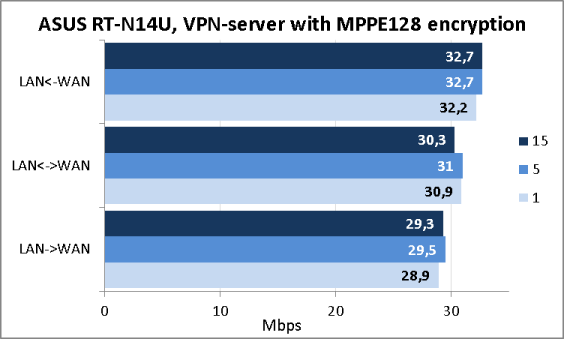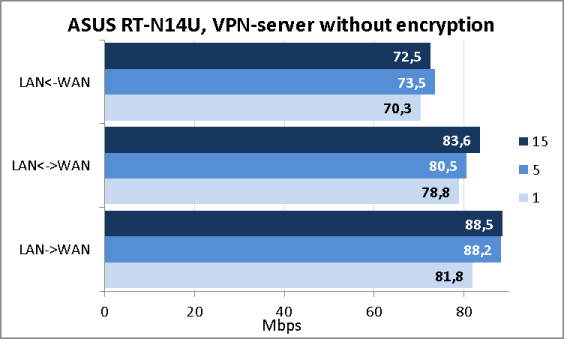 The model under review supports operation with wireless IEEE 802.11b/g/n clients in 2.4 GHz frequency range at speeds of up to 300 Mbps. The true-to-life transmission speeds are presented on the diagram below.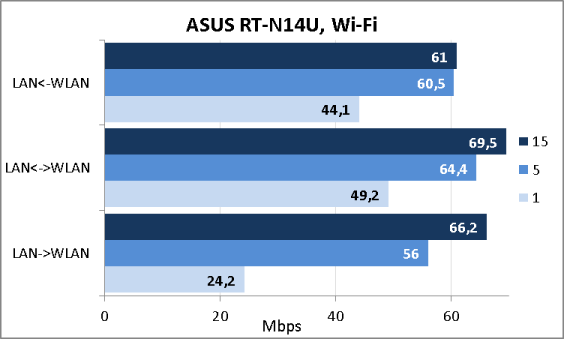 It looks like the wired segment is not a bottleneck in this device...
That's where we draw the testing chapter of ASUS RT-N14U wireless router to a close and move on to summing it all up.
Generally, we are glad about ASUS RT-N14U wireless router we tested. It's a budget-priced decision that grants users access to the WAN upon connection to a wired provider. A USB 2.0 port expands the device functionality and makes it possible for RT-N14U to perform functions of a print server or NAS; it also allows reserving the access to the Internet through 3G/4G networks. The model under review offers the users data transmission speeds of up to 100 Mbps, which is more than enough for connection to current ISPs even if one uses the high-speed service plans.
The strength areas of RT-N14U are presented below.
High data transmission speeds via PPTP
Ability to create up to three guest wireless networks
Used traffic meter
Ability to operate in 3G/4G networks
Support of IPv6
A built-in PPTP server
Ability to operate in peer networks
Competitive price
Unfortunately, we cannot help to mention some of its drawbacks.
PPTP connection to the provider without encryption is not available
The maximum throughput of all interfaces is 100 Mbps
As of when this article was being written, the average price for ASUS RT-N14U in Moscow online shops was 1800 roubles.