Buffalo WZR-1750DHP
Introduction
This is not the first time our laboratory hosts equipment of Japanese company Buffalo: TS4400D, LS421, and TS5600. However, all models of this brand that we previously reviewed were NASes. It's high time to change it! Today our test lab welcomes Buffalo WZR-1750DHP wireless router which supports wireless data transfer at speeds of up to 1750 Mbps. Okay, let's get started!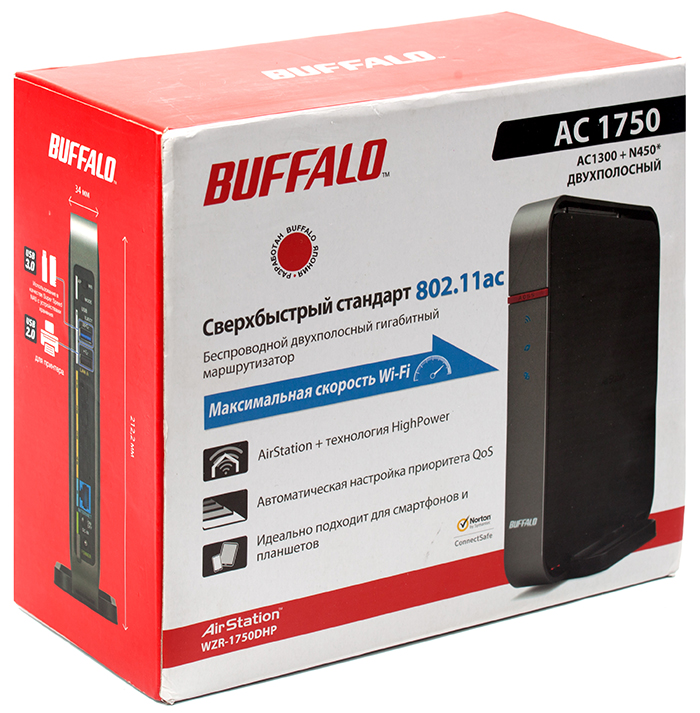 External design and hardware
Buffalo WZR-1750DHP wireless router comes in a black plastic case with rounded corners and has dimensions of 34x212x183 mm. To work properly the device needs an external power unit (included in the box) with the following characteristics: 12V and 4А.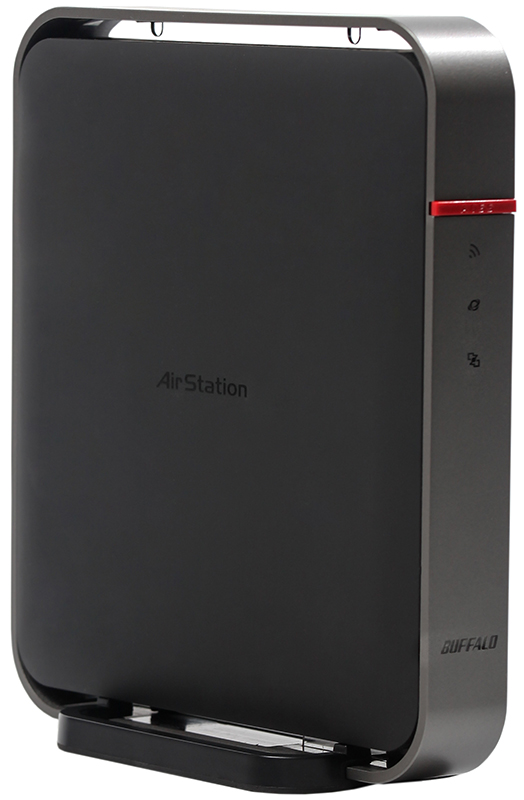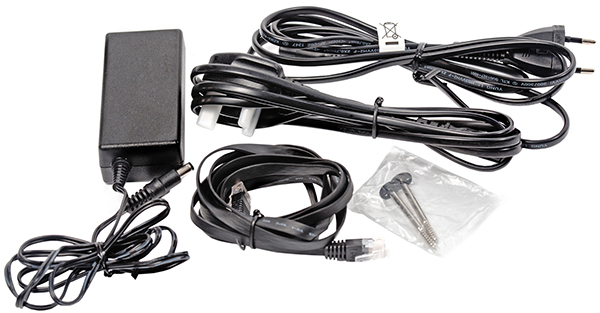 The model under review is meant for wall or desk mounting and to do this one can fasten two special-purpose leg stands to the case. The router may be placed both vertically and horizontally.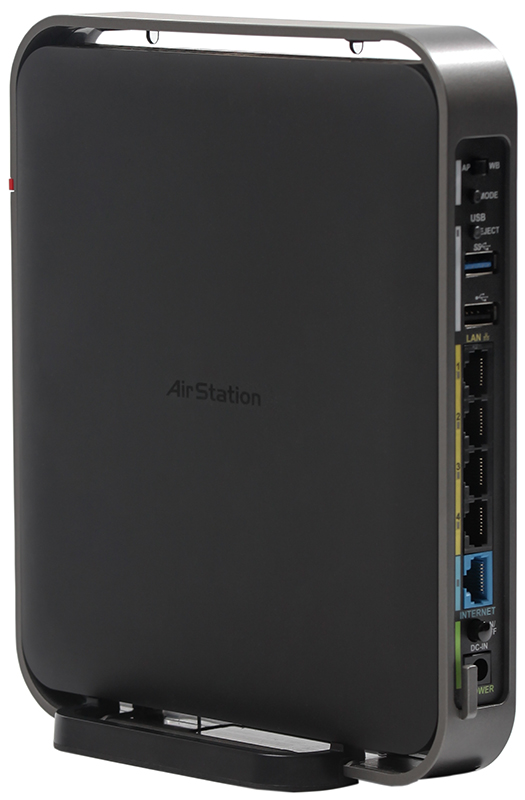 Side panels are not remarkable at all and there is only a 3D brand tag located on them.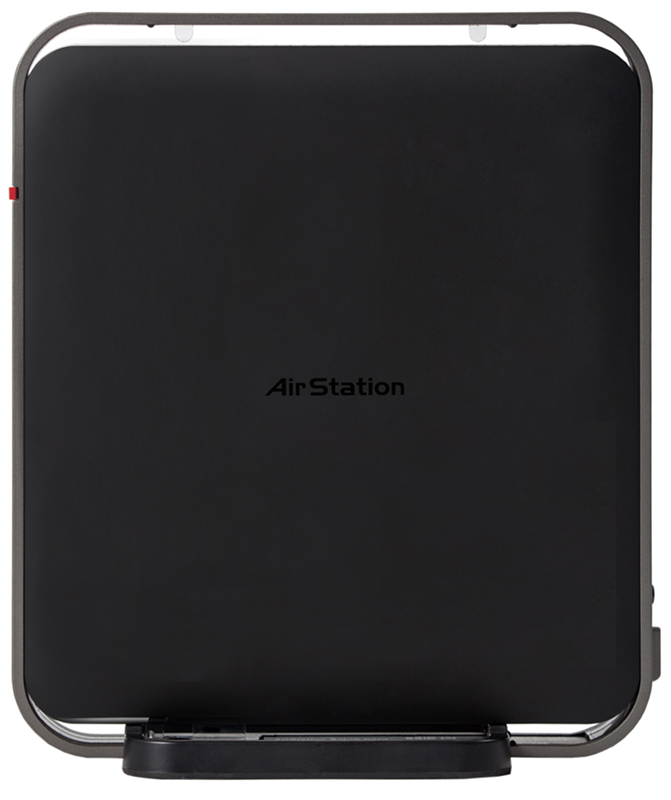 There are four LEDs on the front panel that show: wireless network status, WAN connection, device status, enabled/disabled routing. Apart from it, there is also AOSS button located over here. It's used for facilitating connection of the wireless clients (using a standalone utility that one can download from the vendor's website).

On the rear panel of the device there is an option button and switch of the wireless module operation mode (access point or bridge), USB device eject button as well as the indicator of its status, USB 2.0 and USB 3.0 ports, four LAN Gigabit Ethernet ports with indicators of their status, one WAN Gigabit Ethernet port with an indicator of its status, power socket, and power ON/OFF button.

Reset button is located on the bottom side of the device. One will also be able to find a piece of carton with the brief information about the device here.
The electronic stuffing of Buffalo WZR-1750DHP is one green textolite card (not considering small cards that act as antennae) which has all essential elements located on one of its sides. Unfortunately, a part of the hardware components is covered with screens. Only four chips were left accessible for inspection. 512 Mbyte PieceMakers PMF512816ABR-KADN module is the device RAM. Two Broadcom chips answer for support of the wireless network: BCM4360KMLG and BCM4331KMLG. Zentel A5U1GA31ATS module with the overall memory size of 128 Mbytes acts as the flash memory.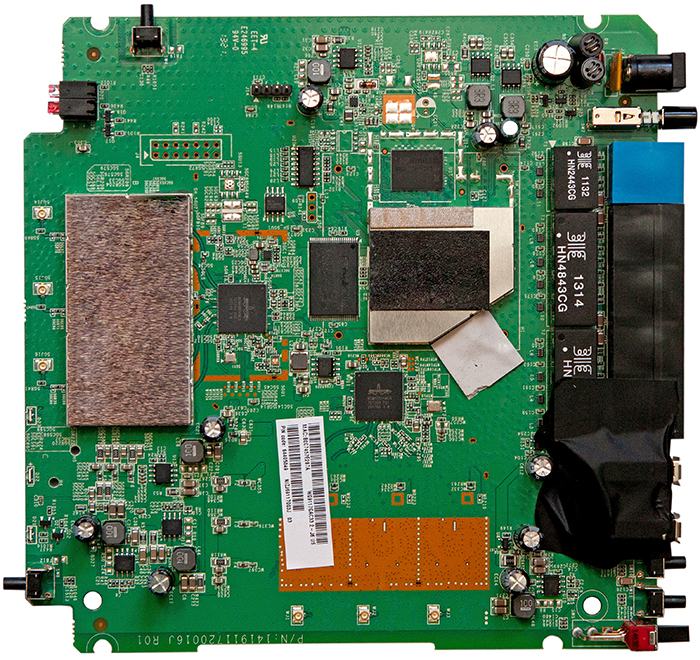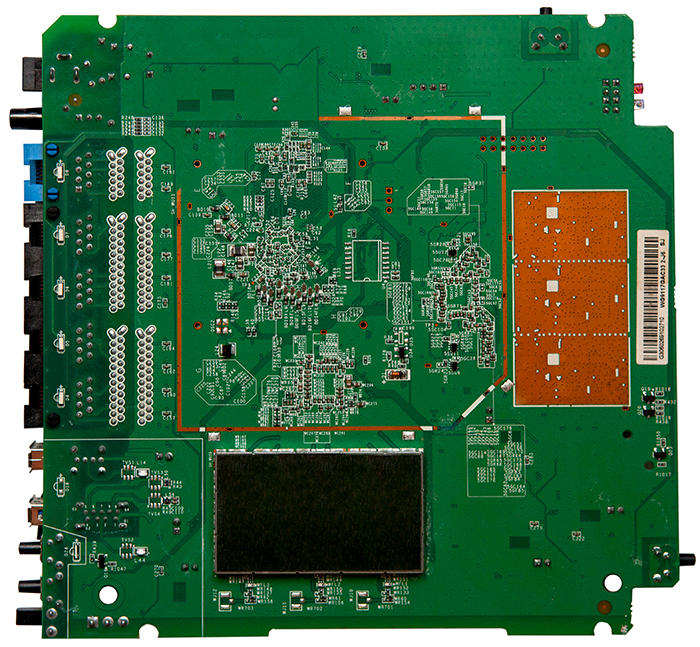 That is where we bring the device hardware review to a conclusion and pass on to examining capabilities of its software component.
Firmware update
Firmware update may be carried out both in manual and semi-automatic mode. Firmware update is carried out in Firmware Update sub-group, Admin group of the web-interface.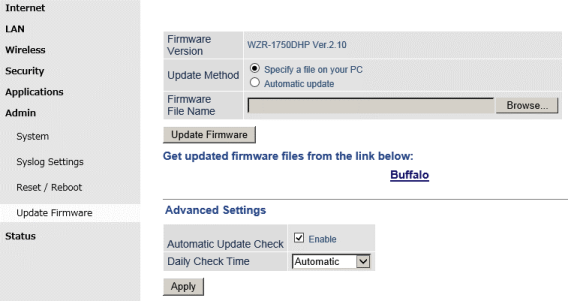 If one prefers using the semi-automatic mode, the router will automatically access the vendor's website (obviously, if there's access to the Internet) and ask the user to choose one of the available firmware versions.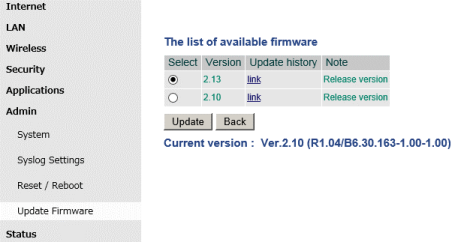 Firmware update in the manual mode is just a bit more difficult, one only needs to download the file containing the new firmware version and upload it to the wireless router.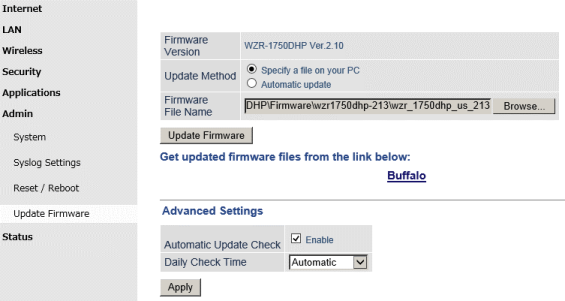 Regardless of the chosen firmware update mode, the whole update procedure takes about three minutes (not considering the file downloading time).

We would like to point out one peculiarity that our readers may come across upon firmware update. Buffalo company only permits using those firmwares that have been developed exactly for countries or regions where a certain device is to be used. If one uses the wrong firmware, the update procedure will not be completed and the user will receive an error. Therefore, the device firmware will not be updated.
Also, it's worth noticing that there's an alternative firmware version for WZR-1750DHP model which is based on the DD-WRT code. One can download it from the web server of Buffalo company too.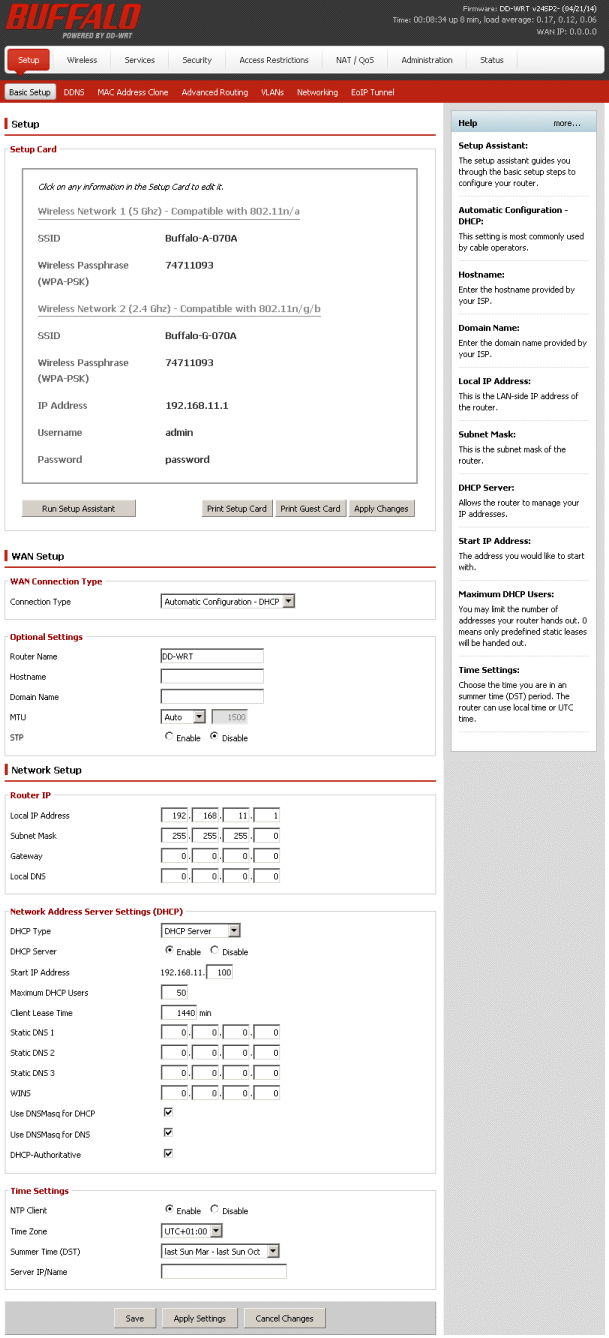 That is where we bring the review of the process of firmware update to a conclusion and pass on to examining its capabilities.
Web-interface
One can access the web-interface of Buffalo WZR-1750DHP wireless router by entering 192.168.11.1 in any modern browser. In order to connect to the device the administrator must specify login and password, which are admin and password by default. Also, one can change the web-interface language upon accessing it.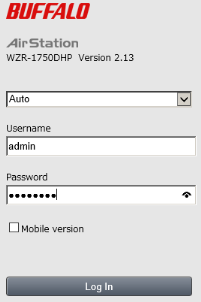 It's worth noticing that there are two versions of the web-interface: standard one (which is meant to be managed from a common PC, tablet, or notebook) and mobile one, which was developed for users of small touch screen mobile devices. The mobile interface is presented below.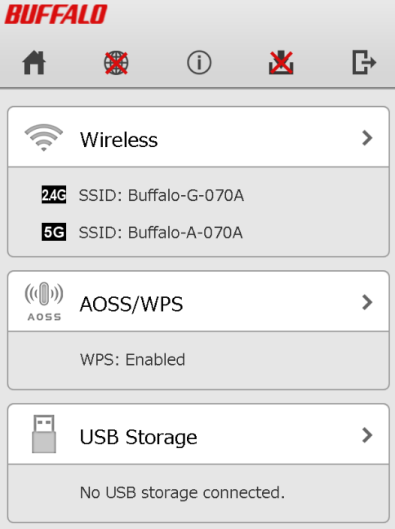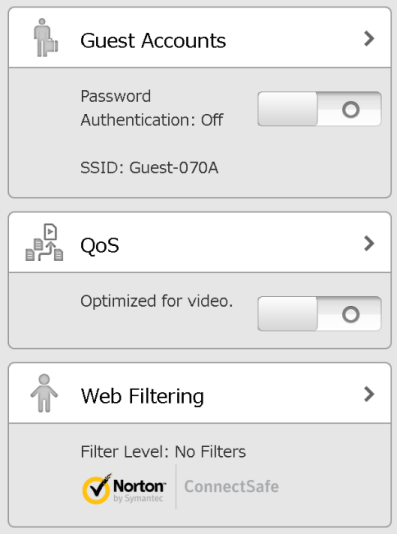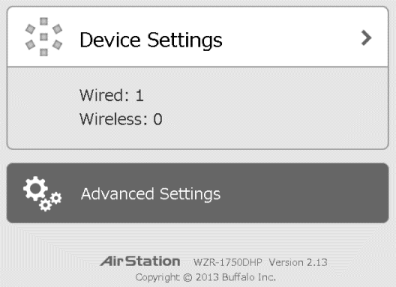 Further we will be reviewing simply the key capabilities of the standard firmware version. Upon successful authentication the administrator will find him/herself on the home page of the device where s/he will see groups with the main settings. For example, over here one can manage parameters of the wireless network, activate a guest account, adjust QoS settings, switch on web filtration, specify operation parameters of the USB carrier, and review the connected user devices.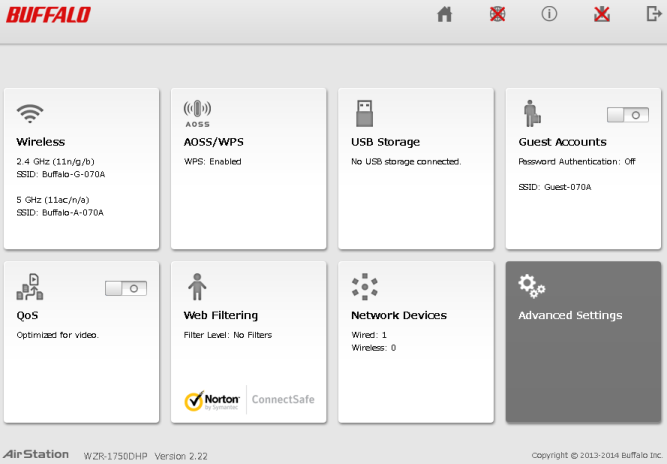 One can fine-tune the device using Advanced Settings group, which we will review now.
Management of the access to the WAN is done using sub-groups of Internet group. Getting connected to the service provider can be done using both the static or dynamic IP address as well as PPTP, PPPoE, or L2TP tunnels.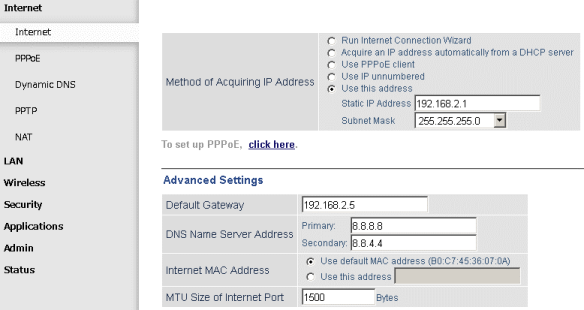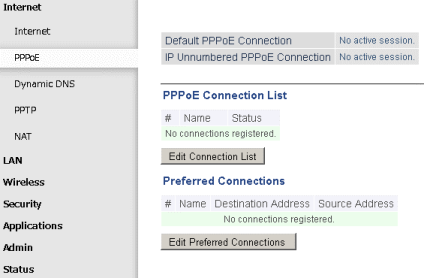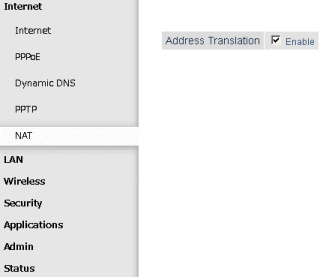 There's also PPTP subgroup which lets remote users get connected to the router.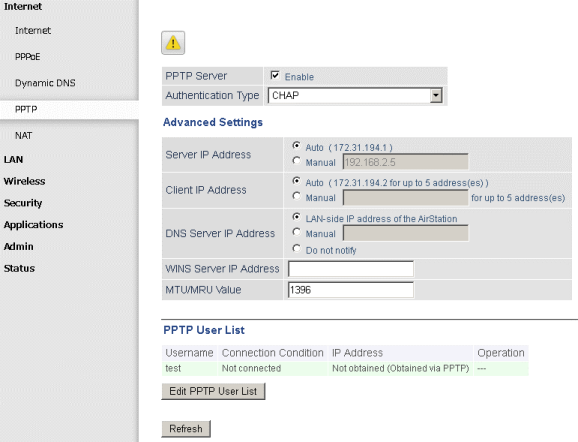 Local area network settings are located in LAN group. It would be fair to mention that the firmware versions for other countries (not only for Russia) lack "IPTV" and "PPTP Client" groups.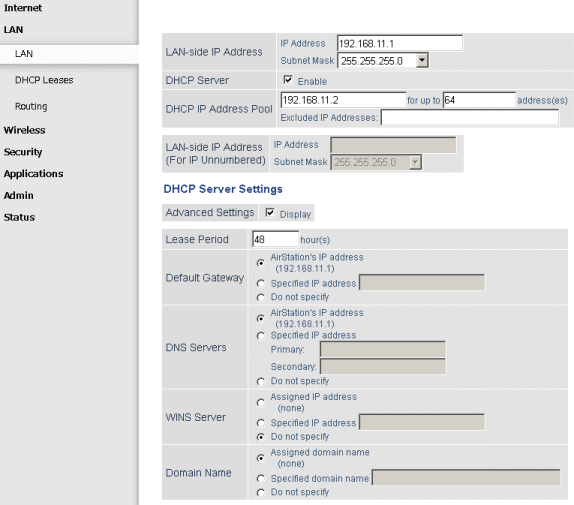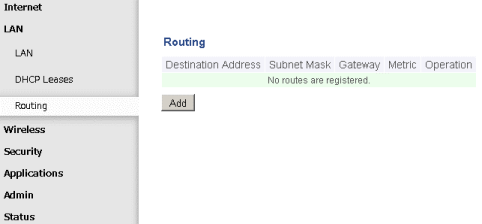 Buffalo WZR-1750DHP model supports up to two wireless networks within every frequency range. The corresponding settings are located in sub-groups of Wireless group. Also, one can manage filtration based on MAC addresses and adjust guest access over here.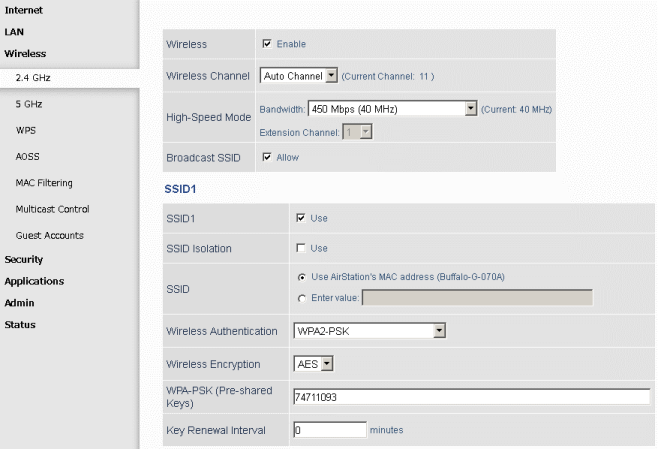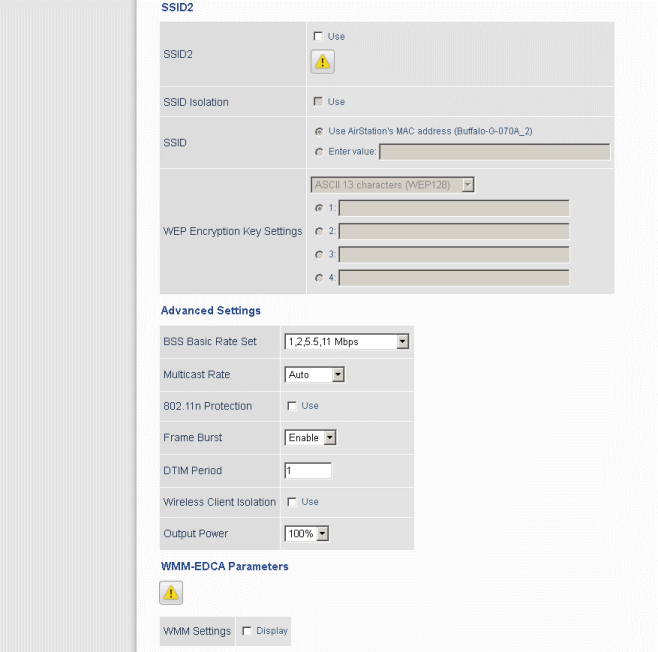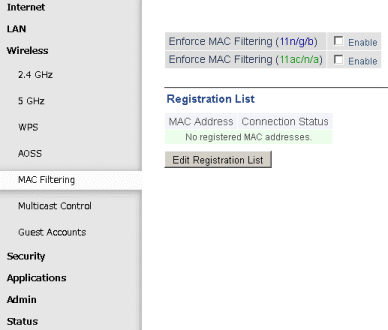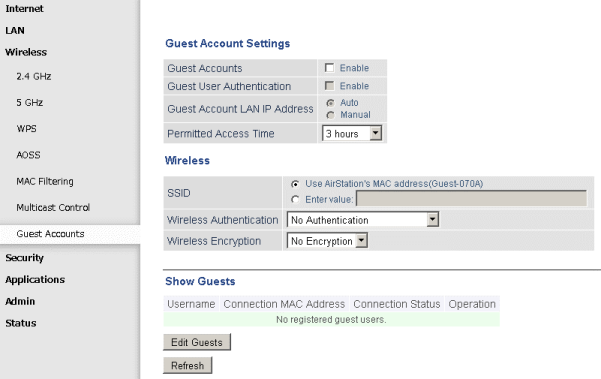 Management of firewall and other various filtrations is done using Security group.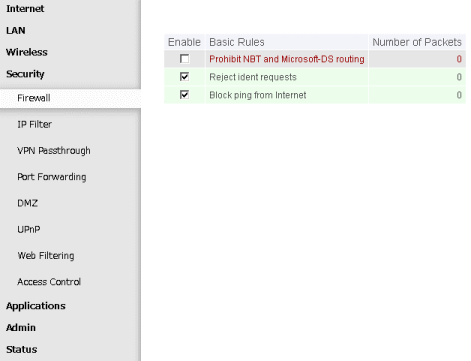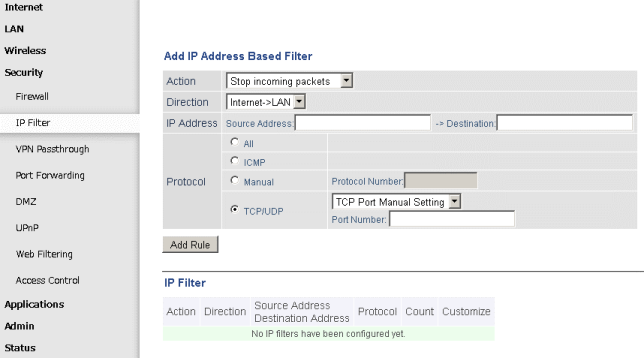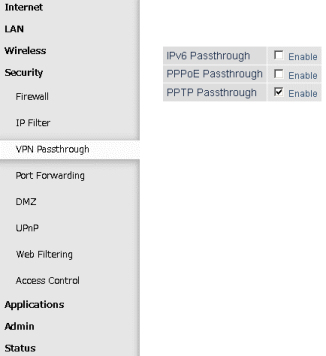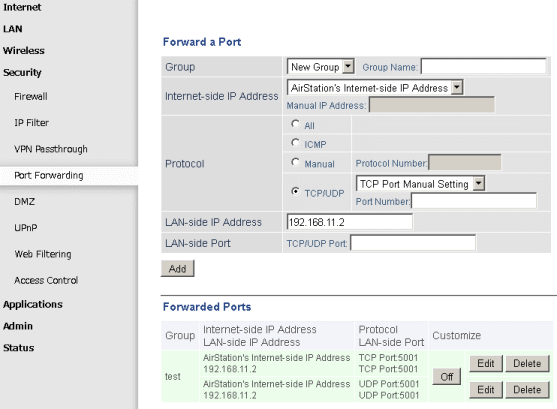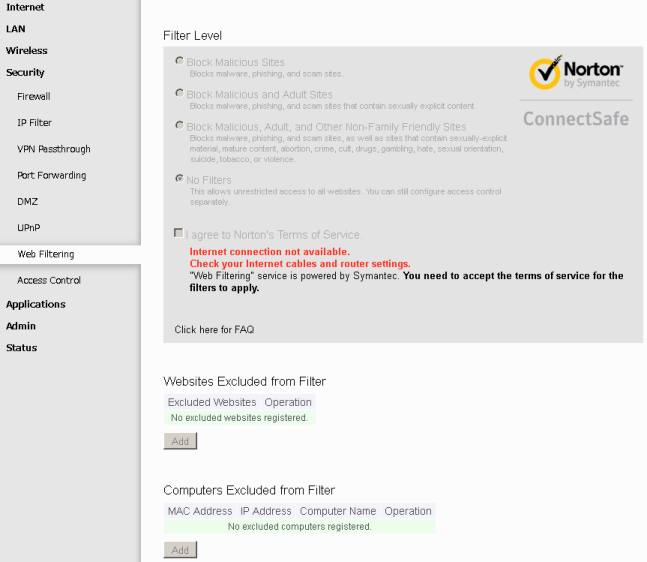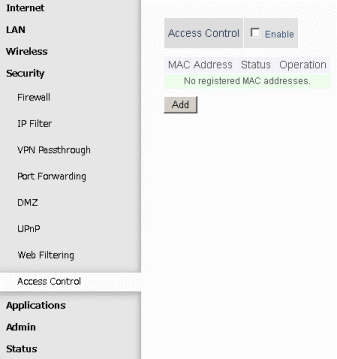 Management of protocol and application support can be carried out using Applications group. Also, this group features parameters of access to the device using SMB/Samba protocols as well as QoS settings.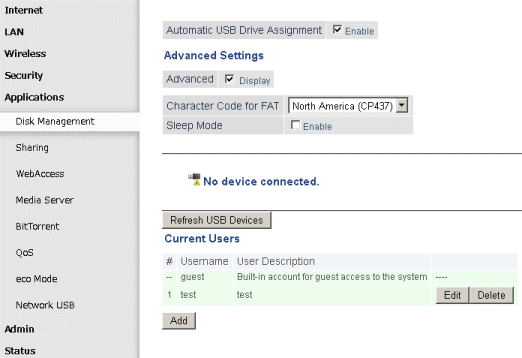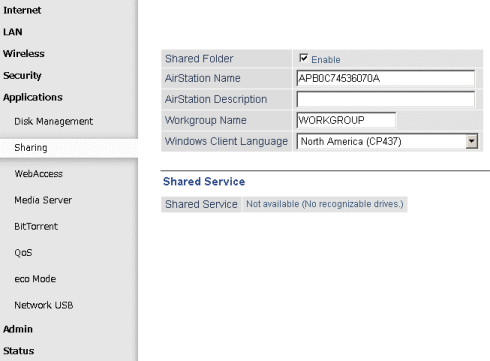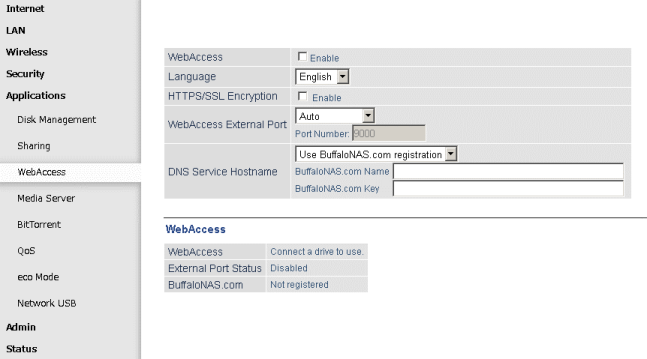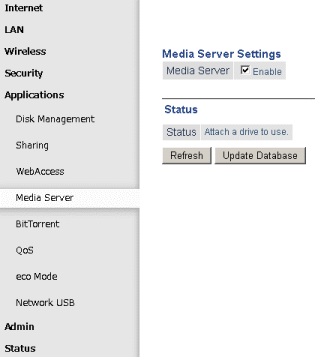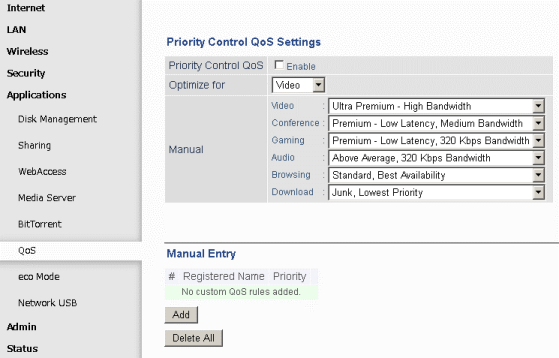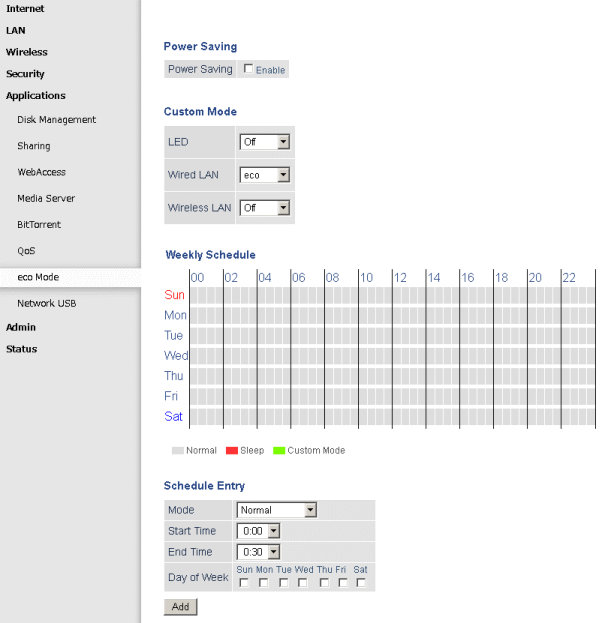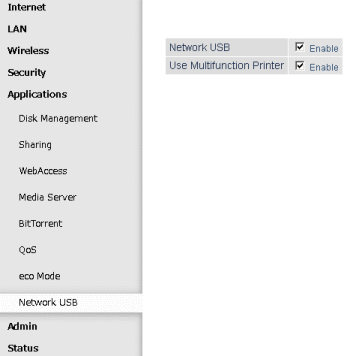 Admin group allows users managing time synchronization and log settings, changing the administrator password, updating firmware, rebooting the devices, and performing an array of other administrative tasks.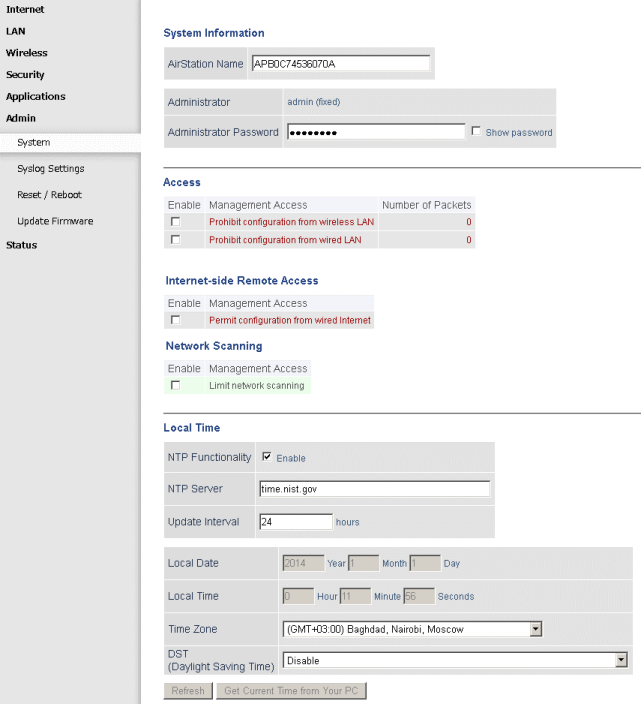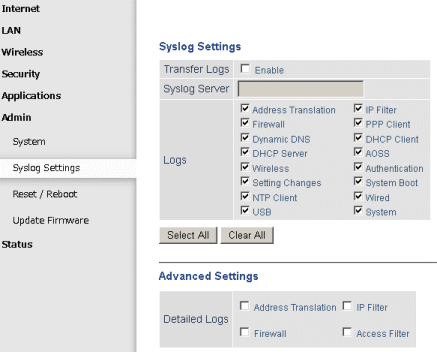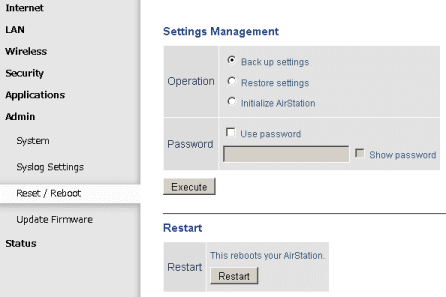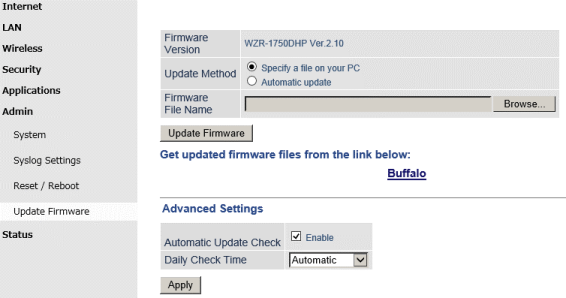 The user can learn the current status of the router using the sub-groups of the same-named group. In this group one can find information about the current status of the device as well as static and log data.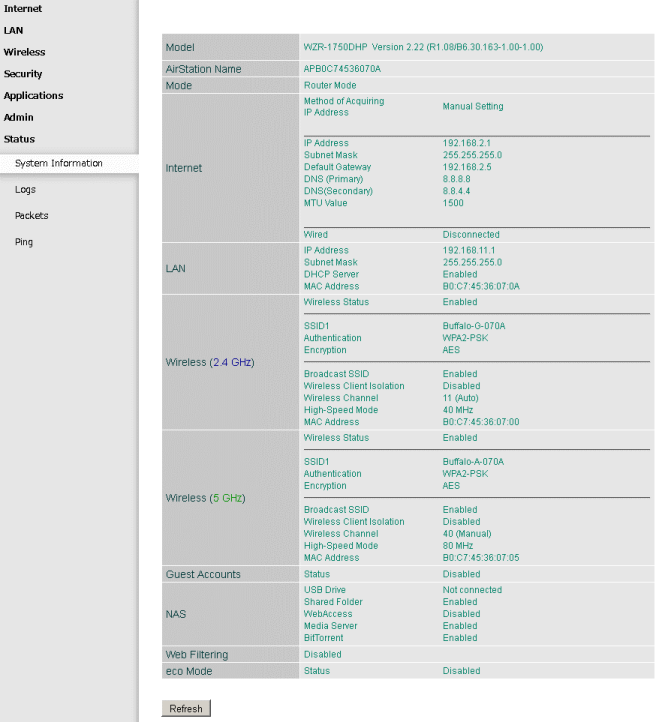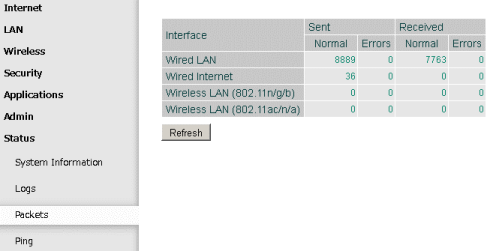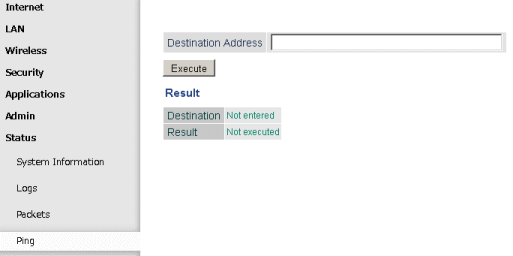 That is where we bring review of the device web-interface capabilities to a conclusion and pass directly on to testing it.
Testing
The first testing procedure we usually begin our testing section with is estimating the booting time of the device, which is a time interval starting with the moment when the power is on until the first echo reply is received through ICMP protocol. Buffalo WZR-1750DHP wireless router boots in 46 seconds.
During the testing procedures we managed to find out that upon pressing power ON/OFF button WZR-1750DHP doesn't switches off instantaneously. Instead of this, it will be turned off in a correct way. The whole turning off process takes about 20 seconds.
The second traditional test was a security scanning procedure, which has been carried out using Positive Technologies XSpider 7.7 (Demo build 3100) utility. The scanning has been carried out from the LAN interface direction. On the whole, there were four open ports discovered, and they are TCP-53 (domain), TCP-80 (HTTP), TCP-443 (HTTP SSL), and TCP-50024 (HTTP). Detection of a probable vulnerability associated with processing of ICMP messages by the router came to be an unpleasant finding. The obtained data are presented below.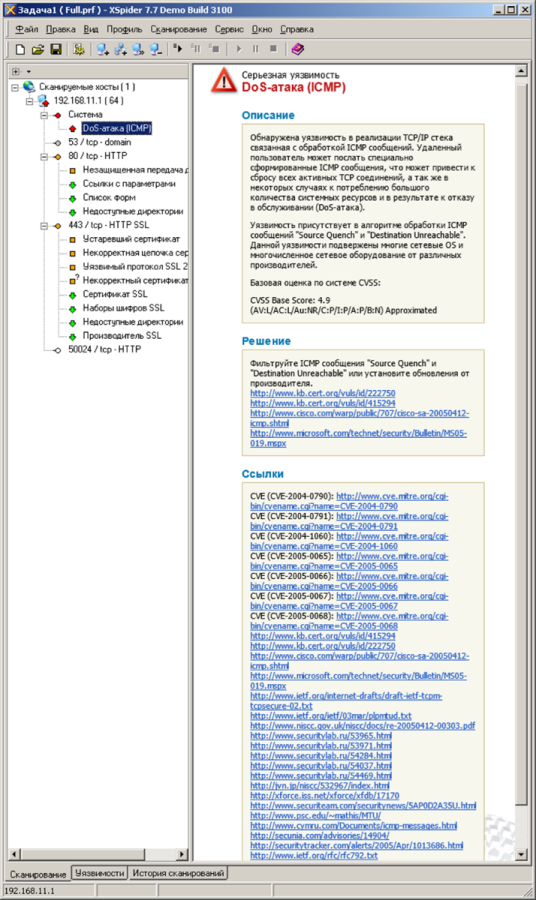 Before getting down to reviewing the performance test results we would like to mention the key specification of the test stand we used.
Component
PC
Notebook
Motherboard
ASUS Maximus VI Extreme
ASUS M60J
CPU
Intel Core i7 4770K 3.5 GHz
Intel Core i7 720QM 1.6 GHz
RAM
DDR3 PC3-10700 SEC 32 Gbytes
DDR3 PC3-10700 SEC 16 Gbytes
NIC
Intel PRO/1000 PT
ASUS PCE-AC68
Atheros AR8131
OS
Windows 7 x64 SP1 Rus
Windows 7 x64 SP1 Rus
We decided to begin the throughput tests with finding out the maximum routing speeds. WZR-1750DHP allows either simply routing IP packets or performing NAT/PAT translation. Results of the measurements are presented on the diagram below. The tests were carried out with 1, 5, and 15 concurrent TCP connections using JPERF 2.0.2 utility.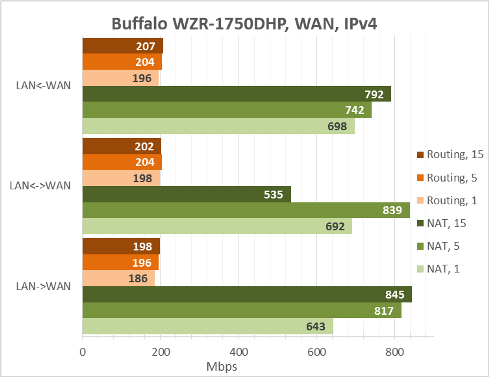 The router under review has two built-in clients and PPTP server. As a matter of course, we couldn't help but review it. Connection to the built-in PPTP server may be carried out both with encryption and without it.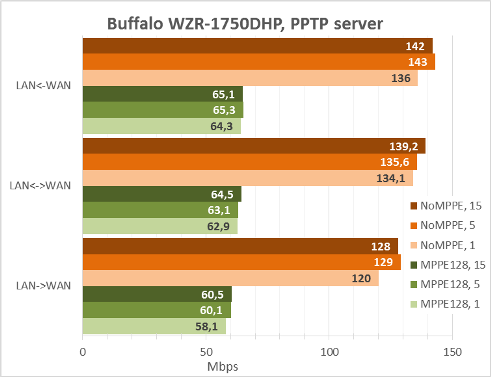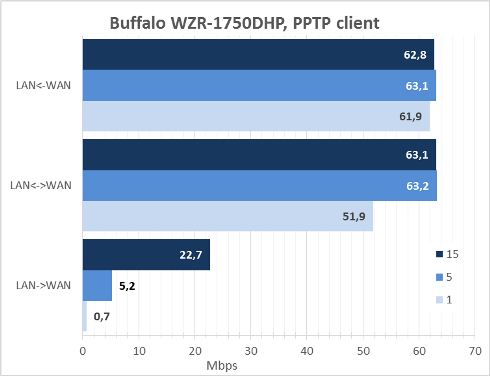 Buffalo WZR-1750DHP supports connection of USB carriers. We decided to test access speeds to the user data stored on 750 GBytes Transcend StoreJet 25M3 HDD. In order to do this we successively connected it to USB 2.0 and 3.0 ports. The wireless router under review only supports two file systems: FAT32 and XFS. In other words, unfortunately we didn't manage to find support of NTFS.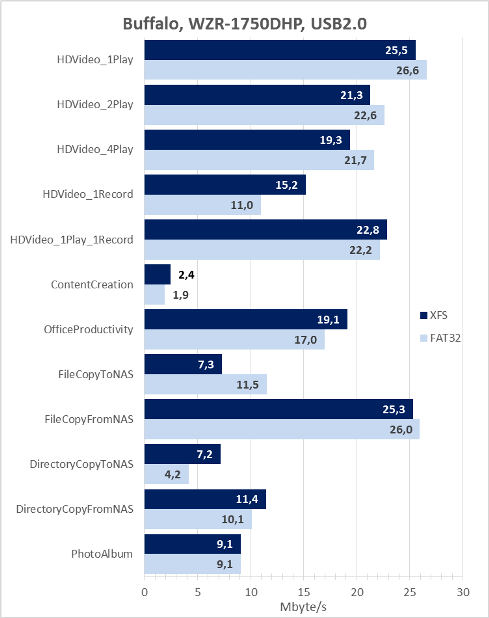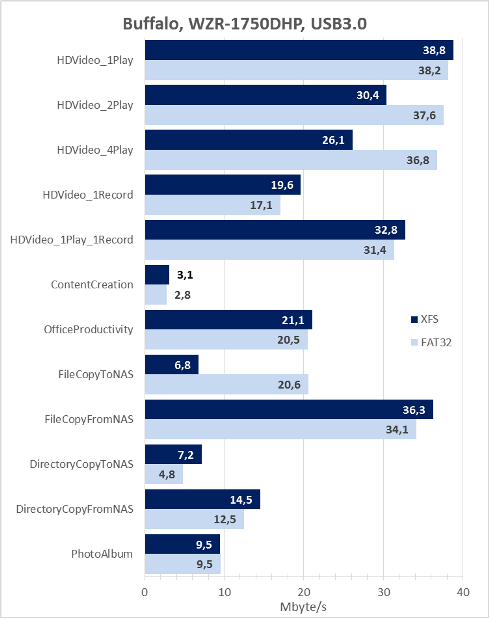 One of the interesting capabilities of the model under review is support of high speeds in the wireless segment: up to 450 Mbps within 2.4 GHz frequency range and up to 1300 Mbps within 5 GHz frequency range. One can find the results of speed measurements within frequencies of about 2.4 GHz on the diagram below. We were pleasantly surprised at getting data transfer speeds of about 300 Mbps upon the theoretical speed value of 450 Mbps.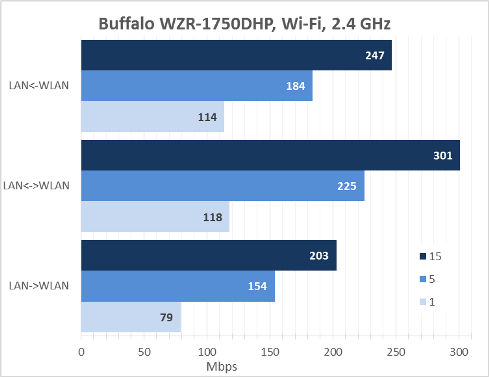 Unfortunately, everything is not as good within 5 GHz frequency range as the users from Russia and the CIS have the limited theoretical speed of 600 Mbps. One cannot simply change the region since it's hard coded in the firmware. It means that the equipment which is meant to be used in a certain country or a region cannot be taken to any other country or region. The diagram below shows the measurements of wireless speeds within 5 GHz frequency range for the Russian version of WZR-1750DHP model.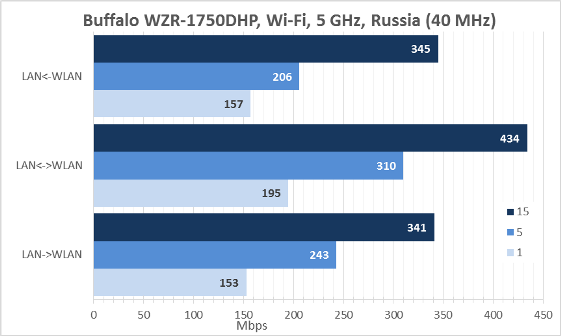 Naturally, we just couldn't do with it and therefore we asked the vendor to provide us with a model which is meant for sale in the EU. The diagrams presented below show its performance within the frequency range of 5 GHz.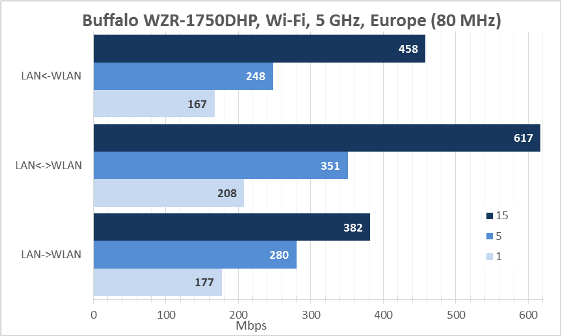 That's where we draw the testing chapter to a close and move on to summing it all up.
Conclusion
We were left with mixed feelings after reviewing Buffalo WZR-1750DHP wireless router. On one hand, this is a device with rich functionality and nice design. On the other hand, strict pegging to the region or country where the device is meant to be used and limitations caused by it may overscore most of the model advantages for users who live in the ex-Soviet block countries.
The strength areas of Buffalo WZR-1750DHP wireless router are presented below.
Ability to prohibit the router management upon wireless connection
Competitive price
A built-in PPTP server
High access speeds to the data stored on a USB disc
Support of two wireless networks in each frequency range
Presence of USB 2.0 and USB 3.0 ports
Ability to review information about the connected wireless clients
Availability of web filtration mechanism
A nice case design
A built-in BitTorrent client
Support of energy saving mode
Availability of an alternative firmware powered by DD-WRT
Unfortunately, we cannot help to mention certain drawbacks we have discovered.
Speed limitations for users from Russia and the CIS
Average speeds for PPTP connections
Presence of a probable vulnerability associated with processing of ICMP messages
Absence of support of the newest version of IP, IPv6
As of when this article was being written, the average price for Buffalo WZR-1750DHP in Moscow online shops was 6100 roubles.